A systematic approach in rehabilitation of hemimandibulectomy: A case report
ABSTRACT
---
Loss of mandibular continuity results in deviation of remaining mandibular segment toward the resected side primarily because of the loss of tissue involved in the surgical resection. The success in rehabilitating a patient with hemimandibulectomy depends upon the nature and extent of the surgical defect, treatment plan, type of prosthesis, and patient co-operation. The earlier the mandibular guidance therapy is initiated in the course of treatment; the more successful is the patient's definitive occlusal relationship. Prosthodontic treatment coupled with an exercise program helps in reducing mandibular deviation and improving masticatory efficiency. This case report describes prosthodontic management of a patient who has undergone a hemimandibulectomy and was rehabilitated using provisional guide flange prosthesis followed by a definitive maxillary and mandibular cast partial denture with precision attachments designed to fulfill the patient's needs and requirements.
No MeSH data available.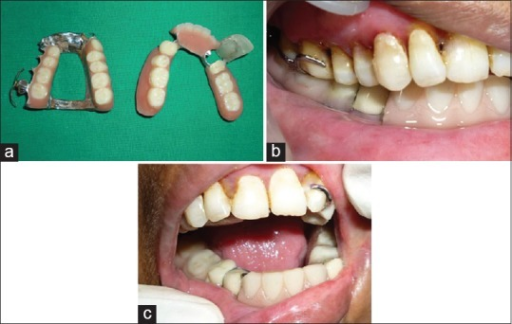 © Copyright Policy - open-access
License
getmorefigures.php?uid=PMC4837783&req=5
Mentions: The definitive prosthesis was then fabricated consisting of maxillary and mandibular cast partial denture. Crown preparation was done for 33, 44, and final impression was made in addition silicone (Ad-Sil light body, Prime Dental Pvt. Ltd., Mumbai, Maharashtra, India). The cast was poured in die stone Type IV and wax pattern was made. Extracoronal attachment OT strategy (Rhein 83, USA) was attached to the pattern such that it directed toward the center of the ridge. Casting followed by metal trial, ceramic build up and bisque trial was done. The final crowns with attachment were seated, pick up impression was made for mandibular arch and final impression for maxillary arch in addition silicone, double mix double step technique (Ad-Sil Putty and light body, Prime Dental Pvt. Ltd., Mumbai, Maharashtra, India). Casts were poured in die stone, Type IV gypsum (Ultrarock, Kalabhai Dental, Mumbai, Maharashtra, India) [Figure 4a] and blocked out. Casts were duplicated in refractory material (Wirovest, Bego, Germany) using agar (Wirogel M, Bego, Germany). Wax pattern was made and casting was done to obtain cast partial denture framework [Figure 4b]. Framework trial was done, followed by recording the jaw relation. Teeth arrangement (Acryrock, Ruthinium Dental Products Pvt. Ltd., India) was done [Figure 5a–c] and trial denture was evaluated. Acrylization was done in heat cure acrylic resin (Lucitone 199, Dentsply, York Division, USA) [Figure 6a]. Denture was finished, polished, and inserted in patient's mouth [Figure 6b and c]. Patient wore the denture for 10 days to acclimatize and the guiding flange was cut off. Significant reduction in mandibular deviation was observed and maximum intercuspation could be achieved due to the guidance from the twin row of teeth. The patient was very satisfied with the functional and esthetic performance of the prosthesis. Patient has been on a periodic recall for 4 years.