DNA polymerase- α regulates type I interferon activation through cytosolic RNA:DNA synthesis
ABSTRACT
---
Aberrant nucleic acids generated during viral replication are the main trigger for antiviral immunity, and mutations disrupting nucleic acid metabolism can lead to autoinflammatory disorders. Here we investigated the etiology of X-linked reticulate pigmentary disorder (XLPDR), a primary immunodeficiency with autoinflammatory features. We discovered that XLPDR is caused by an intronic mutation that disrupts expression of POLA1, the gene encoding the catalytic subunit of DNA polymerase-α. Unexpectedly, POLA1 deficiency results in increased type I interferon production. This enzyme is necessary for RNA:DNA primer synthesis during DNA replication and strikingly, POLA1 is also required for the synthesis of cytosolic RNA:DNA, which directly modulates interferon activation. Altogether, this work identified POLA1 as a critical regulator of the type I interferon response.
No MeSH data available.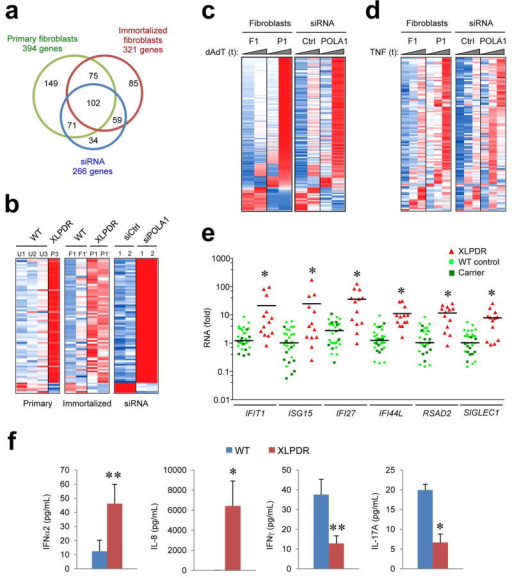 © Copyright Policy
getmorefigures.php?uid=PMC4836962&req=5
Mentions: To understand how POLA1 might be linked to the XLPDR phenotype, we compared the transcriptome profiles of four control dermal fibroblasts lines against cells derived from two unrelated XLPDR patients (primary and telomerase-immortalized fibroblasts). Furthermore, we contrasted those findings to the effects of POLA1 silencing by siRNA in control fibroblasts (Fig. 3a,b). Compared to control fibroblasts, primary and immortalized XLPDR-derived cells displayed concordant alterations in gene expression for 177 genes, and nearly two-thirds of these changes (102 genes) were recapitulated by silencing of POLA1 in control fibroblasts (Fig. 3a, and Supplementary Table 1). Most of these changes represented increased gene expression in POLA1 deficient cells (Fig. 3b). Ontology analysis indicated that these genes were primarily involved in the type I interferon signaling pathway, regulated by members of the IRF and NF-κB families of transcription factors (Table). Therefore, we analyzed the response of mutant cells to activation of IRF- or NF-κB-dependent gene expression, following poly(dA:dT) or tumor necrosis factor (TNF) stimulation, respectively. In both instances, POLA1-deficient cells primarily displayed more robust activation of genes that map to the IRF and NF-κB pathways (Fig. 3c,d, Supplementary Table 2). In the case of poly(dA:dT) treatment, 35% of the gene response was affected by POLA1 deficiency, mostly resulting in greater gene expression (Fig. 3c, 137 of 387 genes). This included a number of genes such as IFNA21, several chemokines, NF-κB regulatory proteins, and multiple histone genes (Supplementary Table 1), which were minimally induced unless cells were POLA1 deficient. Similar results were noted after TNF treatment, where nearly 40% of the responsive genes were affected by POLA1 deficiency (Fig. 3d, 108 of 276 responsive genes). Mutant fibroblasts were not only hyper-responsive to poly(dA:dT) and TNF, but also to other forms of cytosolic dsDNA, cytosolic dsRNA, IL-1β, and Toll-like receptor (TLR) ligands (Supplementary Fig. 3a). Furthermore, these alterations were mimicked by siRNA-mediated silencing of POLA1 in wild-type fibroblasts and HeLa cells (Supplementary Fig. 3b). Collectively, these findings indicate that reduced POLA1 expression leads to constitutive enhancement of IRF and NF-κB dependent gene expression, including canonical interferon-stimulated genes (ISGs) and other pro-inflammatory factors.