Visualization of Uptake of Mineral Elements and the Dynamics of Photosynthates in Arabidopsis by a Newly Developed Real-Time Radioisotope Imaging System (RRIS).
Bottom Line: In contrast, high accumulation of(28)Mg,(45)Ca and(54)Mn was found in the basal part of the main stem.Based on this time-course analysis, the velocity of ion movement in the main stem was calculated, and found to be fastest for S and K among the ions we tested in this study.These results show that this real-time radioisotope imaging system allows visualization of many nuclides over a long time-course and thus constitutes a powerful tool for the analysis of various physiological phenomena.
Affiliation: Graduate School of Agricultural and Life Sciences, The University of Tokyo, 1-1-1, Yayoi, Bunkyo-ku, Tokyo, 113-8657 Japan.
No MeSH data available.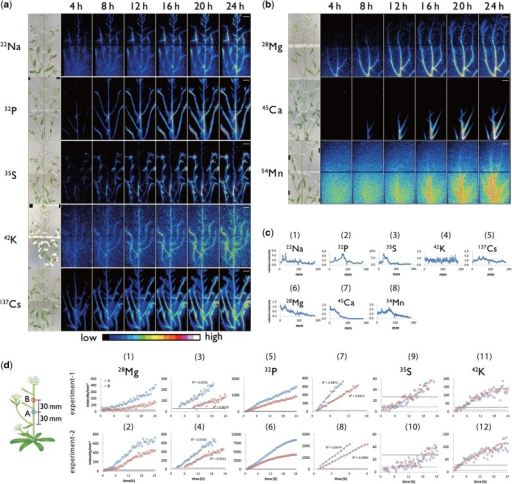 © Copyright Policy - creative-commons
License
getmorefigures.php?uid=PMC4836453&req=5
Mentions: Eight ions, 22Na+, 28Mg2+, 32P-phosphate, 35S-sulfate, 42K+, 45Ca2+, 54Mn2+ and 137Cs+, were supplied to roots and within 24 h the accumulation pattern and uptake speed of each element exhibited specific features (Fig. 2a, b). Successive figures were connected to show the movement pattern of each element (see Supplementary videos 22Na.avi, 28Mg.avi, 32P.avi, etc.). Sequential analysis showed two distribution patterns in the above-ground parts. The first was a widespread distribution over time, as exhibited by 22Na, 32P, 35S, 42K and 137Cs. The second pattern shown by elements 28Mg, 45Ca and 54Mn, was a higher accumulation in the basal part of the main stem (Fig. 2b), indicating a curved distribution pattern of tracers (Fig. 2c). Surprisingly, no 45Ca or 54Mn, and little 28Mg reached the tip of the stem, even after 24 h. The transport kinetics of 28Mg, 32P, 35S and 42K within the main stem of the inflorescence were further characterized by analyzing the temporally increasing radioactivity in the two regions of interest (ROIs) separated by a distance of 30 mm (Fig. 2d). The signal intensity of 28Mg in the ROI:A, which was set at the lower position, exceeded the limit of quantitation (LOQ) soon after sequential imaging was started and continued to increase linearly (Fig. 2d: 1, 2, 3, 4). The LOQ corresponds to the earliest time that each radioisotope can first be detected. Subsequently, after approximately 6 h, the 28Mg content in the ROI:B, which was set at the higher position, began to increase linearly (Fig. 2d: 1, 2). According to the time gap between ROI:A and ROI:B to reach the LOQ of 28Mg, the time required for 28Mg to travel 30 mm was 5.5 h (experiment 1: Fig. 2d: 3) and 3.0 h (experiment 2: Fig. 2d: 4). Accordingly, the velocities of Mg2+ toward the top of the main stem were estimated to be 5.5 mm h−1 (experiment 1: Fig. 2d: 3) and 10.0 mm h−1 (experiment 2: Fig. 2d: 4). In contrast, the difference between the times when the 32P signal was first detected in ROI:A and ROI:B was <30 min (Fig. 2d: 7, 8); thus, the velocity of P was calculated to be >60 mm h−1. For 35S and 42K, after the signal intensities in the two ROIs exceeded the LOQ, they increased similarly, indicating that the velocities of these ions were too great to be estimated under the current experimental conditions.Fig. 2