Biocontrol agents promote growth of potato pathogens, depending on environmental conditions.
Bottom Line: Whilst unprecedented, this finding is consistent with earlier reports that fungi can utilize metabolites derived from bacterial cells.Unless the antimicrobial activities of candidate biocontrol strains are assayed over a full range of field-relevant parameters, biocontrol agents may promote plant pathogen infections and thereby reduce crop yields.These findings indicate that biocontrol activity, therefore, ought to be regarded as a mode-of-behaviour (dependent on prevailing conditions) rather than an inherent property of a bacterial strain.
Affiliation: Institute for Global Food Security, School of Biological Sciences, MBC, Queen's University Belfast, Belfast, BT9 7BL, Northern Ireland.
No MeSH data available.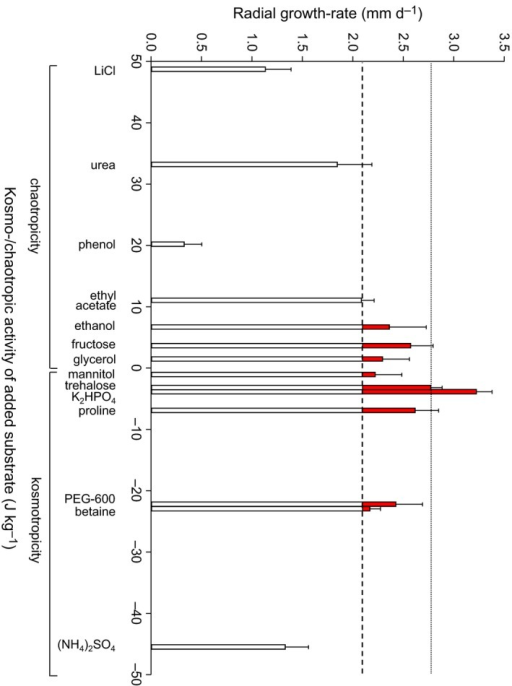 © Copyright Policy - creativeCommonsBy
License
getmorefigures.php?uid=PMC4835571&req=5
Mentions: We hypothesized that compatible solutes can determine the outcome of biocontrol agent:plant pathogen interactions under stressful, macromolecule‐disordering conditions. Urea can stress microbial systems, reduce or prevent metabolism, and can be lethal like substances and parameters that increase entropy of macromolecular systems (e.g. see Fig. 8; Hallsworth et al., 2003a; Bhaganna et al., 2010; Cray et al., 2015b). As for previous studies, urea was used here as a model chaotrope (Hallsworth et al., 2003a, 2007; Bhaganna et al., 2010; Bell et al., 2013; Cray et al., 2013b; Alves et al., 2015). We sought to determine whether the outcome of interactions between the Bacillus (JC12GB43) and F. coeruleum vary according to chaotropicity. Interaction assays were carried out on PDA (control), PDA+68.4 mM urea, PDA+132 mM urea, PDA+1.84 M glycerol, PDA+2.17 M glycerol and PDA+2.53 M glycerol (glycerol becomes mildly chaotropic at molar concentrations). The growth rate of F. coeruleum alone (no added biocontrol agent) on PDA (no stressor added) was 3.80 mm day−1, and that for F. coeruleum in the presence of Bacillus sp. JC12GB43 was 1.33 mm day−1 (Fig. 2C; Table S5). On media with added urea, the growth rate of the plant pathogen in the presence of the biocontrol agent increased in proportion to the increase in chaotropicity. Indeed, on media supplemented with the highest urea concentration (132 mM), the biocontrol agent actually promoted growth rate of F. coeruleum, and did so by 102% relative to that of the PDA+132 mM urea control (no biocontrol agent). The negative inhibition coefficient value for the interaction assay between Bacillus sp. JC12GB43 and F. coeruleum on 132 mM urea media was −52.5; this inhibition‐coefficient value was significantly different (P < 0.05) to the inhibition coefficients for all other treatments (Figs 2C and 7C; Table S5) indicating a dramatic increase in pathogen growth rate. A similar trend was seen for glycerol‐supplemented media where the growth rates of controls (no biocontrol agent added) decreased with increasing glycerol concentrations, whereas those of the biocontrol agent remained relatively high (Fig. 7D–F). Inhibitory activity of Bacillus sp. JC12GB43 against F. coeruleum decreased as chaotropicity of the culture medium increased (Fig. 9). Urea (132 mM) alone does not promote growth of F. coeruleum, as shown in Fig. 10A. A recent study of MgCl2 (a chaotropic stressor like urea) has shown that viability of two Mycobacterium strains is only reduced at salt concentrations (1.5–3.5 M, depending on strain) that are beyond the window for growth; the upper MgCl2 concentration limit = 1 M for both strains (Santos et al., 2015). It seems unlikely, therefore, that 132 mM urea (which only caused 75% inhibition of Bacillus sp. JC12GB43 growth rate; Fig. 10A) adversely impacted viability of the biocontrol agent. Furthermore, studies of diverse bacterial species indicate tolerances towards urea close to 1 M (Cray et al., 2013a; Santos et al., 2015), whereas many enzyme systems are functionally stable at molar concentrations (Alves et al., 2015).