Biocontrol agents promote growth of potato pathogens, depending on environmental conditions.
Bottom Line: Whilst unprecedented, this finding is consistent with earlier reports that fungi can utilize metabolites derived from bacterial cells.Unless the antimicrobial activities of candidate biocontrol strains are assayed over a full range of field-relevant parameters, biocontrol agents may promote plant pathogen infections and thereby reduce crop yields.These findings indicate that biocontrol activity, therefore, ought to be regarded as a mode-of-behaviour (dependent on prevailing conditions) rather than an inherent property of a bacterial strain.
Affiliation: Institute for Global Food Security, School of Biological Sciences, MBC, Queen's University Belfast, Belfast, BT9 7BL, Northern Ireland.
No MeSH data available.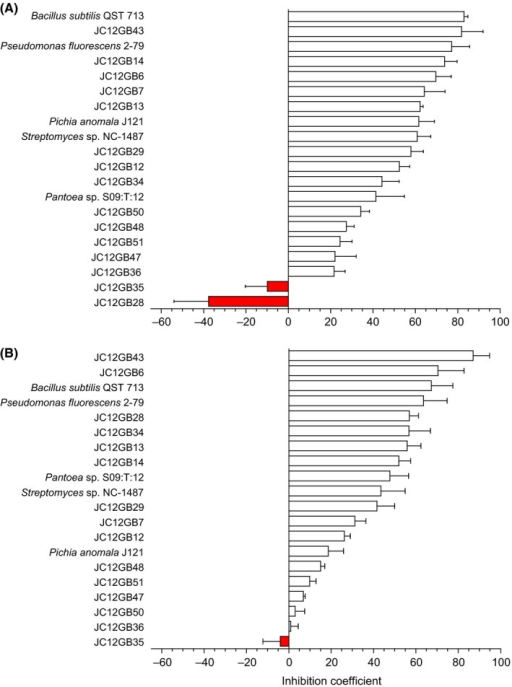 © Copyright Policy - creativeCommonsBy
License
getmorefigures.php?uid=PMC4835571&req=5
Mentions: Interactions between biocontrol agents and plant pathogens take various forms. Some biocontrol agents, for example, are highly motile and/or can maintain a zone‐of‐inhibition in which the pathogen is unable to grow (Figs 1 and 5; Figs S2–S5; Tables S1–S4; Cray et al., 2015a). However, earlier studies demonstrated that effective pathogen‐inhibition cannot be predicted based solely on determinations of biocontrol agent motility and/or ability to maintain zones‐of‐inhibition (Cray et al., 2015a). Here, we used an inhibition coefficient (maximum potential value = 100) that was devised to quantify the potency of biocontrol agents against plant pathogens on solid surfaces, and is based on distance between biocontrol agent‐ and plant‐pathogen colonies, extent of the biocontrol agent lawn, and colony radius of the plant pathogen (Cray et al., 2015a). Colony area (as opposed to colony density) better reflects pathogen‐ and biocontrol‐agent distribution on a plant surface, so is pertinent to the risk of infection events (Cray et al., 2015a). Of the strains isolated in the current study, the most potent inhibitor on high water‐activity media was JC12GB43, regardless of the type of potato pathogen. This bacterial strain was able to minimize colony development of each plant‐pathogenic species, was motile and therefore spread considerably beyond the initial site of its inoculation, quickly minimized its distance from the plant pathogen, and managed to prevent further growth of the latter (Fig. 1; Figs S2–S4). Furthermore, Bacillus sp. JC12GB43 (isolated using NA at 0.996 water activity and yet xerotolerant; see later) was as potent as, or more potent than, the most effective commercial biocontrol agent, regardless of the plant pathogen. JC12GB43 was also significantly more inhibitory (P < 0.05) towards F. coeruleum, F. sambucinum and P. infestans 10LD3 than were the biocontrol agents Pantoea sp S09:T:12 and P. anomala J121 (Fig. 1; Figs S2 and S3): inhibition‐coefficient values for JC12GB43 were 84.2, 77.7, 87.0 and 83.0 when assessed against F. coeruleum, F. sambucinum, P. infestans 10LD3 and P. infestans 10D2_5 respectively (Figs 2A, 3A and 4; Tables S1–S4). Ribosomal Database Project and BLAST searches for partial 16S rDNA sequences revealed a definitive taxonomical affiliation for strain JC12GB43 as a member of the Bacillus genus (GenBank accession: KU359267; see Experimental procedures). The partial 16S rDNA sequence of strain JC12GB43 had ≥ 99% identity with, for example, Bacillus methylotrophicus strain MER_TA_47.1, Bacillus sp. 28592, Bacillus siamensis strain LYLB4, Bacillus sp. B4_UMNG, Bacillus sp. B3_UMNG and Bacillus amyloliquefaciens strain BCRh10. The identification of JC12GB43 as a Bacillus species is also consistent with characteristics in Table 2.