High-Throughput Phenotypic Screening of Human Astrocytes to Identify Compounds That Protect Against Oxidative Stress
ABSTRACT
---
Using astrocytes differentiated from human embryonic stem cells, an assay was developed to identify compounds that protect against oxidative stress, a condition associated with many neurodegenerative diseases. The assay has been optimized for high-throughput screening in a 1,536-well plate format. From a screen of approximately 4,100 bioactive tool compounds and approved drugs, 22 were identified that acutely protect human astrocytes from the consequences of hydrogen peroxide-induced oxidative stress.
No MeSH data available.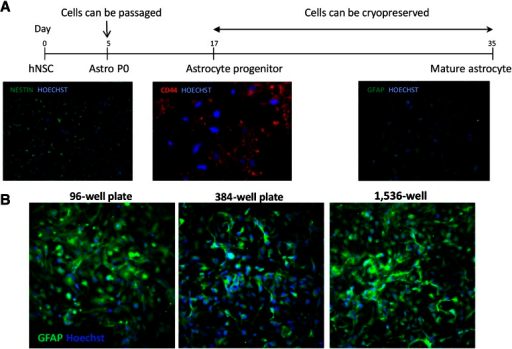 © Copyright Policy
getmorefigures.php?uid=PMC4835244&req=5
Mentions: Human neural stem cells (hNSCs) derived from H9 (WA09) human embryonic stem cells (N7800-100; Thermo Fisher Scientific, Carlsbad, CA, https://www.thermofisher.com) were cultured on Geltrex substrate in StemPro NSC serum-free medium (SFM) (A10509-01; Thermo Fisher Scientific) consisting of KnockOut Dulbecco's modified Eagle's medium (DMEM)/F-12, StemPro Neural Supplement, GlutaMAX-I, basic fibroblast growth factor (20 ng/ml; PHG0021; Thermo Fisher Scientific), and epidermal growth factor (20 ng/ml; PHG0315; Thermo Fisher Scientific). The hNSCs were expanded for 1 week, and passaged every 2–3 days. After 1 week, the NSCs were differentiated into astrocytes as described recently [22, 23]. Briefly, the medium was changed to astrocyte differentiation medium consisting of StemPro hESC SFM (A1000701 [Thermo Fisher Scientific]; DMEM/F-12, GlutaMAX-I supplement, bovine serum albumin 25%, and StemPro hESC supplement), in addition to 1% fetal bovine serum, FGF2 (8 ng/ml; PHG0264; Thermo Fisher Scientific), activin A (10 ng/ml; 120-14; PeproTech, Quebec, Canada, https://www.peprotech.com), heregulin 1β (10 ng/ml; 100-03; PeproTech), and insulin-like growth factor-1 analog (200 ng/ml; 100-11; PeproTech) to promote astrocyte differentiation. The culture was designated as "Astro P0" at this stage and expanded by passaging (1:6 split) every 4–5 days for approximately 1 month (Fig. 1A). Cells were cryopreserved at various time points during the differentiation process. Cell viability upon thaw was generally >75%. Immunocytochemistry (ICC) was used to confirm the differentiation status of hESC-derived astrocytes and gene expression was analyzed using protocols described previously [23]; more detail is provided in the supplemental online data. All hESC-differentiated astrocytes used for experiments were from days 35–45 (Fig. 1A).