Analysis on international scientific collaboration and research focus on depression field.
Affiliation: School of Public Health, Shanxi Medical University, Taiyuan, Shanxi 030001, China.
Depression is one of the most prevalent psychiatric diseases and significantly negatively impacts patients' productivity, quality of life, and cognitive functions... By examining scientific collaboration, this article also identified hot topics in depression research, which represent the areas of focus that numerous researchers have decided to have substantial potential to prevent and cure this pervasive disease... The analysis of centrality revealed that Harvard University has the highest degree and betweenness centrality and the lowest closeness centrality... The betweeness centrality of the University of Toronto in Canada was third highest and the closeness centrality second highest, but its degree centrality did not appear in the top 10... It also indicated that the University of Toronto had access to lots of research resources and was closely connected to core institutions, but lacked robust communications with other institutions... Similarly, Kings College London in England had a high betweenness and closeness centrality, indicating that it maintained an important position in the network, but its degree centrality did not make the top 10... However, some countries, such as France, had many ties but not many papers, while others, such as Brazil, had many papers but few ties... Finally, we found that the three countries that engaged in international collaboration most frequently – USA, England, and Germany – also have the most number of publications... Using the cluster term and research direction, we identified seven research hotspots... The first research hotspot, diagnosis and assessment, was found in sub-network 0, 2, 3, 8, 9, 12, 13, 14, 15, 16, 19, 20, 25 and 26... Due to the complexity of this disease and the diversity of the patients that it affects, scientific collaboration plays an indispensable role in understanding and treating depression... Thus, this article used SNA to construct and analyze the structure of scientific collaboration in depression research at the levels of authors, institutions, and countries from 2003 to 2012... The neurotransmitters responsible for emotion and mental state, mainly 5-hydroxytryptamine, dopamine, and catecholamine caused insanity when their processes of composition, storage, release, and receptor binding were disrupted... This study laid the foundation for psychopharmacology, leading to neurotransmitters research that has guided the development of new generation psychotropic drugs... Further, identifying research focus within the field can help researchers navigate the forefront of depression research.
Show MeSH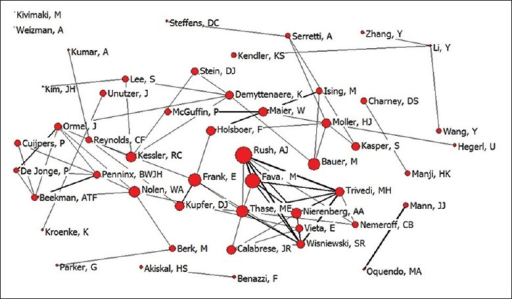 © Copyright Policy - open-access
License
getmorefigures.php?uid=PMC4834784&req=5
Mentions: To identify the main co-authorship structure of the network, we selected the 50 most prolific authors between 2003 and 2012. This criterion resulted in authors who co-authored at least 111 publications from 2003 to 2012 [Figure 1]. A co-authorship map made up of these 50 authors, illustrated the structure of authors' collaborative network. The line value and the distance between two vertices represented the collaborative strength, while thickness of the line was correlated with the quantity of co-authorship papers. The authors who were in the top 10 of centrality were mostly American demonstrated that they, with access to a significant portion of research resources, were in a position to shape the whole network. In this network, the highest degree centrality was held by Rush A. John, indicating that he had the most direct collaborators. Fava Maurizio had the highest betweenness centrality, indicating that he possessed and controlled a great deal of research resources. Dr. Fava also had the lowest closeness centrality, indicating that he occupied a core position in this network. Sheng-Yu Lee from Taiwan, China has the second highest betweenness centrality, but his degree and closeness centrality are not among the top 10. This pattern indicated that Sheng-Yu Lee played an important bridging role, but lacked extensive and direct communication with other authors. It also suggested that in the future, he should collaborate with others, especially the core authors, directly. For Demyttenaere, Koen from Belgium, his closeness centrality was the tenth highest, but his degree and betweenness centrality were not in the top 10. This showed that Demyttenaere Koen was closely connected with the core authors. In the future, he should intensify his collaborations in the network.