Challenging nickel-catalysed amine arylations enabled by tailored ancillary ligand design
ABSTRACT
---
Palladium-catalysed C(sp2)–N cross-coupling (that is, Buchwald–Hartwig amination) is employed widely in synthetic chemistry, including in the pharmaceutical industry, for the synthesis of (hetero)aniline derivatives. However, the cost and relative scarcity of palladium provides motivation for the development of alternative, more Earth-abundant catalysts for such transformations. Here we disclose an operationally simple and air-stable ligand/nickel(II) pre-catalyst that accommodates the broadest combination of C(sp2)–N coupling partners reported to date for any single nickel catalyst, without the need for a precious-metal co-catalyst. Key to the unprecedented performance of this pre-catalyst is the application of the new, sterically demanding yet electron-poor bisphosphine PAd-DalPhos. Featured are the first reports of nickel-catalysed room temperature reactions involving challenging primary alkylamine and ammonia reaction partners employing an unprecedented scope of electrophiles, including transformations involving sought-after (hetero)aryl mesylates for which no capable catalyst system is known.
No MeSH data available.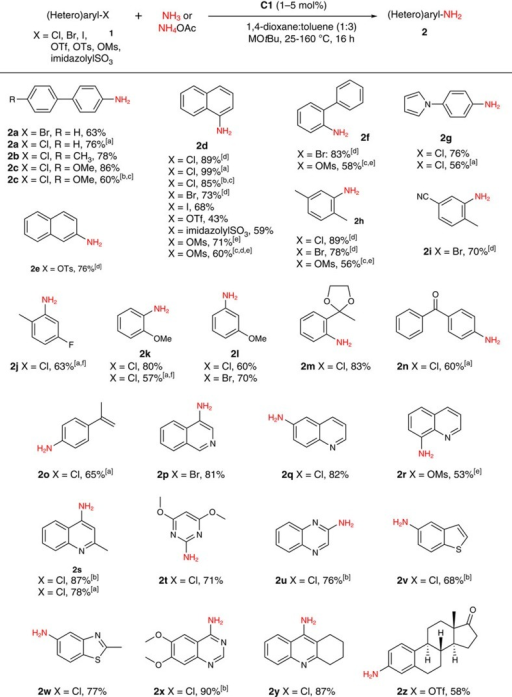 © Copyright Policy - open-access
License
getmorefigures.php?uid=PMC4814586&req=5
Mentions: The scope of reactivity exhibited by C1 in the monoarylation of ammonia (Fig. 6), both in terms of the breadth of electrophilic partner (for example, chlorides, bromides, iodides, mesylates, tosylates, triflates and imidazolylsulfonates54) and the varied reaction conditions (for example, room temperature; microwave conditions; use of gaseous ammonia), exceeds that demonstrated previously for any catalyst (that is, palladium, copper, nickel or other). In keeping with the preliminary ligand screening experiments (Fig. 3), 4-aminobiphenyl monoarylation products (2a-c) were isolated in synthetically useful yields, as were 1- or 2-naphthylamines (2d,e) derived from an unprecedentedly wide array of 1- or 2-(pseudo)halonaphthalenes. Electrophiles featuring or lacking ortho-substitution were also accommodated, including variants incorporating pyrrole, cyano, fluoro, methoxy, dioxolane, ketone and alkene functionalities (2f-o). Given the importance of biologically active (hetero)anilines in pharmaceutical chemistry, we turned our attention to C1-catalysed ammonia monoarylations employing (hetero)aryl (pseudo)halide electrophiles. We were pleased to find that quinoline, isoquinoline, quinaldine, pyrimidine, quinoxaline, quinazoline, benzothiophene and benzothiazole core structures each proved compatible in this chemistry (2p-y). Notably, the quinazoline 2x represents the core structure found within a series of commercialized drugs, including doxazosin which is employed for the treatment of symptoms associated with benign prostatic hyperplasia. Moreover, the quinoline 2y (tacrine) has been used as a cholinesterase inhibitor for the treatment of Alzheimer's disease, whereas 3-aminoestrone (2z) has been identified as a key synthon for the construction of non-natural C-18 steroids for use in the treatment of prostate and breast cancers55.