Imaging multicellular specimens with real-time optimized tiling light-sheet selective plane illumination microscopy
ABSTRACT
---
Despite the progress made in selective plane illumination microscopy, high-resolution 3D live imaging of multicellular specimens remains challenging. Tiling light-sheet selective plane illumination microscopy (TLS-SPIM) with real-time light-sheet optimization was developed to respond to the challenge. It improves the 3D imaging ability of SPIM in resolving complex structures and optimizes SPIM live imaging performance by using a real-time adjustable tiling light sheet and creating a flexible compromise between spatial and temporal resolution. We demonstrate the 3D live imaging ability of TLS-SPIM by imaging cellular and subcellular behaviours in live C. elegans and zebrafish embryos, and show how TLS-SPIM can facilitate cell biology research in multicellular specimens by studying left-right symmetry breaking behaviour of C. elegans embryos.
No MeSH data available.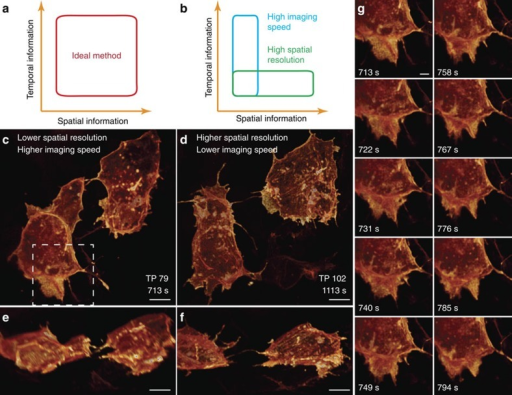 © Copyright Policy - open-access
License
getmorefigures.php?uid=PMC4814582&req=5
Mentions: TLS-SPIM requires more tiling positions to further increase the FOV and maintain the same spatial resolution and optical sectioning capability, making it less ideal for high-resolution live imaging of large multicellular specimens. As no imaging technique can achieve submicron 3D spatial resolution and high imaging speed simultaneously on specimens of hundreds of microns or larger, we developed a compromised solution to handle this problem, which is to acquire the spatial and temporal information of a biological process separately, namely, alternating the 3D imaging between a high spatial resolution, low imaging speed mode and a low spatial resolution but high imaging speed mode (Fig. 5a,b). In this way, the results acquired in different modes could still provide sufficient spatial and temporal information to understand the imaged process, as long as the switching between different modes is fast enough. Our TLS-SPIM microscope enables rapid switching by adjusting the excitation light sheet in less than a millisecond, realized by changing the phase maps applied to the binary SLMs used in the microscope, (Supplementary Figs 5–10). To demonstrate this idea, we imaged cell migration of mosaically labelled mesodermal cells expressing a red fluorescent protein (Cherry)-tagged membrane marker in the tailbud of a ∼15 h.p.f. zebrafish embryo. The region of interest (80 × 80 × 50 μm) was imaged with ∼320 nm lateral resolution, ∼750 nm axial resolution every ∼9 s, and with ∼320 nm lateral resolution, ∼450 nm axial resolution every minute alternately. By this method, both the 3D structure and the dynamics of the migrating cells can be clearly visualized (Fig. 5c–g, Supplementary Movie 14,15,16). A notable difference between the imaged cells and cells migrating on 2D substrates is the absence of membrane ruffling behaviour, despite the similar lamellar protrusions7, which could be caused by more strict constraints on cell membrane by neighbour cells in multicellular specimens. As shown, a reasonable understanding of a biological process can still be obtained by compromising the imaging ability flexibly when an ideal method is not available. Such ability is especially valuable in imaging large multicellular specimens as they are more difficult to image and the cellular behaviours are more complicated in such specimens.