Sonic Hedgehog promotes proliferation of Notch-dependent monociliated choroid plexus tumour cells
ABSTRACT
---
Aberrant Notch signaling has been linked to many cancers including choroid plexus (CP) tumours, a group of rare and predominantly pediatric brain neoplasms. We developed animal models of CP tumours by inducing sustained expression of Notch1 that recapitulate properties of human CP tumours with aberrant NOTCH signaling. Whole transcriptome and functional analyses showed that tumour cell proliferation is associated with Sonic Hedgehog (Shh) in the tumour microenvironment. Unlike CP epithelial cells, which have multiple primary cilia, tumour cells possess a solitary primary cilium as a result of Notch-mediated suppression of multiciliate diffferentiation. A Shh-driven signaling cascade in the primary cilium occurs in tumour cells but not in epithelial cells. Lineage studies show that CP tumours arise from mono-ciliated progenitors in the roof plate characterized by elevated Notch signaling. Abnormal SHH signaling and distinct ciliogenesis are detected in human CP tumours, suggesting SHH pathway and cilia differentiation as potential therapeutic avenues.
No MeSH data available.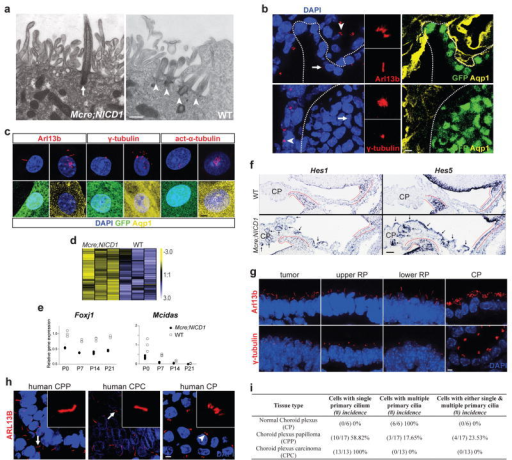 © Copyright Policy
getmorefigures.php?uid=PMC4814324&req=5
Mentions: In vertebrates, Shh-driven signaling occurs via the primary cilium16, 17. To understand the mechanisms by which tumour cells with sustained Notch signaling respond to Shh, we examined primary cilia in CP tumour and epithelial cells. Transmission electron microscopy and staining for cilia markers ADP-ribosylation factor-like 13b (Arl13b)35, γ-tubulin, and acetylated α-tubulin revealed multiple short primary cilia in wild type and EYFP+ epithelial cells in Math1-Cre;Rosa26-EYFP mice, whereas a single, longer primary cilium is present in tumour cells (epithelial cells: 1.70 ± 0.11 μm, n=10; tumour cells: 3.78 ± 0.13 μm, n=12; two-tailed unpaired t test, p<0.0001; data from a single experiment are shown, raw data are available in Supplementary Table 9) (Fig. 5a–c, Supplementary Fig. 7a, 7b). Gene expression profiling showed that many genes involved in ciliogenesis are downregulated in tumour cells36–38 (Fig. 5d). The expression of forkhead box J1 (Foxj1) and multiciliate differentiation and DNA synthesis associated cell cycle protein (Mcidas), two crucial regulators of the differentiation of cells with numerous motile cilia39–41, is consistently reduced in tumour cells (Fig. 5e, Supplementary Fig. 7c), indicating that Notch signaling suppresses Mcidas and Foxj1 expression, and blocks multiciliate differentiation of tumour cells. Similar to tumour cells, progenitors in hindbrain roof plate display increased expression of Hes1 and Hes5 at day E14.5, and possess single primary cilium (Fig. 5f, 5g, Supplementary Fig. 7d, 7e), suggesting that active Notch signaling preserves the single primary cilium of the progenitors during development. We characterized cilia pattern in human CP tumours (17 CPPs and 13 CPCs). Compared to normal human CP epithelial cells with multiple primary cilia, CPPs comprise either mono-ciliated tumour cells only or mixed populations of mono-ciliated and multi-ciliated cells, whereas all CPCs consist exclusively of cells that exhibit solitary primary cilium (Fig. 5h, 5i, Supplementary Fig. 7f).