Sonic Hedgehog promotes proliferation of Notch-dependent monociliated choroid plexus tumour cells
ABSTRACT
---
Aberrant Notch signaling has been linked to many cancers including choroid plexus (CP) tumours, a group of rare and predominantly pediatric brain neoplasms. We developed animal models of CP tumours by inducing sustained expression of Notch1 that recapitulate properties of human CP tumours with aberrant NOTCH signaling. Whole transcriptome and functional analyses showed that tumour cell proliferation is associated with Sonic Hedgehog (Shh) in the tumour microenvironment. Unlike CP epithelial cells, which have multiple primary cilia, tumour cells possess a solitary primary cilium as a result of Notch-mediated suppression of multiciliate diffferentiation. A Shh-driven signaling cascade in the primary cilium occurs in tumour cells but not in epithelial cells. Lineage studies show that CP tumours arise from mono-ciliated progenitors in the roof plate characterized by elevated Notch signaling. Abnormal SHH signaling and distinct ciliogenesis are detected in human CP tumours, suggesting SHH pathway and cilia differentiation as potential therapeutic avenues.
No MeSH data available.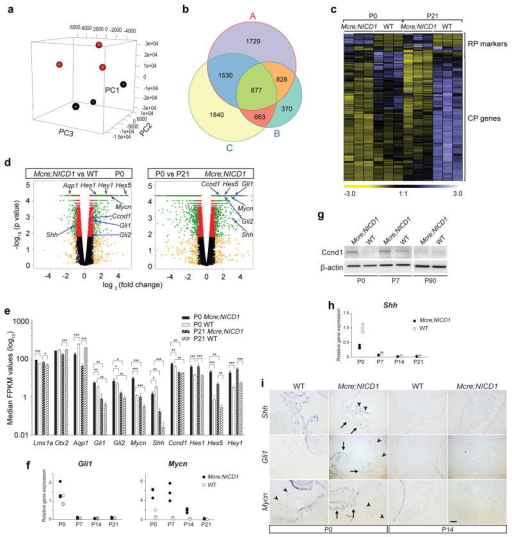 © Copyright Policy
getmorefigures.php?uid=PMC4814324&req=5
Mentions: To identify signals that drive tumour cell proliferation, we compared transcriptional profiles of tumours and wild type CPs at P0 (tumour cells are proliferative) and P21 (tumour cells are post-mitotic) using RNA-seq. Tumours and CPs clustered separately in principal component analysis, indicating distinct molecular profiles (Fig. 3a). Tumour cells exhibit gene expression profiles defined by differential expression of 2,738 (P0) and 4,964 (P21) transcripts (Supplementary Table 1, Fig. 3b). Study of these differentially expressed transcripts identified 1,705 common targets, including Hes1 and Hes5, Aqp1, cytokeratins, and Otx2, all of which show significant differential expression by Q-RT-PCR and immunostaining analyses, validating RNA-seq results (Fig. 1g, Fig. 2d–f, Fig. 3d, 3e, Supplementary Fig. 1c, 1d, Supplementary Fig. 3b, Supplementary Fig. 4e, Supplementary Table 1). Though tumour cells express higher mRNA levels for roof plate markers Lmx1a, Gdf7, Zic3, Zic4, and Msx2, the expression of many genes found in CP epithelium is significantly lower27–32 (Fig. 3c, 3e, Supplementary Table 1).