A novel quantitative high-throughput screen identifies drugs that both activate SUMO conjugation via the inhibition of microRNAs 182 and 183 and facilitate neuroprotection in a model of oxygen and glucose deprivation
ABSTRACT
---
The conjugation/de-conjugation of Small Ubiquitin-like Modifier (SUMO) has been shown to be associated with a diverse set of physiologic/pathologic conditions. The clinical significance and ostensible therapeutic utility offered via the selective control of the global SUMOylation process has become readily apparent in ischemic pathophysiology. Herein, we describe the development of a novel quantitative high-throughput screening (qHTS) system designed to identify small molecules capable of increasing SUMOylation via the regulation/inhibition of members of the microRNA (miRNA)-182 family. This assay employs a SHSY5Y human neuroblastoma cell line stably transfected with a dual firefly-Renilla luciferase reporter system for identification of specific inhibitors of either miR-182 or miR-183. In this study, we have identified small molecules capable of inducing increased global conjugation of SUMO in both SHSY5Y cells and rat E18-derived primary cortical neurons. The protective effects of a number of the identified compounds were confirmed via an in vitro ischemic model (oxygen/glucose deprivation). Of note, this assay can be easily repurposed to allow high-throughput analyses of the potential drugability of other relevant miRNA(s) in ischemic pathobiology.
No MeSH data available.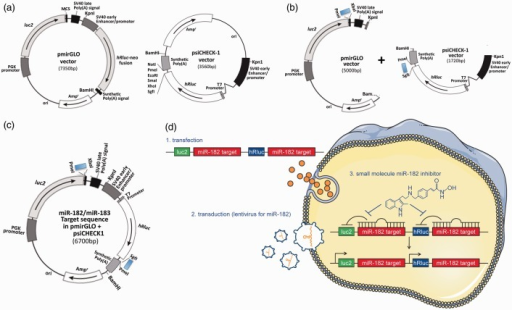 © Copyright Policy - open-access
License 1 - License 2 - License 3


getmorefigures.php?uid=PMC4759677&req=5

Mentions: The pmirGLO (Promega (Madison, WI, USA)) and the psiCHECK-1 (Promega) vectors were designed to quantitatively evaluate miRNA activity via the insertion of specific target sites into the 3′ untranslated region (UTR) of the firefly (pmirGLO vector) or Renilla (psiCHECK-1) luciferase gene mRNA. Starting from these two vectors, we built a dual reporter construct with the miR-182 (or miR-183) target sequence (Figure 1 and Supplementary Figure 1), so that the presence of mature miR-182 or miR-183 would lead to a decrease in luciferase (both firefly and Renilla) signal, enabling the detection of putative miR-182 (or miR-183) levels. Post-construction, we examined whether these constructs would work as had been predicted. We transfected SHSY5Y cells transiently with these constructs along with either negative control miRNA or miR-182 (or miR-183) mimics (miRIDIAN micro RNA Negative control or Mimics, Thermo Fisher Scientific (Waltham, MA, USA)) and measured luciferase activities. As shown in Supplementary Figure 2a, increased miR-182 (or -183) levels induced via the transfection of mimics significantly depressed both firefly and Renilla luciferase activity. Next we contrived SHSY5Y stable transfectants of the engineered constructs. The established stable transfectants responded well to both miR-182 or miR-183 mimics (i.e. the transfection of these mimics caused the depression of both firefly and Renilla luciferase acitivities in each cell line (Supplementary Figure 2b)). Of note, the endogenous levels of both miR-182 and miR-183 are quite low in SHSY5Y cells and thus the basal levels of luciferase activities are quite high (Supplementary Figure 2a and b). In order to maintain minimal basal levels of luciferase activities, we transduced these stable cell lines with lentiviral particles containing miR-182 (or miR-183) shMIMIC microRNAs (Thermo Fisher Scientific), and in so doing established cell lines that constitutively expressed these miRNAs via the selective pressure of puromycin. We then examined whether these stable transfectants (miR-182 or miR-183 target sequence in pmirGLO/psiCHECK1 plus lentiviral particles containing miR-182 or miR-183 shMIMIC) were usable for high-throughput screens. The final stable reporter cell line was designed to identify small compounds that inhibit miR-182 (and/or miR-183) generation or function, thereby resulting in the activation of the luciferases (both firefly and Renilla). We used a miR-182 (or miR-183) inhibitor (miRIDIAN microRNA hairpin inhibitor, Thermo Fisher Scientific) as a positive control and non-specific miRNA (miRIDIAN microRNA Negative Control, Thermo Fisher Scientific) as a negative control. As shown in Supplementary Figure 2(c), the basal level of luciferase activities (both firefly and Renilla) are very low in comparison to negative controls in Supplementary Figure 2(a) and (b) and the activation by the miR-182 (or miR-183) inhibitors were substantial. Calculated Z-factors, which represent a well-established quantitative measure of the quality of an assay, were 0.61 for miR-182/firefly, 0.5 for miR-182/Renilla, 0.47 for miR-183/firefly, and 0.66 for miR-183/Renilla. Being that a Z-factor between 0.5 and 1.0 corresponds to an excellent assay, our assay system qualifies as having sufficient sensitivity for high-throughput screening.Figure 1.