Robust expression of vault RNAs induced by influenza A virus plays a critical role in suppression of PKR-mediated innate immunity.
Bottom Line: Importantly, silencing vtRNA in A549 cells significantly inhibited IAV replication, whereas overexpression of vtRNAs markedly promoted the viral replication.The vtRNA knockdown animals exhibited significantly enhanced resistance to IAV infection, as evidenced by attenuated acute lung injury and spleen atrophy and consequently increased survival rates.In addition, increased expression of vtRNAs was required for efficient suppression of PKR by NS1 during IAV infection.
Affiliation: CAS Key Laboratory of Pathogenic Microbiology and Immunology, Institute of Microbiology, Chinese Academy of Sciences (CAS), Beijing 100101, China.
Show MeSH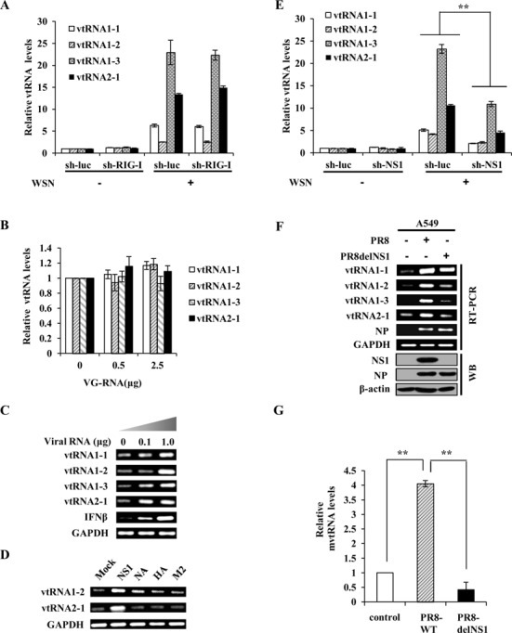 © Copyright Policy - creative-commons
License
getmorefigures.php?uid=PMC4666359&req=5
Mentions: Next, we determined the inducer of vtRNA expression during the IAV infection. Because vtRNAs act to promote IAV replication, we speculated that the high induction of vtRNAs in IAV-infected cells might not be a host innate defense against the viral infection. Indeed, the levels of vtRNAs were not significantly affected by knockdown of retinoic acid-inducing gene 1 protein (RIG-I), the most important pattern recognition receptor in innate immunity for sensing IAV infection (48) (Figure 5A and Supplementary Figure S4A). To investigate whether viral RNA is the factor responsible for induction of vtRNAs, A549 cells were treated with either different doses of genomic RNA directly isolated from the viruses (Figure 5B, Supplementary Figure S4B and C) or total RNA derived from IAV-infected cells (Figure 5C). We found that the viral RNA isolated from IAV-infected cells but not the viral genome RNA triggered the vtRNA expression. Because the IAV genome consists of eight segments of negative-sense single-stranded RNA (ssRNA) while samples from IAV-infected cells contain viral dsRNA products during IAV replication (41), we next asked if dsRNA could stimulate vtRNA production in A549 cells by treatment with poly (I:C), a dsRNA-mimic. To our surprise, treatment with poly (I:C) failed to induce vtRNA expression (Supplementary Figure S4D). Given that the viral RNA isolated from IAV-infected cells can be translated when transfected into native A549 cells, the induction of vtRNAs may be due to the translated viral proteins. To address this possibility, host cells were transfected with plasmids encoding several different WSN viral proteins. Interestingly, overexpression of NS1, but not hemagglutinin (HA), neuraminidase (NA), and matrix protein 2 (M2), contributed to the significant upregulation of vtRNAs (Figure 5D, and Supplementary Figure S4E). Furthermore, we observed that vtRNAs could be induced not only by NS1 of WSN, but also by NS1 of other IAV strains, including PR8, H7N9, and H5N1 (Supplementary Figure S4F). To confirm this observation, A549 cell lines expressing specific shRNAs targeting WSN NS1 and luciferase (control) were generated, respectively, as previously described (42). As expected, the elevated levels of vtRNAs were dramatically reduced in NS1 knockdown cells infected with WSN (Figure 5E, and Supplementary Figure S4G). Consistent with these results, the ability of delNS1 A/PR/8/34 virus to induce vtRNAs expression was significantly attenuated both in vitro and in vivo (Figure 5F, G and Supplementary Figure S4H). Together, our experiments demonstrate that influenza virus protein NS1 is responsible for the induction of vtRNAs in host.