Algorithmic co-optimization of genetic constructs and growth conditions: application to 6-ACA, a potential nylon-6 precursor.
Bottom Line: This is compared to a 64-member full factorial library just varying expression (0.64 Mb of DNA assembly).Statistical analysis of the screening data from these libraries leads to different predictions as to whether the expression of enzymes needs to increase or decrease.This work introduces a generalizable platform to co-optimize genetic and non-genetic factors.
Affiliation: Synthetic Biology Center, Department of Biological Engineering, Massachusetts Institute of Technology, Cambridge, MA 02139, USA.
Show MeSH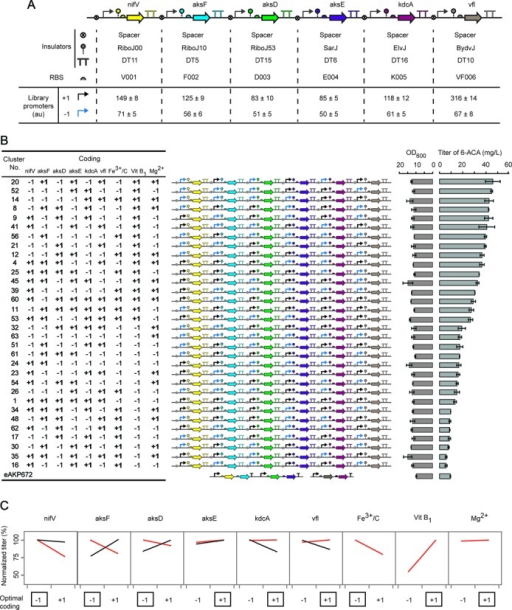 © Copyright Policy - creative-commons
License
getmorefigures.php?uid=PMC4666358&req=5
Mentions: Gibson assembly was used to build the T7 RNAP expression system shown in Figure 1C (23). MoClo was used to assemble the monocistronic pathway gene expression cassettes into a single backbone plasmid (22). Supplementary Table S1 and S2 list the parts and genes used in this study. The GenBank accession No. for NifV, AksD, AksE, AksF, KdcA and Vfl are P05342 (Azotobacter vinelandii), ABR55899 (Methanococcus aeolicus Nankai-3), ABR56236 (M. aeolicus Nankai-3), ABR57060 (M. aeolicus Nankai-3), AAS49166 (Lactococcus lactis), AEA39183 (Vibrio fluvialis) respectively (optimized codon sequences are provided in Supplementary Table S2). The scheme for DNA assembly from level 0 to level 1 to the final level 2 constructs is illustrated in Supplementary Figure S3. For level 0 parts-containing plasmids, the backbone plasmid pL0 was derived from pUC19. To be golden gate compatible, the BsaI and BbsI sites were removed by introducing silent mutations. Parts including T7 promoter-ribozyme, RBS-CDSs and double terminators were ligated into pL0 by restriction ligation using SmaI and T4 ligase. 10 ng of both insert and backbone plasmid were added to a 10 μl reaction containing 0.5 μl SmaI and 1 μl T4 ligase for incubation at room temperature for 2 h. For level 0 promoter plasmids, the inserts which contain a spacer, one T7 promoter and six different ribozymes were constructed by DNA oligo annealing. The spacer sequences were designed by the Random DNA Generator using a random GC content of 50% (http://www.faculty.ucr.edu/∼mmaduro/random.htm). The different T7 promoter variants were then introduced by primers via inverse PCR. The promoter-ribozyme parts are flanked by two BsaI sites with GGAG and TTAA as four nucleotides overlaps for the subsequent type IIS reaction to build level 1 plasmids. All of the engineered ribozyme sequences end with TTAA. The RBS-CDS constructs containing the enzymes were obtained from a concurrent study (unpublished results), which we mutated to eliminate BsaI and BbsI sites. Note that the RBS for kdcA in the monocistronic design is K005 (designed using the RBS Calculator) as compared to K007, which was used for the operon-based designs in Figure 1B and C. The level 1 plasmids are based on the pL1 backbone, originating from pMJS1CD (24) with Kanamycin resistance (also free of BsaI and BbsI sites). Then, 20 fmol of each level 0 plasmid are mixed with 5 U BsaI (New England Biolabs, #R0539S) and 5 U T4 DNA Ligase (Promega, #M1794) for a total of 10 μl 1× Promega T4 DNA Ligase Buffer and incubated. Two level 1 plasmids carrying expression cassettes with high (+1) and low (−1) expression levels for each of the six pathway genes were built. In total, there are 12 level 1 plasmids for six pathway genes and 12 containing mRFP in the pathway context for part characterization. Inverse PCR (iPCR) was used to generate the level 1 plasmids for the kdcA and aksF libraries using pL1-kdcA-TU2 and pL1-aksF-TU2 as templates. To build the level 2 plasmids, the six pathway cistrons are assembled in the order shown in Figure 2A. The cistrons are PCR amplified from the level 1 plasmids to give each construct specific cohesive ends upon BsaI digestion corresponding to the assigned position. The final expression plasmid backbone pL2 is derived from pAKP444 (unpublished results), where the BsaI sites in β-lactamase gene were eliminated. The seven assembly junction regions were sequence verified by Sanger sequencing. To build the kdcA and aksF libraries shown in Figure 3B and C, only the expression cassette for either kdcA or aksF was changed, while the other gene expression cistrons are the same as the #4 construct. To achieve higher expression, an extra copy of kdcA or aksF was introduced in a separate p15a Kanr plasmid (Supplementary Figure S4C). The T7 promoter M4 is used for both kdcA and askF expression. The same plasmid for overexpressing aksF or kdcA was introduced into the strain containing construct [−1, −1, −1, +1, +1, +1] individually for Figure 3A.