Peptide TFP5/TP5 derived from Cdk5 activator P35 provides neuroprotection in the MPTP model of Parkinson's disease.
Bottom Line: To date, strategies to specifically inhibit Cdk5 hyperactivity have not been successful without affecting normal Cdk5 activity.Previously we reported that TFP5 peptide has neuroprotective effects in animal models of Alzheimer's disease.The neuroprotective effect of TFP5/TP5 peptide is also associated with marked reduction in neuroinflammation and apoptosis.
Affiliation: National Institute of Neurological Disorders and Stroke, National Institutes of Health, Bethesda, MD 20892.
No MeSH data available.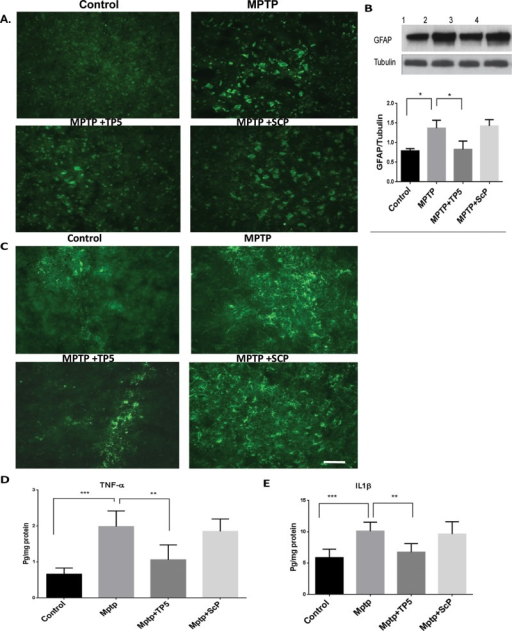 © Copyright Policy - creative-commons
getmorefigures.php?uid=PMC4666141&req=5
Mentions: Microglial activation has been implicated in the propagation of SNpc neurotoxicity in multiple animal models of PD. Post-mortem analysis of idiopathic PD patients revealed strong immunoreactivity for CD68, a marker of phagocytic microglia (Croisier et al., 2005; Vroon et al., 2007). Furthermore, administration of MPTP has been reliably shown to induce this phagocytic microglia phenotype in the SNpc of mice (Vroon et al., 2007; Chung et al., 2010; Chung et al., 2011). Previous studies report in addition the presence of reactive microglia in MPTP-treated SN exhibiting nigral DA neuronal degeneration (Wu et al., 2003; Block et al., 2007). Accordingly, we investigated whether a TP5 injection regimen can inhibit MPTP-induced glial activation in the SN in vivo. Nine days after the final MPTP treatment, with or without TP5, brain tissues were processed for immunostaining using an antibody against CD11b and GFAP to detect microglial and astrocyte activation, respectively (Figure 5). Consistent with earlier reports (Wu et al., 2003), numerous GFAP-positive reactive astrocytes (Figure 5, A and B) and CD11b-positive (activated) microglia (Figure 5C) were observed in MPTP-treated SN compared with saline and scrambled peptide controls. TP5 treatment mitigated these effects of MPTP, dramatically decreasing the number of Mac-1– and GFAP-positive reactive astrocytes cells in the MPTP-treated SN. Scrambled peptide had no effects on glial activation compared with the MPTP group (Figure 5, D and H). We investigated other signs of an MPTP inflammatory response. Post-mortem analysis of human PD tissue showed that microglia are immunoreactive for multiple proinflammatory cytokines, including tumor necrosis factor α (TNF-α) and interleukin-1β (IL-1β; McGeer and McGeer, 2004). Further, mice that are genetically altered to inhibit cytokine production or are deficient in receptors for these cytokines provide neuroprotection in the SNpc after MPTP exposure (Klevenyi et al., 1999; Sriram et al., 2002). Moreover, transgenic mice lacking the inducible nitric oxide synthase (iNOS) gene are resistant to MPTP-induced neurotoxicity (Liberatore et al., 1999). Thus we ­examined whether MPTP-induced expression of IL-1β and TNF-α in the SN was affected by TP5. Nine days after the final MPTP injection, midbrain tissues lysates were analyzed by enzyme-linked immunosorbent assay (ELISA; Figure 5, D and E). The results showed that the levels of TNF-α protein (Figure 5D) and IL-1 β (Figure 5E) were significantly increased in the midbrain of MPTP-treated mice compared with saline controls. Treatment with TP5 inhibited these MPTP-induced effects, reducing levels of TNF-α (p < 0.001) and IL-1β (p < 0.001) ∼50%. Here, too, scrambled peptide had no effects.