Peptide TFP5/TP5 derived from Cdk5 activator P35 provides neuroprotection in the MPTP model of Parkinson's disease.
Bottom Line: To date, strategies to specifically inhibit Cdk5 hyperactivity have not been successful without affecting normal Cdk5 activity.Previously we reported that TFP5 peptide has neuroprotective effects in animal models of Alzheimer's disease.The neuroprotective effect of TFP5/TP5 peptide is also associated with marked reduction in neuroinflammation and apoptosis.
Affiliation: National Institute of Neurological Disorders and Stroke, National Institutes of Health, Bethesda, MD 20892.
No MeSH data available.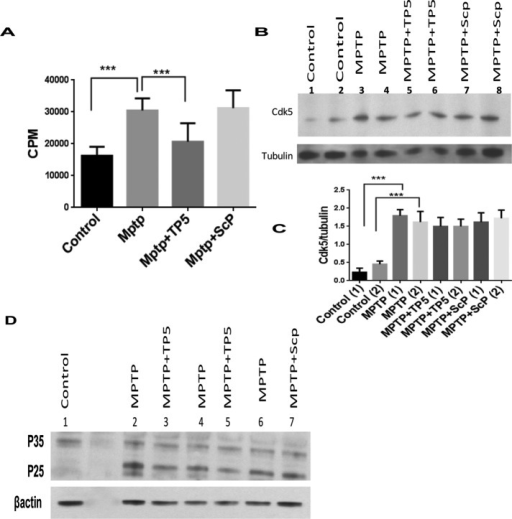 © Copyright Policy - creative-commons
getmorefigures.php?uid=PMC4666141&req=5
Mentions: As a more effective test of the efficacy of TFP5 as a therapy for PD, an in vivo model system should be used. To determine the effect of TFP5 treatment in vivo, we adopted the four-dose MPTP mouse model of PD (Jackson-Lewis and Przedborski, 2007; for details, see Materials and Methods). For the initial sets of experiments, animals were injected intraperitoneally (ip) with a single TFP5 injection, 40 mg/kg (selection of dose based on our previous study) every day for 9 d. On day 2, TFP5-treated animals received four doses of MPTP (15 mg/kg × 4, total of 60 mg/kg per day). On day 10, the animals were killed, and Cdk5 kinase activity was measured in lysates of the SN. We found that the dose of TFP5 was inadequate; TFP5-treated animals did not show significant inhibition of Cdk5/p25-deregulated activity compared with the MPTP group (Supplemental Figure S1), Accordingly, we increased the dose to a single, 80–mg/kg ip injection every day for 9 d. We used the peptide without the FITC tag (TP5) for this higher protocol since TFP5 aggregates at higher doses (unpublished data). In this case, TP5 pretreatment produced significant inhibition of Cdk5/p25 kinase activity (Figure 3A). Hence this in vivo protocol, identified as the "standard protocol," was selected for more extensive study. We assessed Cdk5 expression in the SN of mice treated with MPTP and TP5 and noted that Cdk5 expression increased almost threefold after MPTP treatment (lanes 3 and 4, Figure 3, B and C), but overexpression was unaffected by TP5 (lanes 5 and 6, Figure 3, B and C). This observation is consistent with the suggestion that TP5 only inhibits Cdk5 activity without affecting expression. Note that Figure 3B is a representative sample Western blot, whereas Figure 3C quantifies the results of assays of six animals per group. In Figure 3D, two representative blots of the same lysates with p35 antibody (C19), which detects both p35 and p25, show MPTP-induced p25 up-regulation (compare control lanes 1 and 5 with MPTP lanes 2 and 6, respectively). These results are consistent with the data in Figure 3A; MPTP-induced p25 expression hyperactivates Cdk5 activity in the SN, which is down-regulated after TP5 treatment. In all cases, scrambled peptide, the negative control, had no effect on activity.