Regulation of Chlamydomonas flagella and ependymal cell motile cilia by ceramide-mediated translocation of GSK3.
Bottom Line: Inhibition of SPT in Chlamydomonas by myriocin led to loss of flagella and reduced tubulin acetylation, which was prevented by supplementation with the precursor dihydrosphingosine.Motile cilia were rescued and pYGSK3 localization restored by incubation of fro/fro ependymal cells with exogenous C24:1 ceramide, which directly bound to pYGSK3.Our findings suggest that (phyto)ceramide-mediated translocation of pYGSK into flagella and cilia is an evolutionarily conserved mechanism fundamental to the regulation of ciliogenesis.
Affiliation: Department of Neuroscience and Regenerative Medicine, Medical College of Georgia, Georgia Regents University, Augusta, GA 30912.
No MeSH data available.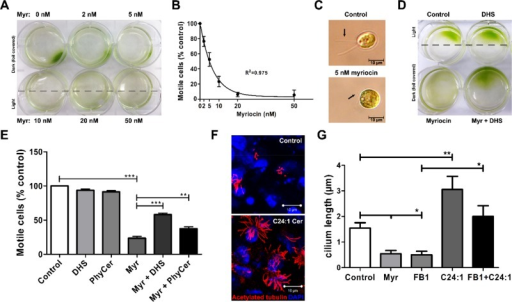 © Copyright Policy - creative-commons
getmorefigures.php?uid=PMC4666139&req=5
Mentions: On the basis of our previous studies showing that ceramide is critical for primary ciliogenesis (Wang et al., 2009a; He et al., 2012, 2014), we tested whether a similar function exists for the regulation of flagella in Chlamydomonas and motile cilia in ependymal cells. To determine the effect of inhibition of de novo sphingolipid biosynthesis by myriocin on flagella, we first performed a phototaxis motility assay (Lechtreck et al., 2009). After incubation of Chlamydomonas in a six-well dish with 0–50 nM myriocin, half of each well was shielded from light. At 7 h, most of the algae were still motile and swimming toward light. By 15 h, only the algae not exposed to myriocin were fully motile (Figure 3A). This was confirmed both by cell counting with a hemocytometer and by measuring optical absorbance of chlorophyll at 450 nm. At a concentration of myriocin as low as 5 nM, approximately half of the cells were immotile (Figure 3B). At 10 nM myriocin, phase contrast microscopy showed that >70% of cells had extremely shortened (length <2 μm) flagella (Figure 3C) and often formed multicellular clusters (Supplemental Figure S2A). Only a small population of cells (<20%) did not show significant flagella shortening. The inhibitory effect of myriocin on cilium length and motility was reversible, since myriocin-treated cells regained motility within 48 h when resuspended in myriocin-free medium (Supplemental Figure S2B). This result was consistent with a trypan blue exclusion assay showing that myriocin-treated cells did not undergo cell death (Supplemental Figure S2C), further suggesting that the effect of myriocin on motility was specific for ciliogenesis and not due to general toxicity. To test whether the effect of myriocin was caused by reduced synthesis of sphingolipids, we performed motility rescue experiments by supplementing the medium with various sphingolipid precursors 2 h before myriocin exposure. Among the sphingolipids tested, DHS, a metabolic precursor for (phyto)ceramide biosynthesis (Figure 1), and phytoceramide itself were the most effective (60 ± 10 and 42 ± 12%, respectively) in rescuing flagella length and motility (Figure 3, D and E). Sphingosine and various ceramides were not effective for restoration of cilia (unpublished data). Fumonisin B1, a ceramide synthase inhibitor, failed to reduce motility in Chlamydomonas. This inhibitor has a higher dissociation constant than myriocin (100 vs. 0.28 nM) and in the case of lower uptake, the intracellular concentration of fumonisin B1 may not allow for effective inhibition of phytoceramide biosynthesis (Wang et al., 1991; Miyake et al., 1995). In ependymal cells, both myriocin and fumonisin B1 (FB1; Figure 1) reduced the length of motile cilia (Figure 3G). Addition of C24:1 ceramide to the culture medium rescued cilia in cells treated with FB1 and induced elongation of cilia in cells not treated with ceramide biosynthesis inhibitors (Figure 3, F and G). In addition to FB1-treated wild-type ependymal cells, we used cells from the fragilitis ossium (fro/fro) mouse, a mouse model for genetic deficiency of nSMase2 (Guenet et al., 1981; Poirier et al., 2012). In these cells, lack of nSMase2-catalyzed ceramide generation led to shortened cilia, which was rescued by exogenous C24:1ceramide (Supplemental Figure S3). Other ceramides, such as C18:0 ceramide, were not effective in rescuing cilia in ependymal cells (unpublished data). These results suggest that phytoceramides in Chlamydomonas and C24:1 ceramide in ependymal cells are critical for cilium length regulation, which is likely to rely on a conserved downstream mechanism.