gp78 functions downstream of Hrd1 to promote degradation of misfolded proteins of the endoplasmic reticulum.
Bottom Line: Eukaryotic cells eliminate misfolded proteins from the endoplasmic reticulum (ER) via a conserved process termed ER-associated degradation (ERAD).Instead, gp78 appears to act downstream of Hrd1 to promote ERAD via cooperation with the BAG6 chaperone complex.We conclude that the Hrd1 complex forms an essential retrotranslocation module that is evolutionarily conserved, but the mammalian ERAD system uses additional ubiquitin ligases to assist Hrd1 during retrotranslocation.
Affiliation: Laboratory of Molecular Biology, National Institute of Diabetes and Digestive and Kidney Diseases, National Institutes of Health, Bethesda, MD 20892.
No MeSH data available.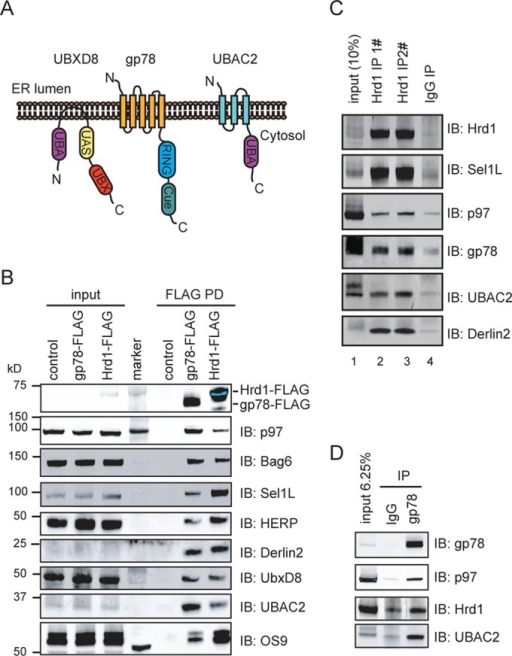 © Copyright Policy - creative-commons
getmorefigures.php?uid=PMC4666138&req=5
Mentions: The interaction networks of gp78 and Hrd1 have recently been revealed by biochemical pull-down and mass spectrometry analyses (Christianson et al., 2011; Jo et al., 2011b; Wang et al., 2011). Among gp78 interactors, UbxD8 and UBAC2 were known to form a stable subcomplex (Figure 1A; Olzmann et al., 2013), whereas Derlin2 stably interacts with Hrd1, Sel1L, and HERP (Huang et al., 2013a, b). However, it is not entirely clear whether gp78 forms stable interactions with both the Hrd1 complex and the UbxD8-UBAC2 complex in a stoichiometric manner. To address this question, we first performed coimmunoprecipitation experiments using cells expressing FLAG-tagged gp78 or FLAG-tagged Hrd1. We compared endogenous interactors that were coprecipitated with these ligases by immunoblotting. As expected, all the previously described interactors such as p97, BAG6, Sel1L, HERP, OS9, Derlin2, UBAC2, and UbxD8 could be coprecipitated by each of these ligases, but the relative amounts were different: gp78 preferentially bound to UBAC2, BAG6, and p97, whereas Sel1L, HERP, and OS9 were enriched in Hrd1 pull-down (Figure 1B). Although Derlin2 was similarly present in gp78 and Hrd1 pull-down samples, the interaction of Derlin2 with gp78 is sensitive to detergent (Christianson et al., 2011). Immunoprecipitation of FLAG-gp78 also pulled down a small amount of endogenous Hrd1 and vice versa (unpublished data). Importantly, immunoprecipitation of endogenous Hrd1 pulled down a small amount of gp78 and vice versa (Figure 1, C and D). These results support the notion that gp78 and Hrd1 form two distinct complexes: gp78-UBAC2-UbxD8 and Hrd1-Sel1L-HERP-Derlin2-OS9, which communicate with each other, probably via a transient link established by UbxD8 and Derlin2. It is noteworthy that all the components of the Hrd1 complex are conserved from budding yeast to humans, but the gp78 complex is only present in higher eukaryotes.