Biochemical and biophysical analyses of tight junction permeability made of claudin-16 and claudin-19 dimerization.
Bottom Line: The molecular nature of tight junction architecture and permeability is a long-standing mystery.Here, by comprehensive biochemical, biophysical, genetic, and electron microscopic analyses of claudin-16 and -19 interactions--two claudins that play key polygenic roles in fatal human renal disease, FHHNC--we found that 1) claudin-16 and -19 form a stable dimer through cis association of transmembrane domains 3 and 4; 2) mutations disrupting the claudin-16 and -19 cis interaction increase tight junction ultrastructural complexity but reduce tight junction permeability; and 3) no claudin hemichannel or heterotypic channel made of claudin-16 and -19 trans interaction can exist.These principles can be used to artificially alter tight junction permeabilities in various epithelia by manipulating selective claudin interactions.
Affiliation: Department of Internal Medicine-Renal Division, Washington University Medical School, St. Louis, MO 63110 Center for Investigation of Membrane Excitability Diseases, Washington University Medical School, St. Louis, MO 63110.
No MeSH data available.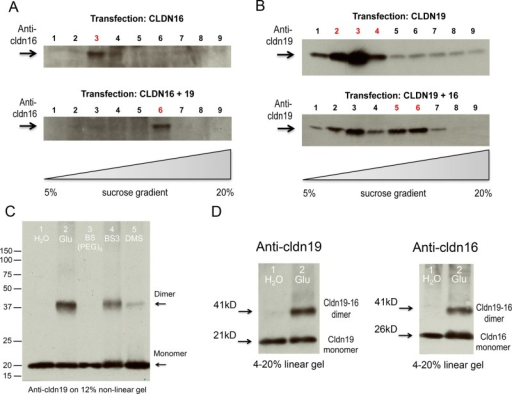 © Copyright Policy - creative-commons
getmorefigures.php?uid=PMC4666130&req=5
Mentions: The tight junction is a remarkably complex protein structure that appears as particles (each ∼10 nm in diameter as revealed by freeze-fracture replica) intercalated within anastomosing lipid bilayers (Goodenough and Revel, 1970). Because of this complexity in TJ architecture and in the interactome, native TJs in polarized epithelia are not ideal models for delineating any selected claudin–claudin interaction; instead, simple cell systems such as the yeast cell, the insect Sf9 cell, or nonepithelial HEK293 cells, which neither form TJs nor express endogenous TJ proteins, will allow an unambiguous study of claudin oligomeric nature. Knowing that claudin-16 cis interacts with claudin-19 from both the membrane yeast two-hybrid (Y2H) assay and the coimmunoprecipitation experiments in HEK293 cells (Hou et al., 2008), we asked how claudin-16 and -19 oligomerize in the cell membrane. We previously showed that claudin-16 and -19, when coexpressed in HEK293 cells, were correctly targeted to the plasma membrane and could be solubilized in 1% Triton X-100 detergent, which also preserved their interaction well (Hou et al., 2008). To separate claudin-16/-19 oligomers from their monomers, we subjected the Triton-solubilized HEK293 cell plasma membrane to linear sucrose gradient (5–20%) sedimentation. Because the sedimentation rate in a linear sucrose gradient is largely based on molecular mass and shape (Musil and Goodenough, 1993), the claudin oligomer would be expected to migrate to the higher sucrose density due to its larger sedimentation coefficient than that of the monomers. In claudin-16 or -19 singly transfected HEK293 cells, both claudins were recovered predominantly in the 8% fraction (fraction 3; Figure 1, A and B), indicating unassembled monomers, despite the fact that claudin-19 but not claudin-16 showed significant homomeric interaction in the yeast membrane (Hou et al., 2008). In doubly transfected cells at a molecular ratio of one claudin-16 to one claudin-19, the claudin sedimentation pattern changed significantly. Both claudin-16 (Figure 1A) and -19 (Figure 1B) were now enriched in the 14% fraction (fraction 6), indicating assembled oligomer. To prove that the claudin assembly process is universal and independent of different lipid composition, we performed the same sucrose sedimentation analysis on insect Sf9 cells from Spodoptera frugiperda singly or doubly expressing claudin-16 and -19. Both claudins were delivered to the Sf9 cell using a baculovirus expression system (see Materials and Methods) and found to be correctly localized in the plasma membrane. Similar to the HEK293 cell, singly expressed claudin-16 (Supplemental Figure S1A) or -19 (Supplemental Figure S1B) was concentrated in the 8% fraction, whereas doubly expressed claudins migrated to the 14% fraction (Supplemental Figure S1, A and B). The composition of claudin-16/-19 oligomer was examined by chemical cross-linking experiments. HEK293 cell membrane proteins from the 14% fraction containing the claudin oligomer population were incubated in presence or absence of 0.5% glutaraldehyde (Glu; spacer arm, 5.0 Å), 2.5 mM Bis (NHS) PEG9 (BS(PEG)9; spacer arm, 35.8 Å), 50 μg/ml Bis (sulfosuccinimidyl) suberate (BS3; spacer arm, 11.4 Å), or 2.5 mM dimethyl suberimidate (DMS; spacer arm, 11.0 Å) for 30 min at 4°C. Except for BS(PEG)9 due to its long spacer arm, all of the other cross-linkers—Glu, BS3, and DMS—efficiently cross-linked claudin-16 and -19 into an ∼40-kDa oligomer (Figure 1C). In contrast, no oligomer can be found in the 8% fraction. To report the molecular weight accurately, we subjected the claudin-16 and -19 monomer or oligomer to a linear SDS–polyacrylamide gel (4–20%) in which the migration distance of a protein is proportional to its molecular weight. The claudin-19 monomer runs at 21 kDa, the claudin-16 monomer at 26 kDa, and the oligomer at 41 kDa, compatible with a dimerized arrangement (Figure 1D). The oligomer can be recognized by both anti-claudin-19 and -16 antibodies (Figure 1D), which rules out the possibility of a homodimer, with the only available stoichiometry a heterodimer: one molecule of claudin-16 to one molecule of claudin-19. The same claudin heterodimer can be recapitulated in Sf9 cell membranes (Supplemental Figure S1C). Together these results reveal the fundamental oligomeric unit of claudins, which can then be polymerized into the tight junction strand.