Fumigant Toxicity and Repellence Activity of Camphor Essential Oil from Cinnamonum camphora Siebold Against Solenopsis invicta Workers (Hymenoptera:Formicidae).
Bottom Line: At 2.55 μg/ml, the highest average mortality of the ants was 84.89% after 72 h.Camphor EO exhibited fumigant toxicity against minor and major workers as indicated by the effects on attacking, feeding, and climbing behaviors.This EO was also strongly repellent to the two size workers of the colony as observed in their behavior against Tenebrio molitor treated with 5 µl EO.
Affiliation: Key Laboratory of Natural Pesticide and Chemical Biology, Ministry of Education, South China Agricultural University, Guangzhou 510642, China.
Show MeSH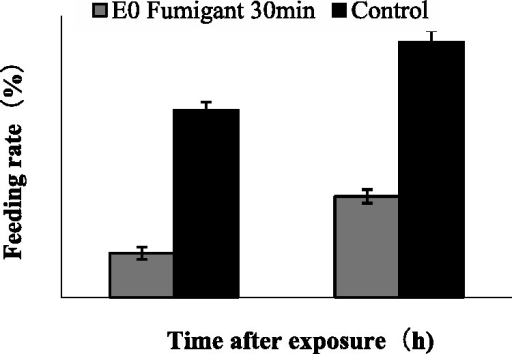 © Copyright Policy - creative-commons
License
getmorefigures.php?uid=PMC4664941&req=5
Mentions: LC50 and LC90 of camphor EO and the major components (camphor and cineole) work on the major and minor RIFA workers are presented in Table 2. An increase in toxicity of these components was observed at all concentrations (2.55–25.48 μg/ml) in major and minor workers. After 24 h, the following values were, respectively, obtained for minor and major workers: LC50 of camphor EO, 1.67 and 4.28 μg/ml; KT50, 10.82 and 14.73 h; and LC90 of EO, 2.73 and 7.29 μg/ml. After camphor EO was applied, the minor workers displayed signs of intoxication. Cineole (36.61%; LC50 of 2.34 and 5.99 μg/ml) and Camphor (30.02%; LC50 of 1.91and 5.59 μg/ml) were also toxic to minor and major RIFA workers. Camphor EO exhibits a stronger toxicity than natural camphor possibly because of the presence of cineole, which contributes to camphor toxicity. Camphor EO displayed fumigant toxicity against the two sizes of RIFA workers. This result was observed in a greater effect on attack, feeding, and climbing behaviors of the fumigated ants than of the control ants (Figs. 2, 3, and 5). This result also indicated that camphor EO could reduce the attack and feeding rate of RIFAs compared with the control ants after fumigation. In addition, camphor EO elicited a higher inhibitory effect on the climbing ability of RIFAs, this ability of RIFAs to climb plants, soil, stones, and nest walls is crucial for survival. From Figs. 2 and 4, it is also evident that the feeding rate of ants in the control group was <60% after 48 h. This could be attributed to the amount of food they consume every day. We determined and compared the toxicity of camphor EO obtained in this study with that in previous studies (Phelan 1976, Rabl et al. 1997, Love et al. 2003). Although the overall knowledge on the toxicity of camphor EO to RIFAs is poor, several published studies show that it exhibits toxic effects against stored-product insects. For instance, contact toxicity, grain treatment, and repellence assays have been conducted to investigate the toxicity of camphor EO and its major component (camphor) to four beetles, namely, Sitophilus granarius, Sitophiluszeamais, Tribolium castaneum, and Prostephanus truncatus, after 24 h of exposure (Chen et al. 2013). Another report has indicated that pure camphor compound shows contact and fumigant activity against Sitophilus oryzae and Rhyzopertha dominica but does not affect Tr. castaneum after 24 h of exposure at 0.1 µl/720 ml (Rozman et al. 2006). It was demonstrated that the insecticidal activity of camphor EO against R. dominica and Si. zeamais is attributed to camphor and the combined effects of different components, but camphor alone does not affect rice weevil (Si. oryzae) at an LC50 > 100 µl/liter (Bekele and Hassanali 2001).Fig. 2.