Asymmetric protonation of EmrE.
Bottom Line: The NMR spectra demonstrate that the protonation states of the active-site Glu14 residues determine both the global structure and the rate of conformational exchange between inward- and outward-facing EmrE.Thus, the pKa values of the asymmetric active-site Glu14 residues are key for proper coupling of proton import to multidrug efflux.However, the results raise new questions regarding the coupling mechanism because they show that EmrE exists in a mixture of protonation states near neutral pH and can interconvert between inward- and outward-facing forms in multiple different protonation states.
Affiliation: Department of Biochemistry and Molecular Biophysics, Washington University School of Medicine, St. Louis, MO 63110.
No MeSH data available.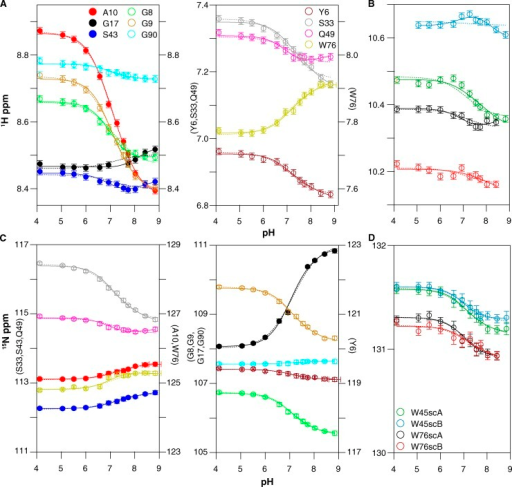 © Copyright Policy - openaccess
License 1 - License 2


getmorefigures.php?uid=PMC4664823&req=5

Mentions: The accuracy of pKa values determined from pH-dependent chemical-shift changes of more remote nuclei, those not in the side chain of the titrating residue itself, is greatly improved if the monitored nuclei are close to the titrating residue and removed from other ionizable groups (Muth and Schuldiner, 2000; Yerushalmi and Schuldiner, 2000b; Soskine et al., 2004; Webb et al., 2011). Thus, to determine the pKa of Glu14 as accurately as possible, we focus on residues within the transport pore in the vicinity of Glu14 and globally fit the amide proton and nitrogen titration curves (Muth and Schuldiner, 2000; Yerushalmi and Schuldiner, 2000b; Yerushalmi et al., 2001; Soskine et al., 2004; Adam et al., 2007; Tomlinson et al., 2010; McIntosh et al., 2011). As shown in Fig. 2, Ala10, Gly17, and Ser43 are close to Glu14 and far removed from other ionizable residues located in the water-exposed loops of EmrE. These residues close to Glu14 will most directly sense the unique local changes in electrostatic environment occurring upon protonation/deprotonation of each Glu14 residue in the homodimer. These three residues also have well-resolved peaks in the spectra, enabling accurate analysis. Because of the curvature in the peak positions as a function of pH, fitting to a single pKa value (Eq. 1) does not yield a good fit (Fig. 8, dotted lines). However, the peak position as a function of pH for all three residues can be simultaneously fit quite well with two macroscopic pKa values (Eq. 2; Fig. 8, solid lines). This yields pKa values of 7.0 ± 0.1 and 8.2 ± 0.3 at 45°C. These pKa values are highly shifted from the standard pKa of 4.2 ± 0.1 for a water-exposed glutamate side chain (Castañeda et al., 2009; Grimsley et al., 2009; Farrell et al., 2010; Platzer et al., 2014), but well within the range of the functional pKa values reported previously for EmrE. This is consistent with the expectation that Ala10, Gly17, and Ser43 report on the protonation of Glu14.