Amyotrophic lateral sclerosis and denervation alter sphingolipids and up-regulate glucosylceramide synthase.
Bottom Line: Significant changes in lipid expression were evident in spinal cord and skeletal muscle before overt neuropathology.In silico analysis also revealed appreciable changes in sphingolipids including ceramides and glucosylceramides (GlcCer).HPLC analysis showed increased amounts of GlcCer and downstream glycosphingolipids (GSLs) in SOD1(G86R) muscle compared with wild-type littermates.
Affiliation: Université de Strasbourg, UMR_S 1118, Strasbourg, France, INSERM, U1118, Mécanismes Centraux et Péripheriques de la Neurodégénérescence, Strasbourg, France.
No MeSH data available.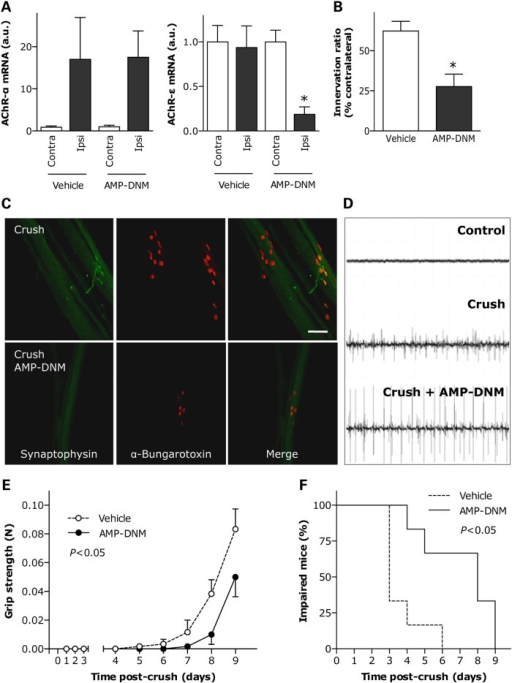 © Copyright Policy - creative-commons
License
getmorefigures.php?uid=PMC4664174&req=5
Mentions: In ALS, as well as in response to denervation, muscle atrophy is associated with changes in the metabolic phenotype of the fibers and modifications in their contractility and fatigability. These fibers undergo a shift from a fast-twitch to a slow-twitch type with more sustained activity and increased resistance to fatigue, characteristics that are typical of muscles with a high degree of oxidative, fatty acid metabolism (41–43). To determine the effects of inhibiting GCS enzymatic activity during muscle denervation, we treated WT mice, submitted to sciatic nerve crush, with daily intraperitoneal injections of the specific GCS inhibitor N-(5-adamantane-1-yl-methoxy-pentyl)-deoxynojirimycin (AMP-DNM) (44). AMP-DNM decreased muscle GlcCer content by 33% (Fig. 6A). Although this treatment did not influence the extent of muscle fiber atrophy 10 days following crush injury (Fig. 6B), it blocked the expression of several genes critical for promoting oxidative metabolism following denervation (Fig. 6C). In particular, AMP-DNM significantly reduced the expression of the transcription factors PGC1α and PPARα, master activators of mitochondriogenesis and lipid catabolism, respectively. At the same time, the expression of lipoprotein lipase (LPL), which hydrolyzes triglycerides, was significantly decreased. Finally, the expression of FAT/CD36, involved in fatty acid transport, and pyruvate dehydrogenase kinase-4 (PDK4), a promoter of β-oxidation of fatty acids, remained comparable to that of non-denervated muscle. This suggests a major effect on oxidative metabolism. The effect of GCS inhibition on neuromuscular function was also investigated after sciatic nerve crush. Ten days following crush injury, AMP-DNM did not affect overexpression of AChR-α in denervated muscle but significantly lowered expression of AChR-ε, when compared with levels observed in denervated, untreated WT mice (Fig. 7A). Histological analysis of neuromuscular junctions in treated WT mice revealed that AMP-DNM significantly reduced the number of innervated synapses (Fig. 7B and C), which is interpreted as a delay in the process of axonal regeneration after crush. As a result, abnormal electromyographic episodes reflecting neurogenic denervation were more frequent and intense in AMP-DNM-treated mice (Fig. 7D). To monitor motor function recovery during reinnervation, we measured hind limb grip strength and found that its restoration was slower in treated WT mice than that in untreated littermates (Fig. 7E). In addition, the time to onset of toe spreading, considered as an index of reinnervation (45), was delayed in AMP-DNM-treated WT mice (median of 8 days), as compared with untreated WT mice (median of 3 days) (Fig. 7F). In all, these findings are consistent with a delayed regenerative capacity and strongly suggest a critical role for GCS in the response of muscle to denervation.Figure 6.