Delayed/back up antibiotic prescriptions: what do the public think?
Bottom Line: Only 4% of all respondents, and 15% of those prescribed an antibiotic, reported being offered a delayed antibiotic in the last year.Wider understanding and acceptance of delayed prescribing may facilitate increased uptake.Further research is needed to determine why groups are so strongly in favour or opposed to delayed prescribing.
Affiliation: Primary Care Unit, Public Health England, Microbiology Department, Gloucestershire Royal Hospital, Gloucester, UK.
Show MeSH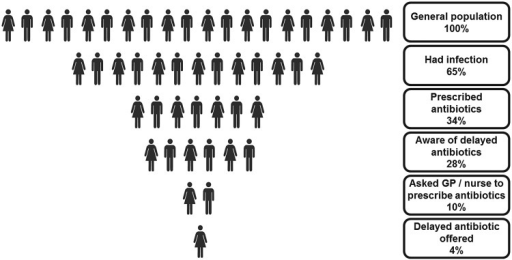 © Copyright Policy - open-access
License
getmorefigures.php?uid=PMC4663434&req=5
Mentions: Between 36% and 40% of respondents tended to favour, or strongly favoured delayed antibiotics for each of the infections (chest, urine, ear or throat), 28–30% tended to oppose or strongly opposed this option, and about 3 in 10 neither favoured nor opposed. Women and older respondents were more likely to be opposed to delayed antibiotics; 34% of women and 36% of those aged 65+ opposed the use of delayed antibiotics for throat infection compared to 26% men and 26% of those under 45 years p=0.002. These proportions were similar for each of the infections. Those 274 respondents who were aware of the term and practice of delayed antibiotics were significantly more likely than those 1181 respondents who had not heard of the term or the practice, to be in favour or strongly to GP's, nurses or dentists issuing delayed antibiotic prescriptions for chest, urine, ear or throat infections (49% vs 32% in favour for throat infection and 54% vs 36% in favour for chest infections) (table 2). When asked about their infections and antibiotic use in the past 12 months, 65% (1052) respondents reported that they had an infection, 34% (449) reported being prescribed antibiotics, 10% (172) reported asking a GP or nurse for antibiotics and 4% (CI±1.2%, n=65) reported that they had been offered a delayed antibiotic option (14% of those prescribed an antibiotic (CI±1%, n=65) (figure 2). Women (5%, CI±1.5-x, n=43/830), those with children (7%, CI±2.3%, n=35/525), and those with no formal education (6%, CI±2.3%, n=20) or in social grade DE (7%, CI±2.6%, n=26/393) were more likely to have been offered a delayed prescription (table 3). Respondents reporting RTIs in the last year were significantly more likely to report being offered a delayed antibiotic compared to the total sample; 10% who reported having a throat infection (18/186,p=0.016) or ear infection (8/78,p=0.016), 8% (14/180,p=0.014) reporting a chest infection, 9% (17/201, p=0.001) flu symptoms. Overall, 5% (CI±1.4, n=45) of respondents with any RTI reported being offered a delayed antibiotic in the past year. When recipients of delayed prescriptions were asked to score acceptability of the approach on a Likert scale from 1 to 10 where 10 is completely acceptable, the mean score was 7.9; 26/37 scored 8 or more and 17/37 scored 10. Overall 60% (35/59) of those offered a delayed antibiotic reported collecting the antibiotic from the pharmacy.