Zebrafish cerebrospinal fluid mediates cell survival through a retinoid signaling pathway
ABSTRACT
---
Cerebrospinal fluid (CSF) includes conserved factors whose function is largely unexplored. To assess the role of CSF during embryonic development, CSF was repeatedly drained from embryonic zebrafish brain ventricles soon after their inflation. Removal of CSF increased cell death in the diencephalon, indicating a survival function. Factors within the CSF are required for neuroepithelial cell survival as injected mouse CSF but not artificial CSF could prevent cell death after CSF depletion. Mass spectrometry analysis of the CSF identified retinol binding protein 4 (Rbp4), which transports retinol, the precursor to retinoic acid (RA). Consistent with a role for Rbp4 in cell survival, inhibition of Rbp4 or RA synthesis increased neuroepithelial cell death. Conversely, ventricle injection of exogenous human RBP4 plus retinol, or RA alone prevented cell death after CSF depletion. Zebrafish rbp4 is highly expressed in the yolk syncytial layer, suggesting Rbp4 protein and retinol/RA precursors can be transported into the CSF from the yolk. In accord with this suggestion, injection of human RBP4 protein into the yolk prevents neuroepithelial cell death in rbp4 loss‐of‐function embryos. Together, these data support the model that Rbp4 and RA precursors are present within the CSF and used for synthesis of RA, which promotes embryonic neuroepithelial survival. © 2015 Wiley Periodicals, Inc. Develop Neurobiol 76: 75–92, 2016
No MeSH data available.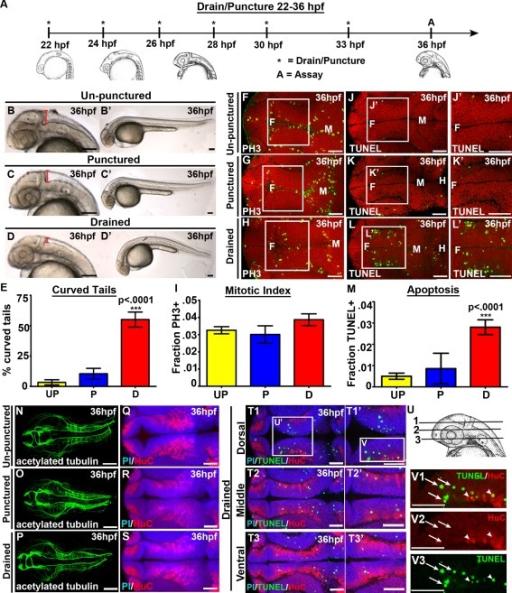 © Copyright Policy - creativeCommonsBy-nc-nd
License
getmorefigures.php?uid=PMC4644717&req=5
Mentions: Manual drainage technique was performed as previously described (Chang and Sive, 2012). Briefly, a micropipette needle was inserted through the roof plate of the hindbrain ventricle and was positioned either in the hindbrain, midbrain, or forebrain ventricle. CSF was removed from all three brain ventricles, using an Eppendorf CellTram oil microinjector apparatus, every one to two hours from 22–36 hpf (referred to as drained; six times total, [Fig. 1 (A)]). After each drain, the needle was removed and embryos stored at 32°C to speed up development in order to decrease the amount of experimental time required to examine a 14 hour developmental time window. As a control, the micropipette needle was inserted into embryos without removing any CSF (referred to as punctured). Unpunctured and punctured embryos were also stored at 32°C from 22–36 hpf. To introduce factors into drained embryos, 1–2 nL of a factor was injected every 2 hours from 30–36 hpf (three times total, [Fig. 3(A)]) into the brain ventricles as described previously (Gutzman and Sive, 2009). Factors used include: E10.5 mouse CSF (frozen), physiological saline/artificial CSF (118 mM NaCl, 2 mM KCl, 10 mM MgCl2, 10 mM HEPES, 10 mM glucose), Caspase 3 Inhibitor I (Millipore; 500uM), Insulin like growth factor 2 recombinant human (IGF2, US Biologicals, 25ng/mL), Fibroblast growth factor 2 (FGF2, Sigma, 300 μg/mL), all‐trans RA (Sigma, 10−8M), all‐trans retinol (Sigma, 348 nM), recombinant human RBP4 (R&D systems, 2 ng/μL), A1120 (Sigma 30 × 10−8M), Citral (Sigma 250 μM), 4‐Diethylaminobenzaldehyde (DEAB, Sigma, 10 μM). DMSO diluted 1:10‐1:1000 in E3 or E3 alone were used as negative control injections.