Unmasking determinants of specificity in the human kinome.
Bottom Line: Here, we systematically discover several DoS and experimentally validate three of them, named the αC1, αC3, and APE-7 residues.We demonstrate that DoS form sparse networks of non-conserved residues spanning distant regions.Our results reveal a likely role for inter-residue allostery in specificity and an evolutionary decoupling of kinase activity and specificity, which appear loaded on independent groups of residues.
Affiliation: Department of Systems Biology, Technical University of Denmark, 2800 Lyngby, Denmark. Electronic address: creixell@mit.edu.
Show MeSH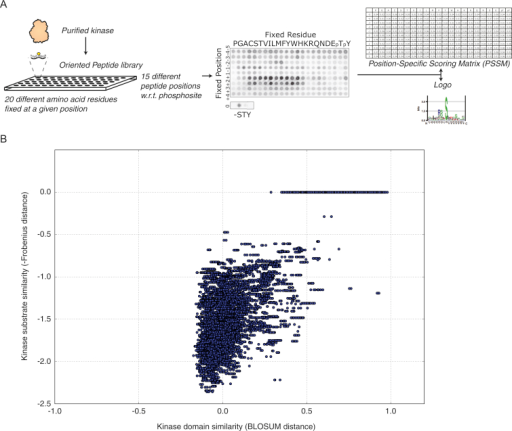 © Copyright Policy - CC BY
License
getmorefigures.php?uid=PMC4644237&req=5
Mentions: Cellular signaling fidelity is maintained essentially through two coupled mechanisms. At a macro-molecular level, protein specificity ensures that each protein kinase will reach and interact with its protein substrates. At a micro-molecular or atomic level, peptide specificity defines the ability of a given kinase domain present in all active protein kinases to recognize and phosphorylate a specific peptide within the protein substrate (Turk, 2008) (Figure 1A). A variety of experimental techniques have been developed to elucidate the peptide specificity for many modular signaling domains and obtain specificity profiles (e.g., the so-called Position-Specific Scoring Matrices, PSSMs), as a quantitative measure of the preference of each kinase domain for each amino acid residue at every peptide substrate position (Figure S1). While other factors contributing to protein interaction specificity at a macro-molecular level (such as co-localization, co-expression, docking motifs, and scaffold or adaptor proteins) have been described (Bhattacharyya et al., 2006, Linding et al., 2007, Reményi et al., 2005, Scott and Pawson, 2009), the combination of residues in the kinase domain that encode peptide substrate specificity, the so-called determinants of specificity (DoS), have remained largely elusive (Figure 1B). Even though some structural studies have helped identify residues that are in close contact with the substrate peptide which likely influence specificity (Brinkworth et al., 2003, Ellis and Kobe, 2011, Hanks and Hunter, 1995, Mok et al., 2010, Nolen et al., 2004), these studies were largely focused on specific kinase families and/or non-human species as well as limited in scope by the small number of kinase-peptide structures currently available and an inability to capture potentially long-range DoS.