The Nuclear Pore-Associated TREX-2 Complex Employs Mediator to Regulate Gene Expression.
Bottom Line: Transcriptome and phenotypic profiling confirm that TREX-2 and Med31 are functionally interdependent at specific genes.TREX-2 additionally uses its Mediator-interacting surface to regulate mRNA export suggesting a mechanism for coupling transcription initiation and early steps of mRNA processing.Our data provide mechanistic insight into how an NPC-associated adaptor complex accesses the core transcription machinery.
Affiliation: Max F. Perutz Laboratories, Medical University of Vienna, Vienna Biocenter Campus (VBC), Dr. Bohr-Gasse 9/3, 1030 Vienna, Austria.
Show MeSH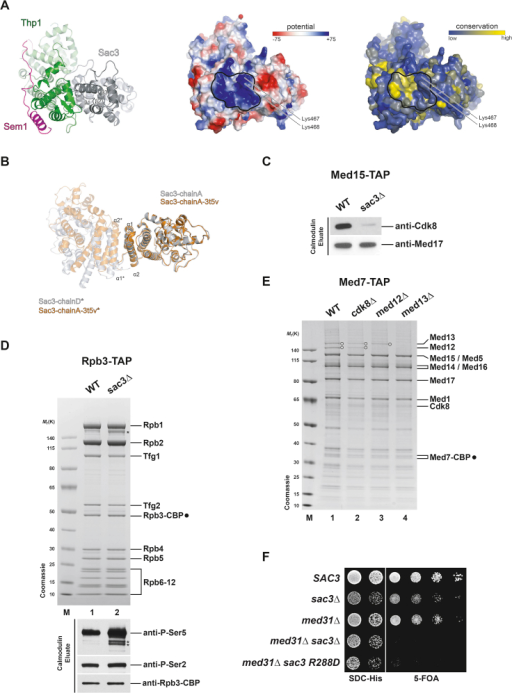 © Copyright Policy - CC BY-NC-ND
License
getmorefigures.php?uid=PMC4644235&req=5
Mentions: We hypothesized that the ability of TREX-2 to regulate both transcription and mRNA export is encoded in its PCI portion that represents the evolutionary most conserved part of the complex. Among PCI proteins two different types can be discerned: the TREX-2 subunit Thp1 contains a "typical" PCI, whereas Sac3 contains a less common "atypical" PCI, which features an additional N-terminal extension (Pick et al., 2009). Multiple sequence alignments of Sac3 revealed a conserved region (Sac3 aa 200–300), which corresponds to the atypical PCI extension (Figure S1A). Despite being highly conserved, this region was not functionally characterized in a recent study reporting the crystal structure of the yeast Sac3(253–551)/Thp1/Sem1 complex (PDB: 3t5v) (Ellisdon et al., 2012). To address the function of the most conserved region of Sac3 we determined the crystal structure of a Saccharomyces cerevisiae TREX-2 sub-complex containing an N-terminally extended variant of Sac3 (Sac3(222–572)/Thp1(170–455)/Sem1) at 3.1 Å resolution revealing an overall organization that was highly similar to the reported structure (root-mean-square deviation [rmsd] values: Sac3 0.8 Å, Thp1 1.4 Å, and Sem1 2.8 Å for 299, 450, and 56 equivalent Ca atoms, respectively) (Figure 1B). Despite their conservation, Sac3 residues 222–252 were not defined by electron density, most likely because this segment is inherently flexible. Strikingly, mapping the sequence conservation onto the TREX-2 PCI structure highlighted a distinct surface patch in the atypical part of the Sac3 PCI domain as the largest conserved region of the entire Sac3/Thp1/Sem1 complex (Figure 1C). This region includes Sac3 helices α1, α2, and α4 and consists of two clusters of positively charged residues centered around R256 and R288 (Figure 1D). To analyze the function of this region, we phenotypically characterized the impact of point mutations in residues that are identical between yeast and human (Figures 1E and S1A). Interestingly, both sac3 R256D and R288D mutations, exhibited pronounced growth defects with the R288D mutation being more severely affected on galactose-containing medium, a condition that requires highly inducible transcription of the NPC-targeted GAL1 gene (Figure 1E). The respective alanine substitutions resulted in weaker phenotypes, while other mutations (e.g., D351R) showed no readily detectable growth defects. The observed phenotypes do not result from Sac3 protein instability, as the mutant proteins assembled into stable complexes with the other TREX-2 subunits (Figures S1B and S1C) and localized to NPCs in vivo (Figure S1D). Sac3 residues K467 and K468, located in the remote winged helix subdomain, were reported to be crucial for nucleotide binding and mRNA export (Ellisdon et al., 2012). However, upon mutation (sac3 K467D/K468D) we detected comparatively minor growth phenotypes under the conditions of our assay, consistent with these residues being poorly conserved (Figures S1A and S2A). Thus, our analysis assigns a critical function to the N-terminal region of the atypical Sac3 PCI domain.