The Fanconi Anemia Pathway Maintains Genome Stability by Coordinating Replication and Transcription.
Bottom Line: However, how these proteins limit replication stress remains largely elusive.Here we show that conflicts between replication and transcription activate the FA pathway.Finally, we demonstrate that the molecular mechanism by which the FA pathway limits R-loop accumulation requires FANCM translocase activity.
Affiliation: Department of Oncology, Weatherall Institute of Molecular Medicine, University of Oxford, John Radcliffe Hospital, Oxford OX3 9DS, UK.
Show MeSH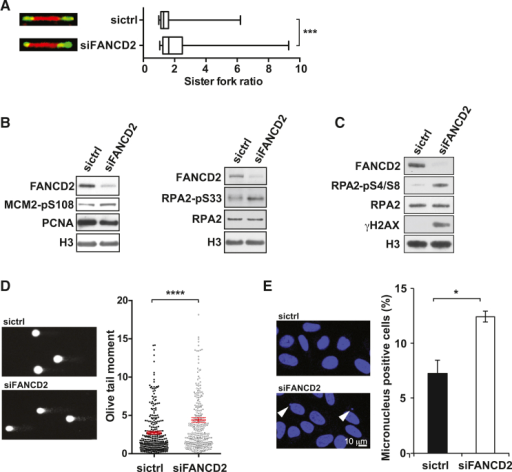 © Copyright Policy - CC BY
License
getmorefigures.php?uid=PMC4644232&req=5
Mentions: Hypersensitivity to agents that impede the progression of replisomes is a hallmark of FA, and, consequently, we and others have found that the FA pathway plays a role in the response to replicative stress (Knipscheer et al., 2009, Lossaint et al., 2013, Schlacher et al., 2012, Schwab et al., 2010). Accordingly, upon treatment with replication inhibitors, a central component of the FA pathway, FANCD2, is activated by monoubiquitination in an ATR-dependent manner (Andreassen et al., 2004). Subsequently, FANCD2 is targeted to damaged replication forks (Lossaint et al., 2013) and forms foci colocalizing with the DNA repair proteins γH2AX, BRCA1, and RAD51 (Montes de Oca et al., 2005, Taniguchi et al., 2002). Interestingly, FANCD2 is also monoubiquitinated and forms foci that colocalize with γH2AX in unchallenged cells (Taniguchi et al., 2002; Figure S1A). This suggests that FANCD2 is also required for dealing with replicative stress that arises in cells undergoing normal cell cycle progression. To test this, we analyzed DNA replication in control and FANCD2-depleted cells under normal growth conditions using the DNA fiber technique (Blackford et al., 2012, Schwab and Niedzwiedz, 2011). To determine the impact of FANCD2 depletion on global replication fork dynamics, we measured the lengths of sister fork tracts. Sister forks emanating from the same origin of replication and traveling in opposite directions typically display similar replication rates (Conti et al., 2007). Consequently, differences in tract lengths indicate that individual forks are more prone to stalling. We noticed a significant increase in asymmetric sister forks in FANCD2-downregulated cells compared with control cells (Figure 1A), suggesting a widespread perturbation of the normal replication program. In support of this notion, we also found increased phosphorylation of MCM2 on Ser-108 and RPA on Ser-33 (Figure 1B) in FANCD2 knockdown cells, both markers of replicative stress (Cortez et al., 2004, Sirbu et al., 2011). Failure to restart stalled forks is a strong signal for DNA damage (Schlacher et al., 2012), and, accordingly, western blot analysis showed increased γH2AX and phosphorylation of RPA2 at Ser-4/Ser-8 in FANCD2 knockdown cells (Figure 1C). These modifications are associated with DNA double-strand breaks (Sartori et al., 2007), and, therefore, we examined DNA integrity by single-cell gel electrophoresis. Cells with FANCD2 knockdown showed a significant increase in DNA breaks compared with control cells (Figure 1D). DNA damage is a precursor of genomic instability, and, in line with this, we found a greater number of cells with micronuclei in FANCD2-depleted cells (Figure 1E), a phenotype also observed in FA patient cells (Heddle et al., 1978). Moreover, FANCC−/− mouse embryonic fibroblasts (MEFs) as well as FANCA−/− mouse hematopoietic stem cells also display signs of replisome instability and activation of the DNA damage response (DDR) in unchallenged cells (Luebben et al., 2014, Walter et al., 2015). Taken together, these findings underscore the FA pathway's general role in facilitating replication under normal growth conditions.