Early divergent strains of Yersinia pestis in Eurasia 5,000 years ago.
Bottom Line: How and when it originated remains contentious.We also identify a temporal sequence of genetic changes that lead to increased virulence and the emergence of the bubonic plague.Our results show that plague infection was endemic in the human populations of Eurasia at least 3,000 years before any historical recordings of pandemics.
Affiliation: Center for Biological Sequence Analysis, Department of Systems Biology, Technical University of Denmark, Kemitorvet, Building 208, 2800 Kongens Lyngby, Denmark.
Show MeSH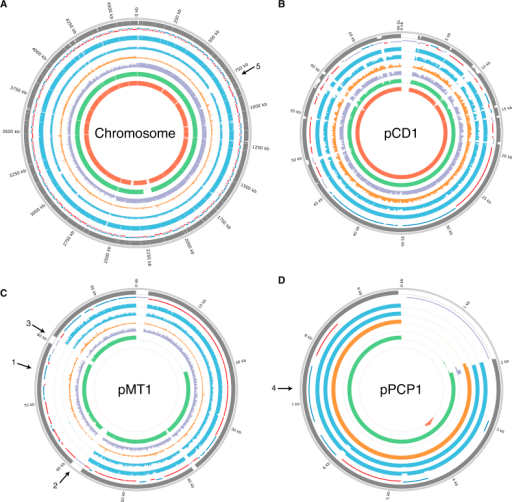 © Copyright Policy - CC BY
License
getmorefigures.php?uid=PMC4644222&req=5
Mentions: We screened c. 89 billion raw DNA sequence reads obtained from teeth of 101 Bronze Age individuals from Europe and Asia (Allentoft et al., 2015) and found that seven individuals carried sequences resembling Y. pestis (Figure 1, Table S1, Supplemental Experimental Procedures). Further sequencing allowed us to assemble the Y. pestis genomes to an average depth of 0.14–29.5X, with 12%–95% of the positions in the genome covered at least once (Table 1, Table S2, S3, and S4). We also recovered the sequences of the three plasmids pCD1, pMT1, and pPCP1 (0.12 to 50.3X in average depth) the latter two of which are crucial for distinguishing Y. pestis from its highly similar ancestor Y. pseudotuberculosis (Table 1, Figure 2, Table S3) (Bercovier et al., 1980, Chain et al., 2004, Parkhill et al., 2001). The host individuals from which Y. pestis was recovered belong to Eurasian Late Neolithic and Bronze Age cultures (Allentoft et al., 2015), represented by the Afanasievo culture in Altai, Siberia (2782 cal BC, 2794 cal BC, n = 2), the Corded Ware culture in Estonia (2462 cal BC, n = 1), the Sintashta culture in Russia (2163 cal BC, n = 1), the Unetice culture in Poland (2029 cal BC, n = 1), the Andronovo culture in Altai, Siberia (1686 cal BC, n = 1), and an early Iron Age individual from Armenia (951 cal BC, n = 1) (Table S1).