A rare case of aortic sinuses of valsalva fistula to multiple cardiac chambers secondary to periannular aortic abscess formation from underlying Brucella endocarditis.
Bottom Line: The patient was discharged on the 25(th) day after admission in relatively good condition.The TTE follow-up one year after discharge revealed mild paravalvular leakage in aortic valve position, but the function of mitral valve was normal and no residual fistulas were detected.Abstract available from the publisher.
Affiliation: Preventive Cardiovascular Research Centre Kermanshah, Kermanshah University of Medical Sciences, Kermanshah, Iran.
ABSTRACT
---
The concomitant presence of abnormal connection from three aortic valsalva sinuses to cardiac chambers is a rare complication of native aortic Brucella endocarditis. This case report presents a 37-year-old Iranian female patient who had native aortic valve Brucella endocarditis complicated by periannular abscess formation and subsequent perforation to multi-cardiac chambers associated with congestive heart failure and left bundle branch block. Multiple aorto-cavitary fistulas to right atrium, main pulmonary artery, and formation of a pocket over left atrial roof were detected by transthoracic echocardiogram (TTE). She had received a full course of antibiotics therapy in a local hospital and was referred to our center for further surgery. TTE not only detected multiple aorto-cavitary fistulas but also revealed large vegetation in aortic and mitral valve leaflets and also small vegetation in the entrance of fistula to right atrium. However, the tricuspid valve was not involved in infective endocarditis. She underwent open cardiac surgery with double valve replacement with biologic valves and reconstruction of left sinus of valsalva fistula to supra left atrial pocket by pericardial patch repair. The two other fistulas to main pulmonary artery and right atrium were closed via related chambers. The post-operative course was complicated by renal failure and prolonged dependency to ventilator that was managed accordingly with peritoneal dialysis and tracheostomy. The patient was discharged on the 25(th) day after admission in relatively good condition. The TTE follow-up one year after discharge revealed mild paravalvular leakage in aortic valve position, but the function of mitral valve was normal and no residual fistulas were detected.

No MeSH data available.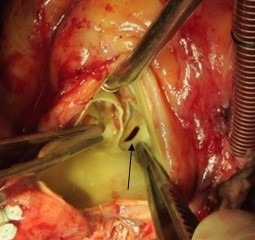 © Copyright Policy - open-access
License
getmorefigures.php?uid=PMC4644062&req=5
Mentions: A 37-year-old female patient was referred to our hospital following a full course of Brucella endocarditis in a general hospital for emergency surgery of Brucella endocarditis of aortic and mitral valve. The patient's past medical history revealed living in endemic area of Brucella infection and a history of consumption of unpasteurized milk products. Her medical history was unremarkable except for sacroiliac arthritis. She had been admitted in a general hospital for assessing fever over the last month. After detecting a positive blood culture for Brucella without its bio-typing, she was treated by following triple combination of drugs consisting of oral rifampin 900 mg per day (qd), oral doxycycline 100 mg twice per day (bid) and gentamicin 80 mg intravenously three times per a day (tid) adjusted with blood levels of drugs and serum BUN and creatinine level. Upon admission, the patient was feverous, tachycardic, her blood pressure was low (80/20), and she had dyspnea. On neurologic examination, the patient was awake and oriented; her skin was cold and damp. The patient's previous blood cultures at three different times showed a Brucella infection. White blood cell count: 12,000/mm–3 with 70% neutrophils, platelet count: 80,000/mm–3, hemoglobin: 9 g/dl, C-reactive protein: 60 mg/dl, erythrocyte sedimentation rate: 75 mm/h, blood urea nitrogen (BUN): 60 mg/dL, and creatine (Cr): 3.9 mg/dL. Urinalysis revealed no hematuria and 24-hour (diurnal) urinalysis (UA) revealed proteinuria. Serum agglutination tests were positive (titer>1:1,500), and enzyme-linked immunosorbent assay tests for anti-Brucella IgG and IgM antibodies were strongly positive (150 U/ml and 52 U/mL, respectively). A transthoracic echocardiogram (TTE) delineated destruction of mitral and aortic valves by multiple vegetation and multiple small and large aortic ring abscesses extended to surrounding tissue and perforated to right atrium, main pulmonary artery and formation a pocket over the left atrial roof (Figure 1 (Fig. 1), Figure 2 (Fig. 2)). The ejection fraction (EF) was 50% and pulmonary pressure was 60 mmHg. There was severe aortic, mitral and tricuspid valve regurgitation. The patient continued to use the previous anti-Brucella drugs orally while additional evaluations were performed. Due to the patient's congestive heart failure (CHF) in addition to her multiple mobile aortic and mitral valve vegetation, it was decided that aortic and mitral valve replacement shall be performed immediately. The patient was scheduled for an emergency double valves procedure. However, the night before the surgery, she was intubated due to respiratory distress and was subsequently connected to mechanical ventilator. The patient suffered from severe pulmonary edema caused by CHF that required mechanical ventilation. After intubation, the patient became hypotensive and oliguric needing inotropic drugs use. The patient's hemodynamic became stabilized and she was taken to the operating room. The intra-operative transesophageal echocardiogram (TEE) did not reveal any new findings. The patient was taken to operating room and a median sternotomy was performed and aortic and bi-cava cannulation was done. After opening the pericardium, it was found that the aortic root was severely attached to the surrounding tissue by inflammatory reaction caused by perforation of abscess in left coronary sinus to roof of left atrium as observed in TEE. The ascending aorta was cross-clamped, and after transverse transaction of the ascending aorta, cardioplegin was indirectly infused to coronaries ostium to induce cardiac arrest. After moderate hypothermic cardioplegic arrest, the umbilical tape was put around both the superior vena and inferior vena cavae and they were snared. The right atrium and left atrium were opened superior and inferior to the atrioventricular groove. Further, intra-operative inspection of right atrium showed small vegetations in crater of fistula entrance to right atrium in antero-medial region of tricuspid ring (Figure 3 (Fig. 3)). However, the tricuspid valve was not involved in infective endocarditis. Intra-aortic root inspection revealed a defect in non-aortic coronary sinus filled with necrotic materials and an abscess that perforated through the area above the tricuspid valve (Figure 4 (Fig. 4)). There was also a fistula between the left-coronary sinus, just near the left coronary ostium to the main pulmonary artery (Figure 5 (Fig. 5)). Further intra-operative perception of aortic root revealed a pocket filled by abscess through a defect in left coronary sinus just located over the roof of the left atrium (Figure 6 (Fig. 6)). In addition to the aforementioned fistulas, multiple vegetations were observed on both mitral and aortic valves that caused severe destruction of both valves causing grave regurgitation (Figure 7 (Fig. 7)). It apeared that mitral valve vegetations were caused by regurgitated aortic valve flow that impinged on aorto-mitral fibrous continuity and subsequently caused the penetration and destruction of the native mitral valve (Figure 8 (Fig. 8)). This infective tissue involved the valve. The abscess was completely debrided to restore and find underlying normal tissue. After debridement of the perforation's site of the left coronary sinus and cleaning of the performed pocket over the left atrial roof, the aortic defect was repaired by fresh autologous pericardium patch that was used in the external side of the ascending aorta. The fistula tract to main pulmonary artery was closed from intra-pulmonary side of fistula by 4/0 proline sutures, as the closure of small fistula to right atrium. After closing of all three fistula and reconstructing the left sinus of valsalva and replacement of both valves, an oval-shaped fresh pericardial patch was utilized in a sino-tubular junction positioned just close to the superior vena cava, which helped in a tension-free approximation of aortotomy incision. Because the perforation of abscess along the conduction system caused bundle branch block and disturbances of other conduction branches, the atrial and ventricular epicardial pacing wires were used for sequential atro-ventricular pacing. The patient was admitted to the surgical intensive care unit for further control and treatment. Weaning from mechanical ventilation was complicated with tachypnea and grave respiratory distress. Extubation was delayed on the 9th post-operative day after performing a tracheostomy for the better cleaning of respiratory tract secretion and facilitation of extubation. Transient renal and hepatic failure also complicated the postoperative course of surgery. The serum blood nitrogen and creatinine raised to 90 and 5.5 subsequently and was managed accordingly by three times of peritoneal dialysis. Her hepatic and kidney dysfunction recovered relatively in 15th day of operation. A TEE in discharge time revealed a normal functioning of both bioprosthetic valves; however, a mild paravalvular leakage was observed in aortic position. Moreover, correction of all fistulas was successful and no residual flow signal in area of fistula repair was found. She was discharged home on the 25th day after admission.