Structural characterization of highly glucosylated crocins and regulation of their biosynthesis during flower development in Crocus
ABSTRACT
---
Crocin biosynthesis in Crocus has been proposed to proceed through a zeaxanthin cleavage pathway catalyzed by carotenoid cleavage dioxygenase 2 (CCD2), and followed by glucosylation reactions catalyzed by CsGT2 (UGT74AD1). In Crocus ancyrensis flowers, crocins with eight (crocin-1), seven (crocin-2), and six glucose (crocin-3) moieties accumulated both in stigma and tepals. We have characterized the structure of these highly glucosylated crocins and follow up their accumulation by high-resolution liquid chromatography coupled with diode array detector along the development of both tissues, and coupled to the isolation and analysis of the expression of eighteen genes (PSY-I, PSY-II, PDS-(I-V), ISO-ZDS, ZDS, CtrISO, LYC-I and II, BCH, CaCCD2, UGT74AD2-5) related with the apocarotenoid metabolism in C. ancyrensis tepals and stigmas. Structure elucidation of crocin-1 and crocin-2 was done by the combined use of 1D and 2D [1H, 1H] (gCOSY and TOCSY and ROESY) and [1H-13C] NMR experiments, revealing that for crocin-1 was all-trans-crocetin O-[β-D- Glucopyranosyl)-(1→4)-(β-D-glucopyranosyl)-(1→2)]-O-[β-D-glucopyranosyl-(1→6)]-β-D-glucopyranosyl diester, while crocin-2 showed an identical structure except for the absence of one glucose residue in one end of the molecule. Crocins accumulation was not synchronically regulated in stigma and tepals, although in both cases crocins accumulation parallels tissue development, decreasing at anthesis. The expression of the carotenogenic genes PSY, ZDS-V, BCH, and LCY-II was correlated with crocins accumulation. In addition, CaCCD2 and only one of the four glucosyltransferase encoding genes, UGT74AD2, were highly expressed, and the expression was correlated with high levels of crocins accumulation in stigma and tepals.
No MeSH data available.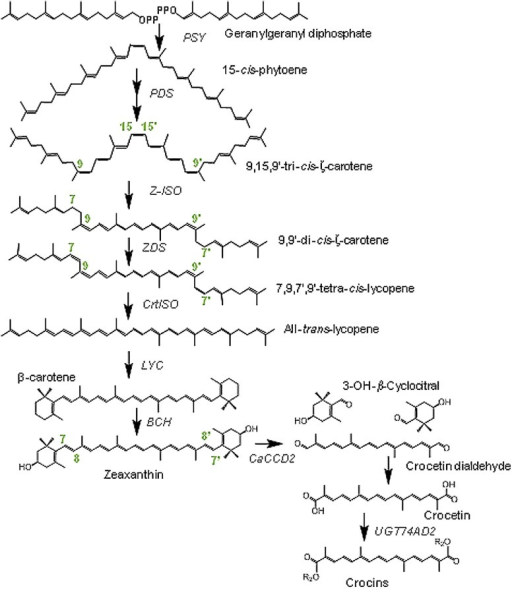 © Copyright Policy
License
getmorefigures.php?uid=PMC4632010&req=5
Mentions: The transcriptional regulation of carotenoid and crocetin pathways has been well documented in saffron stigmas (Castillo et al., 2005; Rubio et al., 2008; Moraga et al., 2009; Ahrazem et al., 2010). Biosynthetically, crocetin derives from zeaxanthin (Figure 1), synthesized in the chromoplast, using isopentenyl diphosphate (C5) derived from the methylerythritol-4-phosphate pathway (Pfander and Schurtenberger, 1982; Moraga et al., 2009). The conversion of two geranylgeranyl diphosphate (C20) molecules into phytoene (C40) represents the first committed step in the carotenoid pathway and is catalyzed by the enzyme phytoene synthase (Figure 1), (Cunningham and Gantt, 1998). Phytoene undergo a sequential series of desaturations and isomerizations to form all-trans lycopene. In plants, the desaturation and isomerization of phytoene to lycopene requires four proteins, a phytoene desaturase synthase and ζ-carotene desaturase, and two isomerases acting on ζ-carotene and poly cis-lycopene (Isaacson et al., 2002; Sandmann, 2009). Depending on the action and specificity of the cyclase enzymes, lycopene can then undergo cyclization to form β- or 𝜀-ionone rings, yielding β-carotene and/or α-carotene. These cyclic carotenoids can be further modified by hydroxylation and epoxidation reactions (Nisar et al., 2015). β-carotene hydroxylation in both rings generates zeaxanthin, the precursor of crocetin (Figure 1). Zeaxanthin cleavage at the 7,8;7′,8′ double bonds by the carotenoid cleavage dioxygenase 2 (CCD2; Frusciante et al., 2014) generates crocetindial and two molecules of 3-hydroxy-β-cyclocitral. Both apocarotenoids are substrate of glucosyltransferases that transform them in crocins and picrocrocin, respectively (Moraga et al., 2004; Nagatoshi et al., 2012). Several crocins have been identified in saffron as crocetin mono (β-D-glucosyl) ester, crocetin di (β-D-glucosyl) ester, crocetin mono (β-gentiobiosyl) ester and crocetin (β-D-glucosyl) (β-gentiobiosyl) ester and crocetin (β-gentiobiosyl) (β-neapolitanosyl) ester (Pfister et al., 1996; Moraga et al., 2009).