Exposure to pairs of Aeromonas strains enhances virulence in the Caenorhabditis elegans infection model
ABSTRACT
---
Aeromonad virulence remains poorly understood, and is difficult to predict from strain characteristics. In addition, infections are often polymicrobial (i.e., are mixed infections), and 5–10% of such infections include two distinct aeromonads, which has an unknown impact on virulence. In this work, we studied the virulence of aeromonads recovered from human mixed infections. We tested them individually and in association with other strains with the aim of improving our understanding of aeromonosis. Twelve strains that were recovered in pairs from six mixed infections were tested in a virulence model of the worm Caenorhabditis elegans. Nine isolates were weak worm killers (median time to death, TD50, ≥7 days) when administered alone. Two pairs showed enhanced virulence, as indicated by a significantly shortened TD50 after co-infection vs. infection with a single strain. Enhanced virulence was also observed for five of the 14 additional experimental pairs, and each of these pairs included one strain from a natural synergistic pair. These experiments indicated that synergistic effects were frequent and were limited to pairs that were composed of strains belonging to different species. The genome content of virulence-associated genes failed to explain virulence synergy, although some virulence-associated genes that were present in some strains were absent from their companion strain (e.g., T3SS). The synergy observed in virulence when two Aeromonas isolates were co-infected stresses the idea that consideration should be given to the fact that infection does not depend only on single strain virulence but is instead the result of a more complex interaction between the microbes involved, the host and the environment. These results are of interest for other diseases in which mixed infections are likely and in particular for water-borne diseases (e.g., legionellosis, vibriosis), in which pathogens may display enhanced virulence in the presence of the right partner. This study contributes to the current shift in infectiology paradigms from a premise that assumes a monomicrobial origin for infection to one more in line with the current pathobiome era.
No MeSH data available.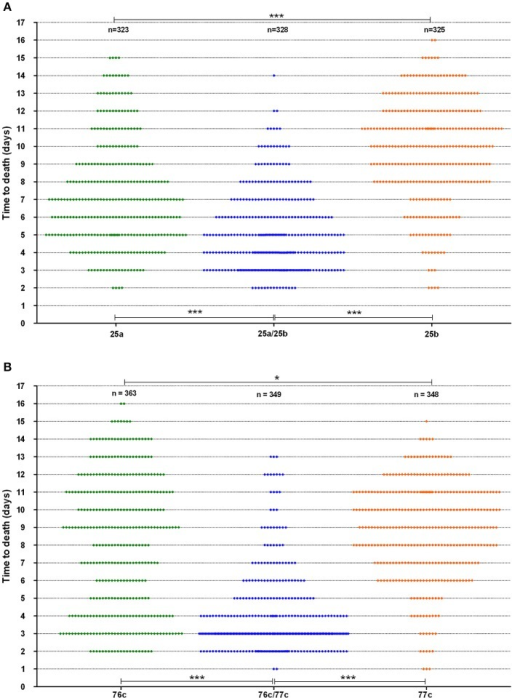 © Copyright Policy
License
getmorefigures.php?uid=PMC4631986&req=5
Mentions: The time to death in the worms was analyzed for strains with a synergistic virulence phenotype (Figure 3). Interestingly, strain 76c, considered a weak worm killer based on its TD50 values (median TD50 of 8.0 days, IQR of 7.5–9 days), killed 31% of the worm population within five days, as indicated by the bimodal time to death distribution (Figure 3B). Worms challenged with strain 77c, also a weak worm killer, exhibited a unimodal distribution in time to death that was centered at 8.5 days (Figure 3B), and only 12% of the overall population was killed within five days. Worm exposure with strains 76c and 77c resulted in increased virulence, with 78% mortality within five days, and the shape of the distribution of time to death in worms killed in 5 days or less was analogous to the one observed for the 76c alone. Time to death distributions were comparable when worms were fed on either old and fresh bacterial lawns or when half the number of worms were challenged (data not shown), suggesting that the bimodal distribution pattern was not due to the age of the bacterial population in the lawn or to the amount of bacterial food. Altogether, these results show that while strain 76c alone is capable of quickly killing a substantial number of worms, when combined with strain 77c, the total virulence is strengthened. For strains BVH25a and BVH25b, the distribution of the time to death was unimodal (Figure 3A). When mixed, the distribution shape was analogous to that of BVH25a, but it was lower and showed less variance.