Rhesus Macaque B-Cell Responses to an HIV-1 Trimer Vaccine Revealed by Unbiased Longitudinal Repertoire Analysis.
Bottom Line: Next-generation sequencing of B-cell repertoires provides a quantitative tool to analyze B-cell responses to a vaccine.In this study, the longitudinal B-cell repertoire analysis of a rhesus macaque immunized with an HIV-1 trimer vaccine revealed complex B-cell lineage patterns and showed the potential to facilitate the evaluation of future HIV-1 vaccines.The repertoire sequencing technologies and antibodyomics methods reported here can be extended to vaccine development for other human pathogens utilizing the nonhuman primate model.
Affiliation: Department of Immunology and Microbial Science, The Scripps Research Institute, La Jolla, California, USA.
No MeSH data available.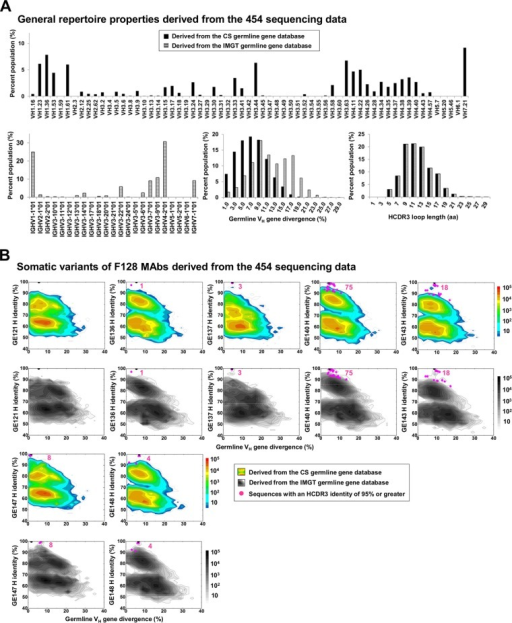 © Copyright Policy - open-access
License
getmorefigures.php?uid=PMC4631801&req=5
Mentions: We reanalyzed the 454 sequencing data (34) using both NHP antibodyomics pipelines (see Fig. S1 in the supplemental material). Of 846,736 reads, 797,794 and 798,333 can be assigned to NHP germline VH genes defined within the CS and IMGT germline gene databases, respectively. After error correction using the respective germline genes as templates (21), the sequences were then compared to the seven MAb heavy chains at both nucleotide and amino acid levels. After pipeline processing, an additional filter was used to eliminate sequences containing PCR errors, resulting in 657,713 and 657,603 full-length heavy chain variable region sequences for the two germline gene databases, respectively. From the data processed by the CS germline gene database, we identified 163,921 (24.9%), 220,529 (33.5%), and 201,647 (30.6%) heavy chains of VH1, VH3, and VH4 origins, with VH2 and VH7 genes accounting for 1.7 and 9.2% of the population, respectively (Fig. 1A, top). Of note, the VH1, VH3, and VH4 germline gene families obtained from this NHP antibodyomics pipeline are 2.4- to 8.1-fold larger than reported previously (34), providing a more complete data set for subsequent analysis. From the data processed by the IMGT germline gene database, a highly skewed usage of IgHV1 (24.9%) and IgHV4 (30.7%) was observed, likely due to incorrect gene assignment (Fig. 1A, bottom left). The germline divergence distributions calculated from the CS and IMGT germline gene databases showed a marked difference, with averages of 7.1 and 11.7%, respectively (Fig. 1A, bottom middle). In contrast, the choice of germline gene database appeared to have no effect on the HCDR3 distribution, with an average loop length of 12.4 aa (Kabat definition) for both data sets (Fig. 1A, bottom right).