Paratesticular rhabdomyosarcoma of a young adult.
Affiliation: Oncology Institute of Vojvodina, Sremska Kamenica, Serbia Medical Faculty, University of Novi Sad, Novi Sad, Serbia.
Sarcomas represent large and diverse group of malignant tumours, originating from mesenchymal cells... Nearly 15% of all childhood tumours and about 1% of all tumours in adults are sarcomas... Rhabdomyosarcoma accounts for 4.6% of all soft tissue sarcomas and it is the most common paediatric sarcoma, while it is extremely rare in adults... He was in a good physical shape, with no complications... He did not have any significant personal or family medical history... Two incidence peaks of paratesticular rhabdomyosarcoma occur, the first between age two and six, and the second between fifteen and nineteen years of age. 70% of all cases occur before the age of 10... Therefore, most of the data on paratesticular rhabdomyosarcoma can be found in paediatric sources only... It is most commonly localised in striated muscles of extremities and has the worst prognosis... A PubMed search found a few cases of older patients with pleomorphic paratesticular rhabdomyosarcoma, while most adult as well as paediatric patients had embryonal type... In cases of paratesticular rhabdomyosarcoma in childhood, unilateral nerve sparing dissection should be performed in all children older than 10 years, as well in those with clinically positive lymph nodes... Use of only CT scan of RPLN led to a decrease in identification of RPLN involvement in IRS-IV and a higher rate of regional relapse as compared with IRS-III... However, according to their experience, no significant difference was noted among N1 patients who were and were not treated with radiotherapy... In conclusion, although extremely rare in the adult population in comparison with paediatric population, rhabdomyosarcoma in general represents a more aggressive and more malignant neoplasm... Considering the more aggressive histopathological variety in adults, as well as the fact that rhabdomyosarcoma in childhood, adolescence, and adulthood is presented with distinctive biology, adult rhabdomyosarcoma represents a unique entity.
No MeSH data available.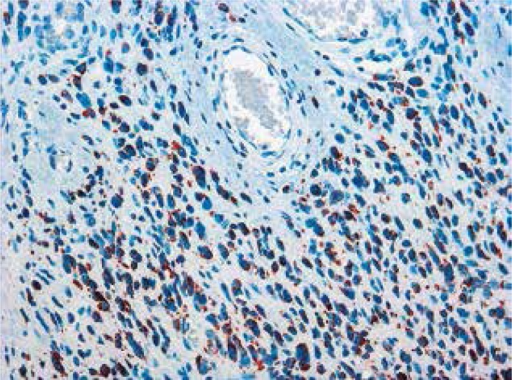 © Copyright Policy - open-access
License
getmorefigures.php?uid=PMC4631293&req=5
Mentions: We report a rare case of a 25-year-old male who was admitted at our institution after surgical treatment in a small regional centre. Our diagnosis based on delivered paraffin-embedded tumour tissue samples was: Paratesticular pleomorphic rhabdomyosarcoma, high grade. Pathohistological report was: Tumour tissue consists of fusiform, oval, polygonal, spindle and numerous bizarre large rhabdomyoblasts, including multinucleated ones. Nuclei are hyperchromatic. In bizarre rhabdomyoblasts cytoplasm is abundant, eosinophilic, granular, rich in thick and thin filaments (Fig. 1). Tumour cells are forming nests and sheets. Stroma is variably myxoid with minor sclerotic areas. Microcystic formations are focally present. Minor elements of embryonal (spindle cell) and alveolar rhabdomyosarcoma as well as sclerosing rhabdomyosarcoma are also present (Fig. 2). Tumour is well vascularised. Mitotic activity is high (over 10 mitosis per 10 high power fields). Immunophenotype: vimentin + (monoclonal antibody, clone V9, DAKO, visualisation kit FLEX), desmin + (monoclonal antibody, clone D33, Lab Vision IHC System Solution, visualisation kit FLEX) (Figs. 3 and 4) and actin + (monoclonal antibody, clone HHF35, DAKO, visualisation kit FLEX), MyoD1 – (monoclonal antibody, clone 5.8A, DAKO, visualisation kit LP detection system), and S-100 protein – (polyclonal antibody, DAKO, visualisation kit FLEX, CD34–, CD99–, CD117–). The patient was initially treated in a small regional centre and was referred to a medical oncologist only after the first relapses, three months after the surgery. He was in a good physical shape, with no complications. He did not have any significant personal or family medical history. Serum alphaphetoprotein, lactate dehydrogenases, and β-human chorionic gonadotropin were normal. Chest and abdominal CTs were normal. A CT of the pelvis described relapse in the right inguinal canal. He underwent surgery at the Urology Clinic: bilateral retroperitoneal and right inguinal lymphadenectomy and right orchiectomy. He was administered adjuvant treatment with doxorubicin, four cycles, and four more cycles of doxorubicin and ifosphamide due to retroperitoneal lymphadenomegaly. Post-chemotherapy reassessment showed only the persistent retroperitoneal infiltrates. He was reoperated, and histopathology confirmed the previous diagnosis. Postoperative imaging showed progression of the disease in lungs, liver, retroperitoneum, and bone structures. The patient was in good physical condition, Karnofsky status 100%. He was planned and prepared to be included in a running clinical trial on soft tissue sarcoma. However, he failed screening for inclusion in the trial due to high liver enzymes and impaired kidney function, and was reassigned to the best supportive care. He died a few weeks later, 22 months after the initial diagnosis.