Cytometry-based single-cell analysis of intact epithelial signaling reveals MAPK activation divergent from TNF-α-induced apoptosis in vivo.
Bottom Line: Unsupervised and supervised analyses robustly selected signaling features that identify a unique subset of epithelial cells that are sensitized to TNF-α-induced apoptosis in the seemingly homogeneous enterocyte population.Specifically, p-ERK and apoptosis are divergently regulated in neighboring enterocytes within the epithelium, suggesting a mechanism of contact-dependent survival.Our novel single-cell approach can broadly be applied, using both CyTOF and multi-parameter flow cytometry, for investigating normal and diseased cell states in a wide range of epithelial tissues.
Affiliation: Epithelial Biology Center, Vanderbilt University Medical Center, Nashville, TN, USA Department of Cell and Developmental Biology, Vanderbilt University Medical Center, Nashville, TN, USA.
No MeSH data available.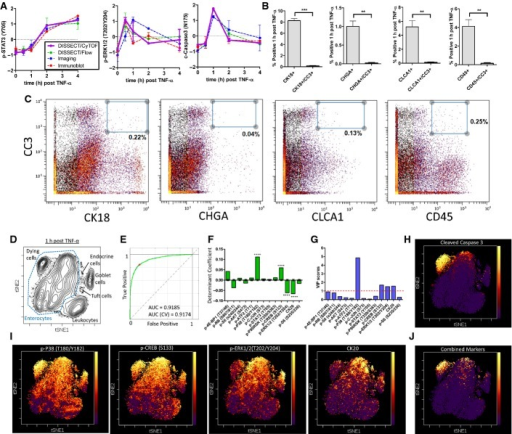 © Copyright Policy - open-access
License
getmorefigures.php?uid=PMC4631206&req=5
Mentions: A 21-analyte CyTOF panel of heavy-metal-labeled reagents specific for epithelial signaling was generated (Appendix Table S1). Twenty-one-plex CyTOF analysis was performed on three cohorts of mice subjected to a time course of acute TNF-α exposure, giving rise to average early and late signaling results that matched with flow cytometry, imaging, and quantitative immunoblotting (Fig4A). We used single-cell CyTOF data to first reaffirm TNF-α-induction of cell death strictly within the duodenal enterocyte population. Indeed, CC3 did not co-localize with other epithelial cell type-specific markers (CK18: cytokeratin 18—secretory subset, CLCA1—goblet, CHGA—enteroendocrine, CD45—leukocytes) (Fig4B and C compared to Fig EV1E). The few double-positive cells are not cell clusters (Appendix Fig S9). The fraction of differentiated cell types detected again matched published results (Cheng & Leblond, 1974; Rojanapo et al, 1980; Wright & Alison, 1984; Paulus et al, 1993; Van der Flier & Clevers, 2009; Gerbe et al, 2011; Gunawardene et al, 2011; Imajo et al, 2014), as well as flow and imaging data we obtained previously (Figs2B and 4B). To identify subpopulations of enterocytes with distinct signaling activities indicative of cell death, we used t-SNE (t-Distributed Stochastic Neighbor Embedding) to visualize multiplex single-cell data in two dimensions while maintaining dissimilarities between cells in multidimensional data space (Fig4D, Dataset EV1) (Amir et al, 2013). We again focused on the 1-h time point to characterize actively signaling cells undergoing cell death. t-SNE analysis allowed groupings of different functional cell types based on combinations of signaling and cell-identity markers. In addition, a distinct population of CC3+ enterocytes was identified. We used manual gating on t-SNE space to supervise a partial least squares discriminant (PLSDA) model to categorize enterocytes undergoing cell death against living enterocytes. Classification based upon calibration signaling data in 2-latent variable PLSDA space to predict CC3 expression resulted in an area (AUC) of 0.92 under the receiver of operating characteristic (ROC) curve, indicative of high sensitivity and specificity (Fig4E). We then cross-validated our model by repeatedly withholding 10% of the data using random, venetian blind, and block selection. Our cross-validation model yielded similar prediction power (ROC AUC = 0.92) compared to our calibration model due to the high number of data points used for fitting a model with a relatively limited set of parameters, which dramatically lowers the prospects of overfitting. We used the discriminant coefficients (β) of our PLSDA model to select signaling features that were informative for classification. Using 10,000-fold permutation testing, we generated β-distributions around zero and determined the probability for obtaining our model coefficients. The four coefficients with the lowest P-values were p-P38, p-CREB, p-ERK, and CK20 (Fig4F). Another method for feature selection using Variable Importance in Projection (VIP) scores also identified the same four variables (Fig4G). We overlaid these four variables onto t-SNE plots to determine their ability to predict CC3 expression (Fig4H). While individual variables positively or negatively correlated with the CC3+ population, they were incapable of clearly discerning this population from other cellular populations (Fig4I). Linearly combining these four variables without scaling allowed for clear identification of CC3+ enterocytes (Fig4J), indicating that combinatory activities of multiple signaling pathways contribute to a "signaling code" that implicates cell death. More importantly, the same experimental and computational analysis applied to three different cohorts of mice selected the same set of four variables that identify CC3+ enterocytes (Fig5, Datasets EV2 and EV3). In addition, other β coefficients besides the top four variables also followed the same trend of positive or negative correlation with CC3 in different mouse cohorts. These results indicate that DISSECT followed by CyTOF is a highly reproducible method to accurately characterize single-cell behavior using multi-pathway signaling parameters.