In our own image? Emotional and neural processing differences when observing human-human vs human-robot interactions.
Bottom Line: Although brain sites constituting the mentalizing network were found to respond to both types of interactions, systematic neural variation across sites signaled diverging social-cognitive strategies during HHI and HRI processing.Activity in the VMPFC also tracked feelings of eeriness towards HRI in a parametric manner, revealing a potential neural correlate for a phenomenon known as the uncanny valley.By demonstrating how understanding social interactions depends on the kind of agents involved, this study highlights pivotal sub-routes of impression formation and identifies prominent challenges in the use of humanoid robots.
Affiliation: Division of Psychology, New York University/Abu Dhabi, Abu Dhabi, UAE.
No MeSH data available.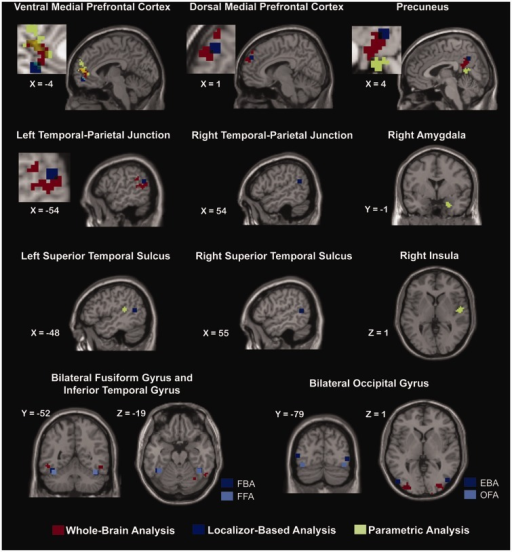 © Copyright Policy - creative-commons
License
getmorefigures.php?uid=PMC4631149&req=5
Mentions: Parametric analyses were limited to perceivers who showed actual variation in their post-scanning ratings for both HHI and HRI (i.e. believability: n = 22; eeriness: n = 23; emotional capacity: n = 24; intelligence: n = 25). For HHI, all parametric analyses failed to return significant results. For HRI, in contrast, several parametric modulations were found. Specifically, increases in eeriness were associated with enhanced VMPFC activity during HRI observation [peak voxel x = 9, y = 53, z = 16; t = 5.31, P < 0.001, P(FDR) = 0.006, 142 voxels]. In addition, increases in believability were linked to enhanced PrC activity [peak voxel x = − 15, y = −58, z = 22; t = 6.28, P < 0.001, P(FDR) < 0.001, 189 voxels]. Finally, the higher a robot's perceived emotional capacity, the stronger perceivers' neural responses in the right amygdala [peak voxel x = 24, y = −1, z = −26; t = 5.64, P < 0.001; P(FDR) = 0.008, 59 voxels], right insula [peak voxel x = 54, y = −4, z = 1; t = 4.72, P < 0.001; P(FDR) = 0.008, 52 voxels] and the left STS [peak voxel x = −51, y = −37, z = 13; t = 5.26, P < 0.001, P(FDR) = 0.020, 39 voxels]. Only for intelligence ratings, parametric modulation of brain activity during HRI viewing failed to emerge. To compare these results with those from previous analyses, we plotted them in a common graph (Figure 4). Repeating the parametric analyses with all participants included revealed highly similar, albeit slightly less significant, effects (see Supplementary Material).Fig. 4