Decoding brain state transitions in the pedunculopontine nucleus: cooperative phasic and tonic mechanisms
ABSTRACT
---
Cholinergic neurons of the pedunculopontine nucleus (PPN) are most active during the waking state. Their activation is deemed to cause a switch in the global brain activity from sleep to wakefulness, while their sustained discharge may contribute to upholding the waking state and enhancing arousal. Similarly, non-cholinergic PPN neurons are responsive to brain state transitions and their activation may influence some of the same targets of cholinergic neurons, suggesting that they operate in coordination. Yet, it is not clear how the discharge of distinct classes of PPN neurons organize during brain states. Here, we monitored the in vivo network activity of PPN neurons in the anesthetized rat across two distinct levels of cortical dynamics and their transitions. We identified a highly structured configuration in PPN network activity during slow-wave activity that was replaced by decorrelated activity during the activated state (AS). During the transition, neurons were predominantly excited (phasically or tonically), but some were inhibited. Identified cholinergic neurons displayed phasic and short latency responses to sensory stimulation, whereas the majority of non-cholinergic showed tonic responses and remained at high discharge rates beyond the state transition. In vitro recordings demonstrate that cholinergic neurons exhibit fast adaptation that prevents them from discharging at high rates over prolonged time periods. Our data shows that PPN neurons have distinct but complementary roles during brain state transitions, where cholinergic neurons provide a fast and transient response to sensory events that drive state transitions, whereas non-cholinergic neurons maintain an elevated firing rate during global activation.
No MeSH data available.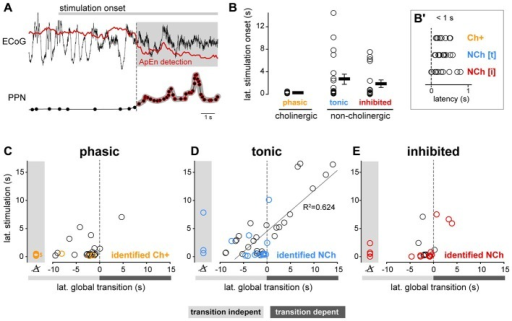 © Copyright Policy
License
getmorefigures.php?uid=PMC4628121&req=5
Mentions: Both phasic cholinergic and tonic, putative glutamatergic neurons, seem to be coordinated during brain state transitions by producing excitatory responses but with different dynamics. To further analyze their response dynamics, we next evaluated the latencies of the changes in their spike trains following state transitions using both datasets. In order to do this, we identified the points in time when the cortical activity shifts from SWA to AS, thus revealing a change in the global brain state, and correlated them with the time points when the spike trains of PPN neurons (both neurochemically identified and from spike-sorted probe recordings) produce significant excitatory or inhibitory responses (Figure 5A). Following the stimulation onset, phasic cholinergic and subsets of both tonic and inhibited non-cholinergic neurons show significant changes in their firing rate with a short latency (<1 s; Figure 5B), suggesting a collective early role in brain state transitions. We observed that virtually all phasic PPN neurons (from probe recordings) and neurochemically-identified phasic cholinergic neurons, changed their firing rate before the change in the global brain state (i.e., transition-independent activation; Figure 5C), even in cases where the stimulation was not able to evoke a global transition. In contrast, tonic PPN neurons (from probe recordings) and neurochemically-identified tonic non-cholinergic neurons, showed both early and late responses to global brain state transitions, suggesting a dependency of their activation on the change in the global state in a proportion of them (Figure 5D). Finally, and similar to phasic neurons, inhibited neurons predominantly showed a transition-independent response, suggesting an early involvement in brain state transitions (Figure 5E). Thus, phasic cholinergic neurons respond with a short latency to sensory stimulation, preceding the cortical transition from SWA to AS, whereas non-cholinergic neurons display both short and long latency responses. Furthermore, the long latency responses in subsets of non-cholinergic neurons are associated with the cortical transition from SWA to AS, suggesting that the response of these neurons is dependent on the global environment. While the overall differences between PPN subtypes are likely to be the result of a balance between their distinct intrinsic properties and their synaptic inputs, the dynamic attributes during brain state transitions (i.e., phasic vs. tonic) may at least be partially explained by the former.