Stimulus-Onset-Asynchrony as the Main Cue in Temporal Order Judgment.
Affiliation: Ariel University Center , Ariel, Israel.
One of the hypothesized reasons for these complaints is the reported age-related decline in auditory temporal processing (Schneider & Pichora-Fuller, ; Schneider, Daneman, & Pichora-Fuller, )... The rationale underlying this hypothesis is that the appropriate use of speech cues relies on several types of auditory temporal resolution, which research has shown is age-related (Gordon-Salant, ; Pichora-Fuller & Souza, ; Schneider & Pichora-Fuller, ; Schneider et al., )... Elderly adults perform poorer than younger adults in gap detection tasks and need longer silent intervals to identify the presence of a gap when the marker signal is 250 msec or shorter (Fink, Churan, & Wittmann, ; Fitzgibbons & Gordon-Salant, ; Grose, Hall, & Buss, ; Lister & Roberts, ; Lister & Tarver, ; Roberts & Lister, ; Schneider & Hamstra, ; Schneider, Speranza, & Pichora-Fuller, ; Snell, ; Snell & Frisina, ; Snell, Mapes, Hickman, & Frisina, ; Strouse, Ashmead, Ohde, & Grantham, )... Furthermore, a number of studies have reported that older individuals require larger differences in duration between two tones in order to detect a difference (Abel and Hay, ; Fitzgibbons & Gordon-Salant,, , 1996)... Similar results, indicating poorer discrimination by the elderly, were found when comparing older and younger adults on binaural temporal processing tasks such as locating a tone in the front-back plane (Abel and Hay, ), tone localization (Abel, Giguère, Consoli, & Papsin, ) and click lateralization (Babkoff, Muchnik, Ben-David, Furst, Even-Zohar, & Hildesheimer, ; Strouse et al., )... Traditionally, most of the studies of age-related decline in temporal resolution have used the gap detection task, in which the duration of the silent interval within a tone is manipulated until the participant (young or elderly adult) is able to detect a non-continuous tone (Ezzatian, Pichora-Fuller, & Schneider, ; Fink et al., ; Fitzgibbons & Gordon-Salant, ; Grose, Hall, & Buss, ; Lister & Roberts, ; Lister & Tarver, ; Roberts & Lister, )... This paradigm eliminates the possible use of spectral cues for order judgment and depends on central mechanism(s) for the temporal resolution of information received from both ears... The elimination of spectral cues reinforces the conclusion that the judgment is based on the temporal domain... After being successful in the familiarization phase, participants were presented with pairs of tones in two possible orders: left-right, right-left, with an ISI of 240 and 60 msec... Figure 2 presents mean TOJ threshold for each stimulus duration... Repeated measures ANOVA showed significant effect for stimulus duration (F(4,72)=44.55, P<.001)... This range is similar to the time range of phonemes and other cues for speech perception, like formant transition and VOT (Belin, Zilbovicius, Crozier, Thivard, Fontaine, Masure, et al., ; Nooteboom & Doodeman, ; Ohde & Ochs, )... Along this line, several studies, using the dichotic TOJ task, have shown the paradigm to be associated with other aspects of language, such as reading and speech (Ben-Artzi et al., ; von Steinbuchel, )... Taken together, the current findings when using a paradigm that: i) depends solely on temporal cues; ii) is dependent on central mechanism(s) (since the task requires the receipt, coding and use of information from each of the two ears for the judgment of order); and iii) whose temporal range of SOAs conform to temporal ranges of certain components of speech, the dichotic TOJ paradigm may be considered an appropriate tool for studying and screening auditory temporal processing among the elderly.
No MeSH data available.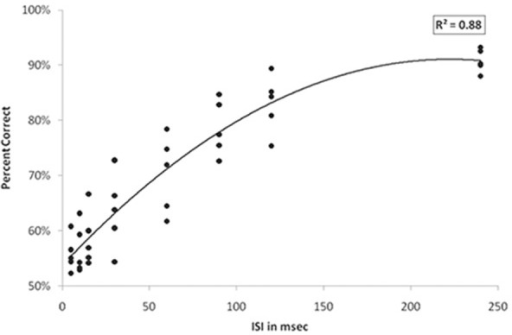 © Copyright Policy - open-access
License
getmorefigures.php?uid=PMC4627152&req=5
Mentions: The R2 for predicting dichotic TOJ performance by ISI for different tone durations is .88 (Figure 3). Figure 4 shows the dichotic TOJ accuracy plotted as a function of SOA. In contrast to predicting TOJ performance by ISI, 97 % of the variance (R2=.97) is accounted for when dichotic TOJ is plotted as a function of SOA. Based on Fisher r-to-z transformation, the difference between the predicting value of ISI and the SOA is significant (z=–1.98, P<.05).