Acquired equivalence associative learning in GTC epileptic patients: experimental and computational study
ABSTRACT
---
Previous cognitive behavioral studies based on Acquired Equivalence Associative learning Task (AEALT) showed a strong relation between hippocampus and basal ganglia in associative learning. However, experimental behavioral studies of patients with Generalized Tonic Clonic (GTC) epilepsy remained sparse. The aim of the present study is to integrate a classical behavioral cognitive analysis with a computational model approach to investigate cognitive associative learning impairments in patients with GTC epilepsy. We measured the accuracy of associative learning response performance in five GTC epileptic patients and five control subjects by using AEALT, all subjects were matched in age and gender. We ran the task using E-Prime, a neuropsychological software program, and SPSS for data statistical analysis. We tested whether GTC epileptic patients would have different learning performance than normal subjects, based on the degree and the location of impairment either in basal ganglia and/or hippocampus. With the number of patients that was available, our behavioral analysis showed no remarkable differences in learning performance of GTC patients as compared to their control subjects, both in the transfer and acquisition phases. In parallel, our simulation results confirmed strong connection and interaction between hippocampus and basal ganglia in our GTC and their control subjects. Nevertheless, the differences in neural firing rate of the connectionist model and weight update of basal ganglia were not significantly different between GTC and control subjects. Therefore, the behavioral analysis and the simulation data provided the same result, thus indicating that the computational model is likely to predict cognitive outcomes.
No MeSH data available.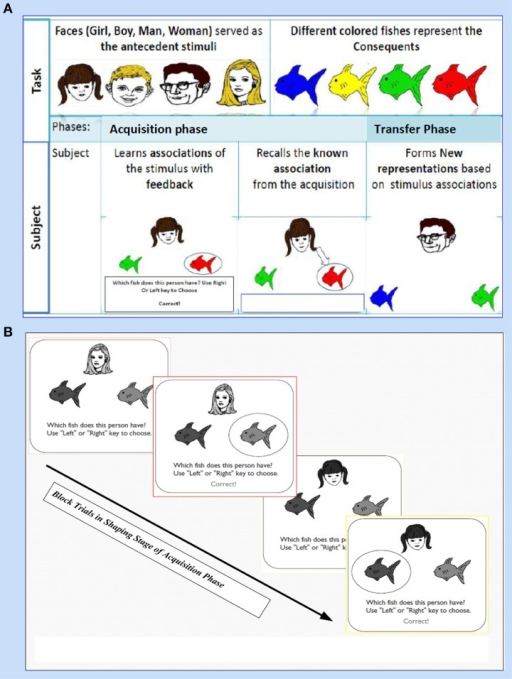 © Copyright Policy
License
getmorefigures.php?uid=PMC4621864&req=5
Mentions: This task (adapted from Moustafa et al., 2000; Myers et al., 2003; Herzallah et al., 2010; Moustafa and Gluck, 2011) comprises of two sorts of stimuli; antecedent and consequent (see Figure 1). On one hand, the antecedent stimuli are represented by four drawings of human faces show distinctive ages, youthful and adult human, and genders, females and males; i.e., woman, boy, man, and girl. On the other hand, four drawings of fish with several colors, red, orange, purple, and pink, are related to the consequents. In general, this task incorporates two phases: (i) The acquisition phase, and (ii) The transfer phase. During the acquisition phase, both stimuli are associated with each other; the antecedent and the consequent one. Each subject has to associate a particular human face with a specific colored fish, by clicking on the keyboard arrow either right or left (see Figure 1A). In the training stage, two antecedent stimuli A1 and A2, are associated with the same consequent stimulus X1, while two antecedent stimuli B1 and B2 are associated with consequent Y1, i.e., subject has to guess which face is related to which fish. Immediately, the selected fish is circled and the correct feedback is given (Figure 1B). Next, A1 is associated with a new consequent X2 while B1 is associated with another novel consequent Y2. (ii) Finally, a transfer phase tests whether patients would show acquired equivalence and associate A2 with X2, and B2 with Y2, even though these particular stimulus pairings had never been trained. This phase corresponds to a new association that could be formed according to the principle of acquired equivalence.