Evolutionary landscape of the Mycobacterium tuberculosis complex from the viewpoint of PhoPR: implications for virulence regulation and application to vaccine development.
Bottom Line: Evolutionarily conserved polymorphisms in PhoPR from Mycobacterium africanum, M. bovis, or M. tuberculosis H37Ra result in loss of functional phenotypes.This review highlights the increasing knowledge of the significance of PhoPR in the evolution of the MTBC and its potential application in the construction of new attenuated vaccines based on phoPR inactivation.In this context, the live attenuated vaccine MTBVAC, based on a phoP fadD26 deletion mutant of M. tuberculosis, is the first vaccine of this kind to successfully enter into clinical development, representing a historic milestone in the field of human vaccinology.
Affiliation: Grupo de Genética de Micobacterias, Departamento de Microbiología y Medicina Preventiva, Facultad de Medicina, Universidad de Zaragoza, Zaragoza, Spain CIBER Enfermedades Respiratorias, Instituto de Salud Carlos III, Madrid, Spain Instituto de Biocomputación y Física de Sistemas Complejos (BIFI), Zaragoza, Spain.
No MeSH data available.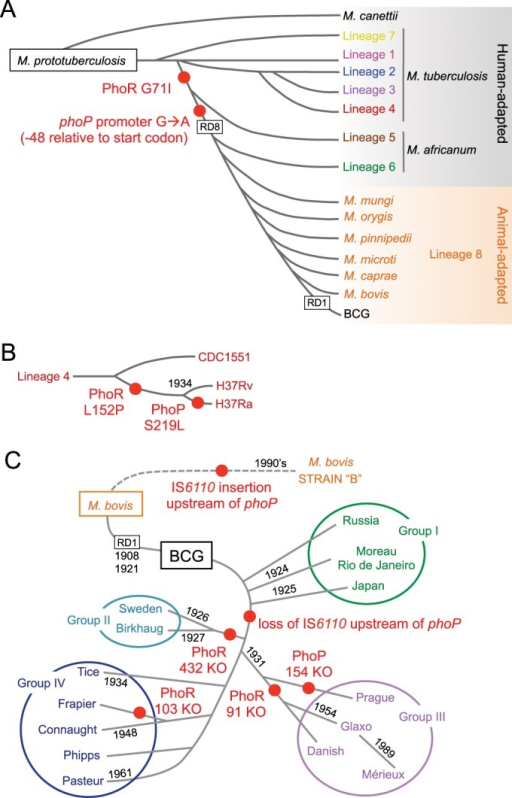 © Copyright Policy - open-access
License
getmorefigures.php?uid=PMC4620462&req=5
Mentions: Mycobacteria are widely distributed in the environment and are considered high-GC Gram-positive bacteria. In contrast to other Gram-positive bacteria, mycobacteria possess a multilayered cell envelope rich in uncommon lipids that are responsible for the acid-fast/Zielh-Neelsen staining of these organisms. The Mycobacterium genus is usually subdivided into fast- and slow-growing species, based on their ability to develop colonies in less or more than 7 days, respectively. Fast-growing species are in general opportunistic or nonpathogenic bacteria, whereas slow growers include human-pathogenic mycobacteria, such as M. tuberculosis, M. ulcerans, and M. leprae, causing tuberculosis, Buruli ulcer disease, and leprosy, respectively. In this review, we focus on the M. tuberculosis complex (MTBC), comprising a group of closely related tuberculosis-causing subspecies or ecotypes adapted to different animal hosts, including humans. According to phylogenetic distances, the MTBC species can be classified into eight major lineages (L1 to L8), which include the human-adapted ecotypes M. tuberculosis (L1 to L4 and L7), M. africanum (L5 and L6), and M. canettii and the animal-adapted ecotypes M. bovis, M. caprae, M. microti, M. pinnipedii, M. orygis, and M. mungi (1, 2), which are grouped into L8 (Fig. 1A). Similarly to L8 species, which have evolved to infect specific mammals, human-adapted strains have evolved to cause tuberculosis in human subpopulations. Accordingly, M. canettii was originally isolated in the Horn of Africa (3), M. africanum L5 and L6 strains are commonly found in West African countries (4), M. tuberculosis L7 is frequent in Ethiopia and L1 in the Indian Ocean rim, and M. tuberculosis L2, L3, and L4, which show wider distribution, predominantly infect people from East Asia, East India, and the Americas and Europe, respectively (2). It is important to consider that members of the MTBC are a highly clonal population, which is particularly well reflected by the evolutionary hyperconservation of human T-cell epitopes. Remarkably, 95% of 491 analyzed epitopes from across MTBC species showed no amino acid changes (5), a finding that might reflect a potential benefit for MTBC species of being recognized by the host immune system at some stage of the pathogenesis cycle.