Geomicrobiology of sublacustrine thermal vents in Yellowstone Lake: geochemical controls on microbial community structure and function
ABSTRACT
---
Yellowstone Lake (Yellowstone National Park, WY, USA) is a large high-altitude (2200 m), fresh-water lake, which straddles an extensive caldera and is the center of significant geothermal activity. The primary goal of this interdisciplinary study was to evaluate the microbial populations inhabiting thermal vent communities in Yellowstone Lake using 16S rRNA gene and random metagenome sequencing, and to determine how geochemical attributes of vent waters influence the distribution of specific microorganisms and their metabolic potential. Thermal vent waters and associated microbial biomass were sampled during two field seasons (2007–2008) using a remotely operated vehicle (ROV). Sublacustrine thermal vent waters (circa 50–90°C) contained elevated concentrations of numerous constituents associated with geothermal activity including dissolved hydrogen, sulfide, methane and carbon dioxide. Microorganisms associated with sulfur-rich filamentous "streamer" communities of Inflated Plain and West Thumb (pH range 5–6) were dominated by bacteria from the Aquificales, but also contained thermophilic archaea from the Crenarchaeota and Euryarchaeota. Novel groups of methanogens and members of the Korarchaeota were observed in vents from West Thumb and Elliot's Crater (pH 5–6). Conversely, metagenome sequence from Mary Bay vent sediments did not yield large assemblies, and contained diverse thermophilic and nonthermophilic bacterial relatives. Analysis of functional genes associated with the major vent populations indicated a direct linkage to high concentrations of carbon dioxide, reduced sulfur (sulfide and/or elemental S), hydrogen and methane in the deep thermal ecosystems. Our observations show that sublacustrine thermal vents in Yellowstone Lake support novel thermophilic communities, which contain microorganisms with functional attributes not found to date in terrestrial geothermal systems of YNP.
No MeSH data available.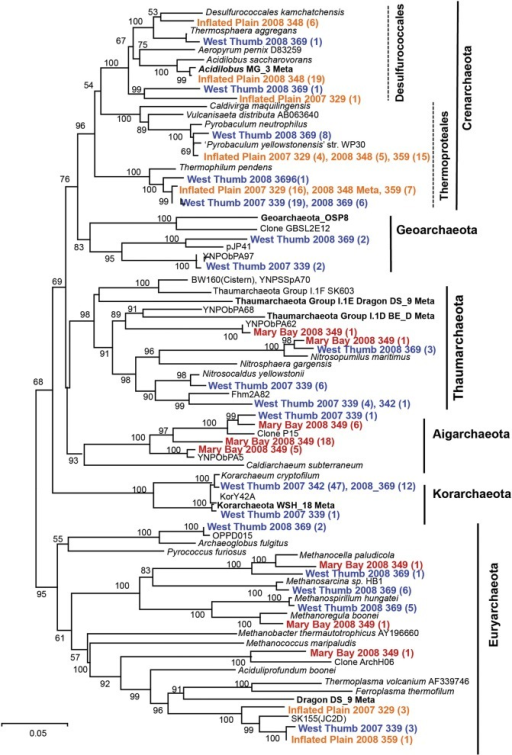 © Copyright Policy
License
getmorefigures.php?uid=PMC4620420&req=5
Mentions: Long-fragment (>1000 bp) archaeal and bacterial 16S rRNA gene sequences indicated the major types of thermophilic microorganisms present in vent biomass (Table 2, Figure 3). Sulfurihydrogenibium spp. (order Aquificales) were a significant fraction of the bacterial populations observed in sulfur streamers from IP and WT, and these organisms are also found in sulfidic geothermal springs of YNP (Nakagawa et al., 2005; Reysenbach et al., 2005; Inskeep et al., 2010; Takacs-Vesbach et al., 2013). Other bacteria observed in streamer communities from IP and WT included Caldisericum (Candidate Division OP5), Geothermobacterium, Sulfuricurvum, Thiovirga, and Thiobacillus spp. (Proteobacteria), all of which are often found in sulfidic environments (Inskeep et al., 2005; Ito et al., 2005; Mori et al., 2009; Han et al., 2012). Deep (~50 m) vents at WT were the only samples to exhibit relatives of Methylothermus thermalis (Methylococcales), and these sequences comprised ~10, 28, and 64% of the bacteria observed in 3 independent vents from this region (Table 2).