Processing of Plasmodium falciparum Merozoite Surface Protein MSP1 Activates a Spectrin-Binding Function Enabling Parasite Egress from RBCs.
Bottom Line: The function of MSP1 and its processing are unknown.Here we show that SUB1-mediated processing of MSP1 is important for parasite viability.Parasites expressing an inefficiently processed MSP1 mutant show delayed egress, and merozoites lacking surface-bound MSP1 display a severe egress defect.
Affiliation: The Francis Crick Institute, Mill Hill Laboratory, Mill Hill, London, NW7 1AA, UK.
No MeSH data available.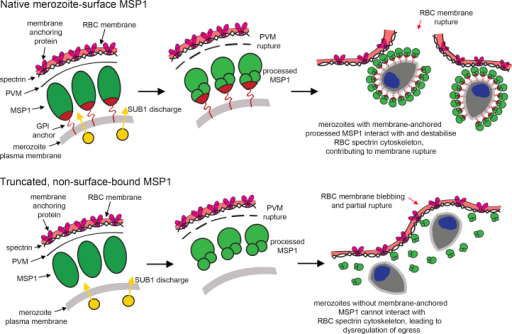 © Copyright Policy - CC BY
License
getmorefigures.php?uid=PMC4608996&req=5
Mentions: We have combined genetic, structural, and functional analysis with microscopic observation of egress to produce evidence that: (1) proteolytic maturation of MSP1 by SUB1 is important for parasite viability; (2) proteolysis alters MSP1 secondary structure, conferring upon it a capacity to bind to both heparin and erythrocyte spectrin; and (3) these functional alterations regulate egress, probably as a result of interactions between MSP1 and the host cell cytoskeleton. The resistance of the erythrocyte membrane to mechanical shear stress is dependent on the structural integrity of its cytoskeleton and in particular its underlying lattice of spectrin tetramers formed by the head-to-head association of pairs of αβ spectrin heterodimers. The spectrin network is dynamic, accommodating reversible breakage and reformation of the dimer-dimer bonds in response to even moderate shear stress (e.g., Salomao et al., 2006). Shear forces can also result in unfolding of the triple-helical repeat units that comprise α- and β-spectrin, providing additional flexibility (Randles et al., 2007). This dynamic state allows peptides and other small molecules that interfere with tetramer stability (Salomao et al., 2006) or that perturb interactions between spectrin and other cytoskeletal components such as ankyrin (Blanc et al., 2010), protein 4.1R, and actin (An et al., 2007) to destabilize the membrane. SUB1-processed MSP1 may perform an analogous role. We speculate that following PVM breakdown, the diffusive movement of intracellular merozoites impinging upon the inner face of the erythrocyte membrane—well documented by both time-lapse and diffraction phase microscopy (Chandramohanadas et al., 2011; Gilson and Crabb, 2009; Glushakova et al., 2010; Glushakova et al., 2009) (see also Movie S5)—enables merozoite surface-bound MSP1 to bind the spectrin lattice, producing internal shear forces that disrupt the cytoskeleton (Figure 7). This is likely aided by protease activity, perhaps involving host cell calpain-1 (Chandramohanadas et al., 2009) and/or the PfSUB1 substrate SERA6 (Ruecker et al., 2012), since the cysteine protease inhibitor E64 selectively inhibits host cell membrane rupture (e.g., Glushakova et al., 2009). Even localized destabilization of the cytoskeleton may be sufficient to allow egress, since high-speed video microscopy has shown that erythrocyte membrane rupture initiates at a single site; subsequent elastic inversion of the membrane promotes its rapid disintegration (Abkarian et al., 2011; Crick et al., 2013). Interestingly, Herrera et al. (1993) reported spectrin-binding activity for a recombinant MSP1 polypeptide, suggested by those authors as being important for intracellular parasite development. We do not favor that model, since parasites replicate within the PVM, which shields them from the host cytoskeleton. In contrast, the egress delay observed in the chim_Δ+can mutant, and the egress defect (with no effect on schizont development) when MSP1 is conditionally converted to a non merozoite-bound form, implies a role for processed merozoite-bound MSP1 in host cell rupture. Our model explains the defect associated with episomal expression of cleavage-resistant MSP1 (Figure 2), which presumably reduces egress efficiency by reducing the proportion of MSP1 at the merozoite surface able to interact with the host cell cytoskeleton. These data implicate a surface protein in the egress of an intracellular non-viral pathogen. They also provide a plausible mechanistic rationale for the timing of MSP1 processing by SUB1, which "prepares" the merozoites for partaking in their own release.