"Vision for Action" in Young Children Aligning Multi-Featured Objects: Development and Comparison with Nonhuman Primates.
Affiliation: Psychology Department, University of Georgia, Athens, Georgia, United States of America.
ABSTRACT
---
Effective vision for action and effective management of concurrent spatial relations underlie skillful manipulation of objects, including hand tools, in humans. Children's performance in object insertion tasks (fitting tasks) provides one index of the striking changes in the development of vision for action in early life. Fitting tasks also tap children's ability to work with more than one feature of an object concurrently. We examine young children's performance on fitting tasks in two and three dimensions and compare their performance with the previously reported performance of adult individuals of two species of nonhuman primates on similar tasks. Two, three, and four year-old children routinely aligned a bar-shaped stick and a cross-shaped stick but had difficulty aligning a tomahawk-shaped stick to a matching cut-out. Two year-olds were especially challenged by the tomahawk. Three and four year-olds occasionally held the stick several inches above the surface, comparing the stick to the surface visually, while trying to align it. The findings suggest asynchronous development in the ability to use vision to achieve alignment and to work with two and three spatial features concurrently. Using vision to align objects precisely to other objects and managing more than one spatial relation between an object and a surface are already more elaborated in two year-old humans than in other primates. The human advantage in using hand tools derives in part from this fundamental difference in the relation between vision and action between humans and other primates.

No MeSH data available.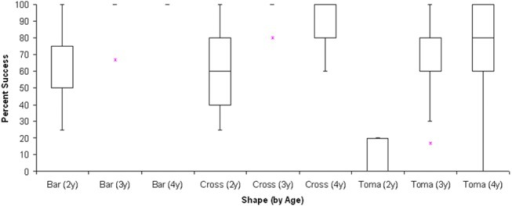 © Copyright Policy
License
getmorefigures.php?uid=PMC4595288&req=5
Mentions: Analyses of Shape address the directional predictions that increasing the number of features to be aligned increases the difficulty of the problem, and that this effect is stronger for the younger children. Findings support this prediction. The shape of the stick affected the number of attempts the children made per trial to align the stick to the groove or the disc (Friedman, N = 27, df = 2, X2 = 34.45, p < 0.001). Children tended to make more attempts per trial with the Cross than with the Bar (Median = 2.33, cross, vs. 1.77, bar; Wilcoxon signed ranks, N = 26, Z = -1.943, 0.017 < p < 0.026), and made significantly more attempts with the Tomahawk (Median = 8.25) than with the Cross (Wilcoxon signed ranks, N = 27, Z = 3.87, p < 0.00005) or the bar (Wilcoxon signed ranks, N = 27, Z = 3.87, p < 0.00005). Shape also affected children's success at placing the stick correctly (Friedman, N = 27, df = 2, X2 = 29.04, p < 0.001; Fig 5 illustrates success with different shapes at each age). They succeeded at placing the Bar in 86% of trials, and the Cross in 84% of trials, but the Tomahawk only in 49% of trials (Median values). Wilcoxon signed ranks tests revealed that children succeeded equally often with Bar and Cross (N = 13, T+ = 61.5, p > 0.15; 14 children had tied scores), but significantly less often with the Tomahawk than with the Bar (N = 23, Z = -4.17, p < 0.00003) or the Cross (N = 22, Z = -4.07, p <0.00003). The Tomahawk condition challenged all three age groups, but especially the two year-olds. Two year-olds succeeded on a lower percentage of trials (Median = 0) with the Tomahawk than did three and four year-olds (pooled) (Median = 80%) (Wilcoxon-Mann-Whitney, n = 9, m = 18; Z = -4.89, p < 0.00003). Three and four year-olds did not differ from each other on the percentage of trials with the Tomahawk that were successful (Wilcoxon-Mann-Whitney, n = 9, m = 9; Wx = 82.5, p > 0.39).