Differential Intrinsic Coupling Modes in Psychological and Physical Trauma.
Affiliation: Department of Diagnostic Imaging, The Hospital for Sick Children , Toronto, ON , Canada ; Neuroscience and Mental Health Program, The Hospital for Sick Children Research Institute , Toronto, ON , Canada ; Department of Medical Imaging, University of Toronto , Toronto, ON , Canada.
Despite each disorder having a distinct etiology, post-traumatic stress disorder (PTSD), and mild traumatic brain injury (mTBI) often exhibit overlapping symptomatology that makes clinical diagnosis difficult... Generating the questions driving answers to this knowledge gap, basic neuroscience research is increasingly revealing the critical role that neurophysiological networks and their dynamics play in cognition and behavior... From a philosophical viewpoint, there has been a Kuhnian epistemological paradigm shift from a reductionist, and historically segregative approach toward, or at least combined with, an integrative neural doctrine... The two varieties of ICMs that facilitate interregional communication are subserved by (1) the phase synchronization of band-limited oscillations ("phase ICMs"; Figure 1B, I) and (2) the coupling of band-limited amplitude (or power) envelopes ("envelope ICMs"; Figure 1B, II)... Termed the "communication-through-coherence" hypothesis, these "rhythmic fluctuations in excitability" essentially open and close temporal windows of communication that modulate the probability of synaptic input and/or outgoing spiking activity; in other words, depending on the ongoing phase of the oscillation, information is likely to be more readily integrated or suppressed... For example, it might be such that when the phases align, communication between regions is supported, and conversely, when the phases do not align (in anti-phase), communication is inhibited... So in terms of their general significance, phase ICMs facilitate the integration of information between separate regions across the cortex, while envelope ICMs are thought to regulate the activation (both excitation or inhibition) of relevant or irrelevant regions required for cognition and action... The PTSD group was distinguished by fast-wave phase synchronization, while the mTBI group was found to differ from controls in slow-wave amplitude coupling (Figure 1C)... Consequently, I propose that the phenomenological role of these oscillations in these traumatized cohorts is twofold; given previous research on the cortico-hippocampal the high-frequency phase synchronization, I speculate that these interactions seen in our combat-related PTSD group is related to the psychological state of re-experiencing traumatic memories and the other positive clinical symptoms (hypervigiliance, for example), while amplitude covariations in the mTBI group reflects microscopic structural alterations and the unnecessary coupling of brain regions that results in the associated attentional sequelae that typify the disorder... In summary, we observed elevated MEG connectivity in both patient groups that was differentiated by the frequency and mechanism of coupling... In terms of the group differences we found in envelope ICM elevations in mTBI, I propose that these alterations are closely related to structural changes, such as white matter damage and deafferentation that subsequently impart secondary consequences on cognition... In PTSD, the hypersynchrony of this group could a marker of re-experiencing of disturbing mental imagery and hyper-vigilant states... Furthermore, we found that the alterations in connectivity evident in patient groups appear to explain some of the cognitive sequelae that typify the symptoms of these disorders... Despite this, we should exercise caution in attribution of any specific functional roles to canonical oscillations, as emerging evidence suggests the role of these "spectral fingerprints" are far more complicated than our current understanding, and that the underlying neural processes that mediate brain/mental states cannot simply be ascribed to one frequency, but the interplay within and among them... Moving forward, there is potential to use these macroscopic functional markers in a diagnostic, prognostic, and intervention fashion, and particularly in guiding future interventionist treatments, such as rTMS and TDCS, that appear to modulate the intrinsic oscillatory state of the brain and its topological nature.
No MeSH data available.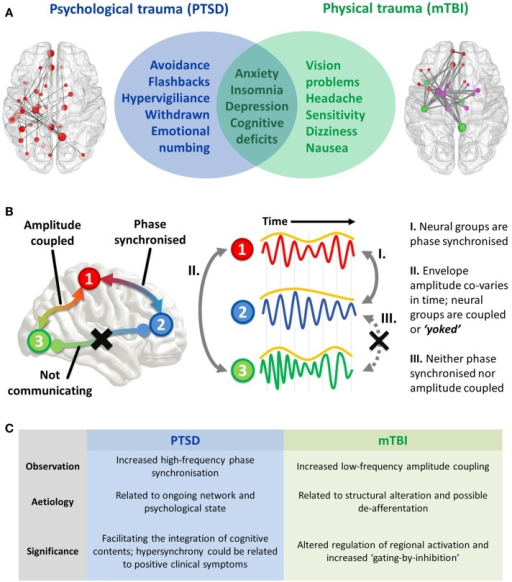 © Copyright Policy
License
getmorefigures.php?uid=PMC4593937&req=5
Mentions: Psychological and physical trauma can give rise to severe psychiatric (PTSD) and neurological (mTBI) disorders that severely affect a patient's quality of life and impart a huge burden on a healthcare system. These disorders are defined by symptomatology that is often distinct, but in some cases, at the interface between these conditions, overlapping features occur that makes diagnosis difficult for clinicians. A non-exhaustive list of coincident symptoms includes anxiety, depression, cognitive deficits (including attention, memory, and cognitive control), irritability, and insomnia (Figure 1A). Compounding the difficulty of this differentiation is that physical trauma can often lead to PTSD, or mTBI, or a combination of the two; this is especially prevalent in the military. Correct diagnosis is important due to differences in treatment required for these disorders, and this is where delineation based on profiles of brain FC is starting to show promise in both health science and objective assessment. Before the findings are described, I will first explain the types of ICMs [for an in-depth review, see Ref. (6)].