Composition, Development, and Function of Uterine Innate Lymphoid Cells.
Bottom Line: Innate lymphoid cells (ILCs), including NK cells, contribute to barrier immunity and tissue homeostasis.Whereas nonkiller uILC1s and uILC2s are barely detectable in mouse and not detected in humans, a sizeable population of uILC3s is found in human endometrium and decidua, which are mostly NCR(+) and partially overlap with previously described IL-22-producing uterine NK cells.This study lays the foundation to understand how ILCs function in the specialized uterine mucosa, both in tissue homeostasis and barrier immunity and during pregnancy.
Affiliation: Department of Obstetrics and Gynecology, University of Cambridge School of Clinical Medicine, National Institute for Health Research Cambridge Biomedical Research Centre, Cambridge CB2 0SW, United Kingdom; jmd83@medschl.cam.ac.uk.
Show MeSH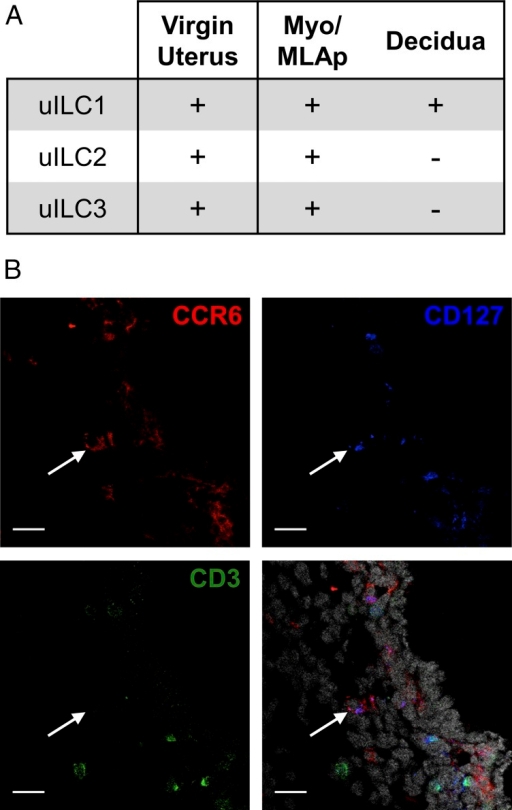 © Copyright Policy - creative-commons
License
getmorefigures.php?uid=PMC4592103&req=5
Mentions: uILC1s could be found at midgestation in both Myo/MLAps and decidua, albeit at lower frequencies compared with the virgin uterus (Figs. 3A, 4A, Supplemental Fig. 1). uILC2s and uILC3s were found in the Myo/MLAp, but not in the decidua (Fig. 3B, 3C); thus, uILC2s and uILC3s do not interact directly with the trophoblast and instead sit deeper in the uterine wall (Fig. 4, Supplemental Fig. 1). The frequency of uILCs at midgestation was similar to that of the virgin uterus, suggesting that they did not preferentially expand among leukocytes. However, we noticed a trend toward a higher percentage of uILC2s (p = 0.06) and uILC3s (p = 0.10) in the Myo/MLAp compared with the virgin uterus (Fig. 3B, 3C). To assess the distribution of uLTi-like cells, we dissected the MLAp and the Myo apart and they were found to contain similar frequencies of uLTi-like cells. Because of a high concentration of lymphocytes in the MLAp, however, the absolute number of uLTi-like cells was significantly higher in the MLAp compared with the Myo (Fig. 3E). We then assessed the impact of pregnancy on the development of uILC2s and uILC3s in the MLAp of Nfil3−/− mice. uILC2s were present but at very low percentages and numbers showing that pregnancy cannot rescue their development (Fig. 3F). As in virgin mice, uILC3s are detectable at a similar percentage to wild-type (WT) mice, but numbers are significantly lower, reflecting the reduced numbers of leukocytes in the MLAp of Nfil3−/− mice (Fig. 3G). Indeed, Nfil3−/− mice display several defects during pregnancy (S. Boulenouar, J.-M. Doisne, A. Sferruzzi-Perri, L.M. Gaynor, J. Kieckbusch, E. Balmas, H.W. Yung, S. Javadzadeh, L. Volmer, D.A. Hawkes, K. Phillips, H.J.M. Brady, A.L. Fowden, G.J. Burton, A. Moffett, and F. Colucci, submitted for publication). Taken together, these data show that uILC1s are present in all layers of the pregnant uterus, whereas uILC2s and uILC3s are confined deeper within the muscle layer (Fig. 4). In addition, during pregnancy in Nfil3−/− mice, uILC2 development is not rescued and uILC3s decrease in numbers compared with pregnant WT mice.