Turbulence-driven shifts in holobionts and planktonic microbial assemblages in St. Peter and St. Paul Archipelago, Mid-Atlantic Ridge, Brazil.
Bottom Line: Shifts were also observed in coral microbiomes, according to both annotation-indepent and -dependent methods.The healthy coral holobiont was shown to be less sensitive to transient seawater-related perturbations than the diseased animals.A conceptual model for the turbulence-induced shifts is put forward.
Affiliation: Laboratory of Microbiology, Institute of Biology, Federal University of Rio de Janeiro Rio de Janeiro, Brazil.
ABSTRACT
---
The aim of this study was to investigate the planktonic and the holobiont Madracis decactis (Scleractinia) microbial diversity along a turbulence-driven upwelling event, in the world's most isolated tropical island, St Peter and St Paul Archipelago (SPSPA, Brazil). Twenty one metagenomes were obtained for seawater (N = 12), healthy and bleached holobionts (N = 9) before, during and after the episode of high seawater turbulence and upwelling. Microbial assemblages differed between low turbulence-low nutrient (LLR) and high-turbulence-high nutrient (HHR) regimes in seawater. During LLR there was a balance between autotrophy and heterotrophy in the bacterioplankton and the ratio cyanobacteria:heterotrophs ~1 (C:H). Prochlorales, unclassified Alphaproteobacteria and Euryarchaeota were the dominant bacteria and archaea, respectively. Basic metabolisms and cyanobacterial phages characterized the LLR. During HHR C:H < < 0.05 and Gammaproteobacteria approximated 50% of the most abundant organisms in seawater. Alteromonadales, Oceanospirillales, and Thaumarchaeota were the dominant bacteria and archaea. Prevailing metabolisms were related to membrane transport, virulence, disease, and defense. Phages targeting heterotrophs and virulence factor genes characterized HHR. Shifts were also observed in coral microbiomes, according to both annotation-indepent and -dependent methods. HHR bleached corals metagenomes were the most dissimilar and could be distinguished by their di- and tetranucleotides frequencies, Iron Acquision metabolism and virulence genes, such as V. cholerae-related virulence factors. The healthy coral holobiont was shown to be less sensitive to transient seawater-related perturbations than the diseased animals. A conceptual model for the turbulence-induced shifts is put forward.

No MeSH data available.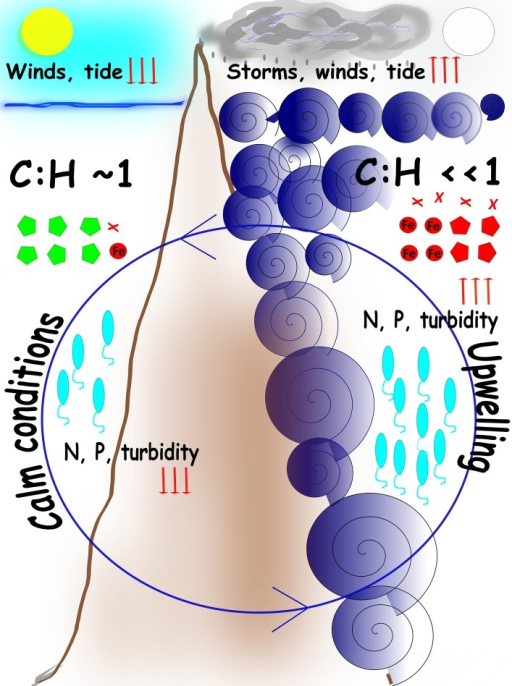 © Copyright Policy
License
getmorefigures.php?uid=PMC4591530&req=5
Mentions: Although sequence similarities to genes do not represent levels of gene expression, metagenomes have been shown to be strong predictors of the biogeochemical conditions driving the microbial community (Dinsdale et al., 2008). According to the lines of evidence garnered the microbiome of the mesophotic waters in SPSPA undergoes cyclic transient shifts in relation to turbulence-nutrients regimes. A microbial succession resulting from the interplay between physical and chemical factors is a plausible scenario. Two extreme turbulence-nutrient regimes can be clearly distinguished and alternate with intermediate conditions determining microbial assemblages: (i) When turbulence is low (LLR) at least 50% of the microbiome is composed of Prochlorococcus, followed by unclassified Alphaproteobacteria (SAR11 and related), which are small sized cells, highly adapted to oligotrophic conditions and starvation. Rhodobacterlaes, Rhizobiales, and Chroococcales are typical. In this environment phage genes are the most abundant in seawater, mostly from Prochlorococcus and Synechococcus, following the hosts' abundances. The viral shunt is probably less active toward relatively scarce cells. The proportion of unknown genes is the highest; (ii) Episodic surges promote vertical mixing from the immediate lower water mass to the mixed layer. Waves also wash guano from the cays flushing phosphates and ammonium into the inlet. Heterotrophs (Alteromonadales, Vibrionales) respond quickly and surpass autotrophs, motility, and chemotaxis related genes stand out; (iii) Ongoing eddies and intensified high-energy waves promote entrainment of deep water organisms such as Thaumarchaeota and nutrients (nitrite, nitrate) (HHR). Eventual cloudiness, winds and rain cope with turbulence, irradiance is intermittent and turbidity is enhanced. Heterotrophy predominates with dominance of Alteromonadales, Pseudomonadales, and Oceanospirillales. Gammaproteobacterial groups approximate 50% of the microbial assemblage, resembling the end of the spring phytoplankton bloom in higher latitudes (e.g., NADR). The gene pool in surface waters reflects the shift with membrane transport and virulence-related genes (e.g., TonB-dependent receptor, V. cholerae virulence genes) surpassing cyanobacterial phages and basic metabolisms genes. Phages targeting heterotrophs are active. The proportion of unknown genes is the lowest; (iv) Turbulence alleviates (e.g., after moon changes toward new). Larger cell sized heterotrophs begin to decline as viral lysis and predation by grazers overrides growth, which is constrained by the paucity of limiting nutrients (e.g., phosphorus). The microbial loop is most prominent at this stage. Autotrophs respond to irradiance and retake growth (if rain, wind, and cloudiness mitigate this response is accelerated). Nitrogen metabolism is intensive. A reversal to autotrophy:heterotrophy equilibrium is triggered (Figure 4). The short-lived but recurrent turbulence-nutrient pulses might be responsible for structuring the marine ecosystem in a bottom-up manner in SPSPA. These pulses might be indispensable to warrant the energy and carbon flow to the higher trophic levels concurring to the observed pelagic fishes biomass around the barren islets (Luiz and Edwards, 2011). On a stable LLR the growth of phytoplankton is largely supported by regenerated nutrients, so only a small proportion of primary production is available to higher trophic levels or for export to the deep sea (Cullen et al., 2002; Karl, 2014). Turbulence is physically forcing the co-ocurrence of nutrients and light in SPSPA, on the other hand, the fact that nutrient resupply is short-lived might concur to retain the local mesotrophic condition. Bacterioplankton shifts were shown to be transient, following the cyclic nutrient-turbulence pulses and other physical parameters (rain, cloudiness, winds, turbidity).