Alcohol and Viral Hepatitis
ABSTRACT
---
Both alcohol abuse and infection with hepatitis viruses can lead to liver disease, including chronic hepatitis. Alcohol and hepatitis viruses have synergistic effects in the development of liver disease. Some of these involve the cellular membranes and particularly their functionally active domains, termed lipid rafts, which contain many proteins with essential roles in signaling and other processes. These lipid rafts play a central role in the lifecycles of hepatitis viruses. Alcohol's actions at the lipid rafts may contribute to the synergistic harmful effects of alcohol and hepatitis viruses on the liver and the pathogenesis of liver disease.
No MeSH data available.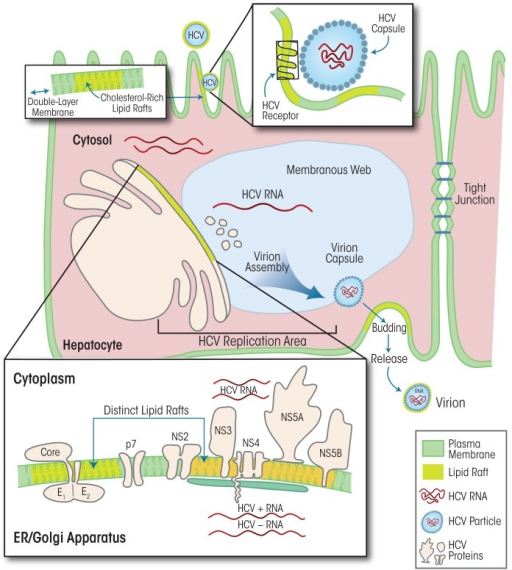 © Copyright Policy - public-domain
License
getmorefigures.php?uid=PMC4590625&req=5
Mentions: HCV is a positive-sense, single-stranded RNA virus that, like HBV, is thought to reproduce exclusively in hepatocytes (Paul and Bartenschlager 2014).2 HCV replicates in humans and high-level primates; it causes acute infections and has very high propensity to progress to chronic infection. The HCV viral particle includes the HCV RNA genome, the core, and an envelope made up of two glycoproteins (i.e., E1 and E2), which are key to the initial viral attachment to its cellular receptor/co-receptors (Flint and McKeating 2000; Rosa et al. 1996). Numerous molecules can serve as HCV receptors, such as scavenger receptor class B type I, low-density lipoprotein receptors, CD81, claudin-1, occludin, epidermal growth factor receptor, and Niemann-Pick C1-like 1 cholesterol absorption receptor (for a review, see Lindenbach and Rice 2013). Following attachment to the entry receptors, HCV is internalized into the host hepatocyte via endocytosis (Bartosch et al. 2003; Blanchard et al. 2006) and the RNA genome is released into the cytoplasm (see figure 2). The HCV RNA serves as template for the translation of a single large precursor protein that is processed further into 10 individual viral proteins. The translation, folding, processing, and function of these viral proteins depend on a specific intracellular structure in the hepatocytes called a membranous web, which also hosts viral RNA replication to generate new HCV genomes and assists in the assembly of new infectious viral particles (Chao et al. 2012). The assembly and release of these virus particles is closely linked to lipid metabolism (Paul et al. 2014). Thus, the lipid composition of the viral envelope is dependent on cholesterol biosynthetic pathways and resembles several types of cholesterol (i.e., low-density lipoprotein and very-low-density lipoprotein, with associated apolipoprotein E and/or B). In fact, the virus particles share the outer lipid coat with certain structures (i.e., lipid rafts, which will be discussed below) in the cell membrane surrounding the host hepatocytes (Chang et al. 2007; Gastaminza et al. 2008; Merz et al. 2011; Miyanari et al. 2007).