Macrophages and Alcohol-Related Liver Inflammation
ABSTRACT
---
Recent studies have suggested that macrophages have a critical role in the development of alcohol-induced inflammation in the liver. To define the precise pathogenic function of these cells during alcoholic liver disease (ALD), it is extremely important to conduct extensive studies in clinical settings that further elucidate the phenotypic diversity of macrophages in the context of ALD. Research to date already has identified several characteristics of macrophages that underlie the cells' actions, including macrophage polarization and their phenotypic diversity. Other analyses have focused on the contributions of resident versus infiltrating macrophages/monocytes, as well as on the roles of macrophage mediators, in the development of ALD. Findings point to the potential of macrophages as a therapeutic target in alcoholic liver injury. Future studies directed toward understanding how alcohol affects macrophage phenotypic switch in the liver and other tissues, whether the liver microenvironment determines macrophage function in ALD, and if targeting of macrophages alleviates alcoholic liver injury, will provide promising strategies to manage patients with alcoholic hepatitis.
No MeSH data available.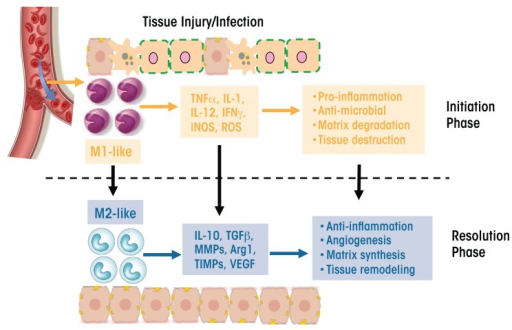 © Copyright Policy - public-domain
License
getmorefigures.php?uid=PMC4590621&req=5
Mentions: Macrophages have a unique ability to alter their phenotypes and, thus, their functions, depending on tissue microenvironmental cues, such as the presence of cytokines, growth factors, pathogen-associated molecular pattern molecules (PAMPs), and damage-associated molecular pattern molecules (DAMPs). This process is known as polarization and results in the emergence of two macrophage phenotypes labeled M1 and M2 macrophages. M1 macrophages primarily have proinflammatory effects. For example, classically activated M1 macrophages help mediate the initial defense against intracellular bacteria and viruses; in addition, they are important for the response to a tissue injury. The M1 macrophages produce proinflammatory and stress mediators and cytokines, such as IL-1, tumor necrosis factor alpha (TNFα), interferon γ, IL-12, IL-18, nitric oxide, and reactive oxygen species (ROS), and can activate adaptive immune responses (Jouanguy et al. 1999; Shaughnessy and Swanson 2007). Once the infection or injury is controlled, macrophages convert to an anti-inflammatory, tissue-restorative phenotype in order to reign in excessive tissue-damaging inflammatory responses (Benoit et al. 2008; Noel et al. 2004). These cells usually are referred to as alternatively activated macrophages (M2) and help promote the resolution of inflammation as well as tissue repair (Sica and Mantovani 2012) (see figure 1). They can be distinguished from the M1 macrophages by the presence of high levels of several marker proteins (e.g., Fizz1, Mrc1, Ym1, and Arg1) (Gordon 2003; Mantovani et al. 2002).