The Gastrointestinal Microbiome
ABSTRACT
---
The excessive use of alcohol is a global problem causing many adverse pathological health effects and a significant financial health care burden. This review addresses the effect of alcohol consumption on the microbiota in the gastrointestinal tract (GIT). Although data are limited in humans, studies highlight the importance of changes in the intestinal microbiota in alcohol-related disorders. Alcohol-induced changes in the GIT microbiota composition and metabolic function may contribute to the well-established link between alcohol-induced oxidative stress, intestinal hyperpermeability to luminal bacterial products, and the subsequent development of alcoholic liver disease (ALD), as well as other diseases. In addition, clinical and preclinical data suggest that alcohol-related disorders are associated with quantitative and qualitative dysbiotic changes in the intestinal microbiota and may be associated with increased GIT inflammation, intestinal hyperpermeability resulting in endotoxemia, systemic inflammation, and tissue damage/organ pathologies including ALD. Thus, gut-directed interventions, such as probiotic and synbiotic modulation of the intestinal microbiota, should be considered and evaluated for prevention and treatment of alcohol-associated pathologies.
No MeSH data available.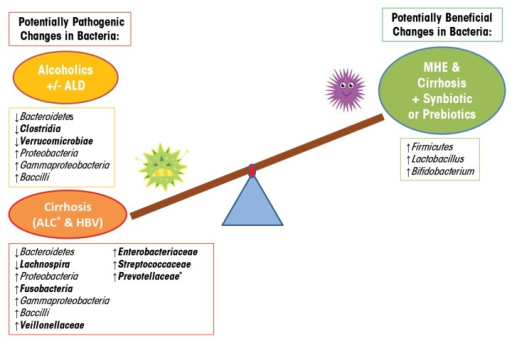 © Copyright Policy - public-domain
License
getmorefigures.php?uid=PMC4590619&req=5
Mentions: Chronic alcohol consumption in humans also causes bacterial overgrowth and dysbiosis. One study using culture-based methods, for example, found alcohol-induced alterations, including small intestine bacterial overgrowth of both aerobic and anaerobic bacteria in the jejunum (Bode et al. 1984). Another study showed that alcohol consumption alters the composition of mucosa-associated microbiota in human sigmoid biopsies taken from alcoholics with and without ALD as well as healthy control subjects (Mutlu et al. 2012). In this study, the researchers used 16S rRNA gene sequencing to assess the microbiota. They found that the microbial community was significantly altered—containing a lower abundance of Bacteroidetes and a higher abundance of Proteobacteria—in a subgroup of alcoholics with and without liver disease (table 1). Other studies show that dysbiotic microbiota in alcoholics also correlates with a high level of endotoxin in the blood, indicating that dysbiosis may contribute to intestinal hyperpermeability and/or the increased translocation of gram-negative microbial bacterial products from the intestinal lumen into systemic circulation (Mutlu et al. 2009; Rimola 1991). Similarly, 16S rRNA gene analysis of fecal microbiota from human subjects with hepatitis B or alcohol-related cirrhosis shows a reduction in Bacteroidetes and an increase in Proteobacteria and Fusobacteria, compared with healthy control subjects (table 1) (Chen et al. 2011). At a finer taxonomic resolution, this study also shows a significant increase in potentially dangerous bacteria from the families Prevotellaceae, Enterobacteriaceae, Veillonellaceae, and Streptococcaceae in subjects with alcoholic cirrhosis, compared with subjects with hepatitis B cirrhosis and with control subjects. The prevalence of potentially pathogenic bacteria in patients with cirrhosis may affect prognosis, something supported by previous research (Guarner et al. 1997; Liu et al. 2004). Other lower resolution studies find that the relative abundance of bacteria from the phylum Bacteroidetes decreases as those from the phylum Proteobacteria increase and that individuals with cirrhosis exhibit a unique increase in Fusobacteria (Chen et al. 2011; Mutlu et al. 2012). Overall, alcoholics and cirrhosis patients demonstrate microbial communities enriched in Proteobacteria of the class Gammaproteobacteria and Firmicute of the class Bacilli. In contrast, Firmicutes of the class Clostridia are depleted in alcoholics but are not significantly changed in the cirrhosis group, with the exception of Veillonellaceae, which is increased and Lachnospira, which is decreased (table 1). These findings suggest that microbiota community differences between alcoholics and alcoholics with cirrhosis (e.g., Fusobacteria, Clostridia) may contribute to the development of liver disease or may be a biomarker indicating liver disease (figure 3). Future studies will need to determine the cause-and-effect relationship of the microbiota community structure and liver disease.