Impact of Alcohol Abuse on the Adaptive Immune System
ABSTRACT
---
Alcohol exposure, and particularly chronic heavy drinking, affects all components of the adaptive immune system. Studies both in humans and in animal models determined that chronic alcohol abuse reduces the number of peripheral T cells, disrupts the balance between different T-cell types, influences T-cell activation, impairs T-cell functioning, and promotes T-cell apoptosis. Chronic alcohol exposure also seems to cause loss of peripheral B cells, while simultaneously inducing increased production of immunoglobulins. In particular, the levels of antibodies against liver-specific autoantigens are increased in patients with alcoholic liver disease and may promote alcohol-related liver damage. Finally, chronic alcohol exposure in utero interferes with normal T-cell and B-cell development, which may increase the risk of infections during both childhood and adulthood. Alcohol's impact on T cells and B cells increases the risk of infections (e.g., pneumonia, HIV infection, hepatitis C virus infection, and tuberculosis), impairs responses to vaccinations against such infections, exacerbates cancer risk, and interferes with delayed-type hypersensitivity. In contrast to these deleterious effects of heavy alcohol exposure, moderate alcohol consumption may have beneficial effects on the adaptive immune system, including improved responses to vaccination and infection. The molecular mechanisms underlying ethanol's impact on the adaptive immune system remain poorly understood.
No MeSH data available.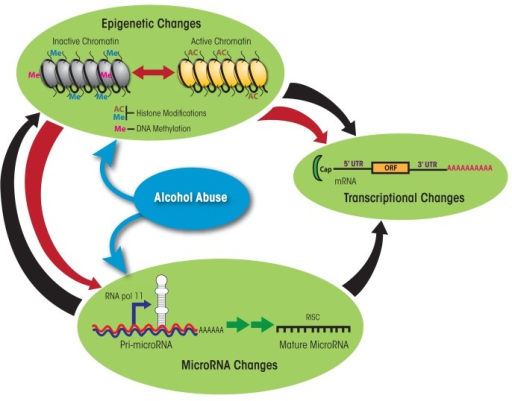 © Copyright Policy - public-domain
License
getmorefigures.php?uid=PMC4590616&req=5
Mentions: Future studies should leverage the different models to uncover the molecular mechanisms underlying the dose-dependent impact of alcohol on immune function by investigating changes in gene expression patterns (Mayfield and Harris 2009). Such approaches should also investigate the contributions of noncoding RNAs, such as microRNAs (miRNAs), and epigenetic modifications, which are known to regulate gene expression patterns (Curtis et al. 2013; Sato et al. 2011). miRNAs are small, single-stranded, noncoding RNAs that bind within one end of the target genes and prevent the generation of functional proteins from these genes by either destabilizing the mRNAs generated from the genes, preventing the translation of the genetic information in the mRNA into a protein, or both (Ambros 2004; Bartel 2004; Filipowicz et al. 2008). A single miRNA can target hundreds of mRNA transcripts, and a single mRNA transcript simultaneously can be targeted by more than one miRNA, ensuring fine-tuned and/or redundant control over a large number of biological functions. Epigenetic modifications are chemical changes that occur within a genome without changing the DNA sequence. These changes include direct addition of a methyl group to DNA (i.e., DNA methylation) or chemical modifications of the proteins (i.e., histones) around which DNA is wrapped, such as acetylation, methylation, and phosphorylation (Holliday 2006; Hsieh and Gage 2005; Murrell et al. 2005). Both regulatory mechanisms related to miRNA and epigenetic mechanisms are interrelated (see figure 3). Thus, several miRNAs themselves are regulated epigenetically but also are capable of targeting genes that control epigenetic pathways (e.g., polycomb group-related genes and histone deacetylase). Studies have identified ethanol-mediated changes in both miRNA abundance (Miranda et al. 2010; Pietrzykowski 2010) and epigenetic modifications within PBMCs (Biermann et al. 2009; Bleich and Hillemacher 2009; Bonsch et al. 2006). Other investigators have described ethanol-induced epigenetic modifications (i.e., alterations in histone acetyltransferases and histone deacetylases) in liver cells (i.e., hepatocytes) in rodent models of binge drinking and ALD (Bardag-Gorce et al. 2007; Choudhury et al. 2010; Park et al. 2005; You et al. 2008). However, very few studies have examined ethanol-induced changes in gene expression and regulation within specific immune-cell subsets. Moreover, none of the studies have conducted a comprehensive integrated analysis of mRNA, miRNA, and epigenetic expression patterns in the same cell(s) before and after alcohol consumption. Integrating gene expression patterns with gene regulation could reveal novel insight into specific pathways that are dysregulated with alcohol abuse and could explain the increased susceptibility to infection. These insights could lead to interventions to restore immunity, such as reversing changes in histone modifications and DNA methylation patterns or modulating expression levels of miRNAs. In addition, such studies could reveal the pathways that are modified by moderate alcohol consumption to enhance immune response to vaccination.