Hippocampal Theta Input to the Amygdala Shapes Feedforward Inhibition to Gate Heterosynaptic Plasticity.
Bottom Line: These effects are mediated by GABAB receptors and change in the Cl(-) driving force.Hence, feedforward inhibition, known to enforce temporal fidelity of excitatory inputs, dominates hippocampus-amygdala interactions to gate heterosynaptic plasticity.VIDEO ABSTRACT.
Affiliation: MRC Brain Network Dynamics Unit, Department of Pharmacology, University of Oxford, Mansfield Road, Oxford OX1 3TH, UK.
Show MeSH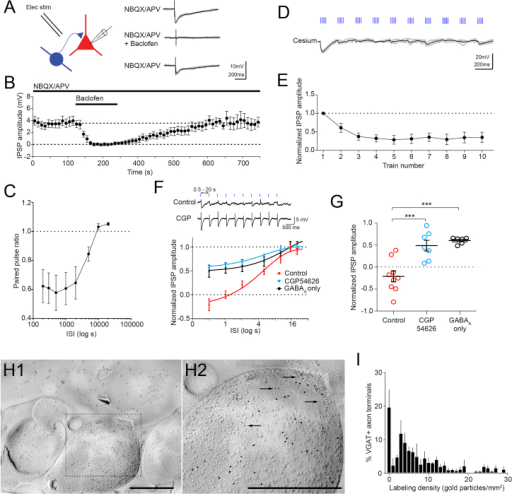 © Copyright Policy - CC BY
License
getmorefigures.php?uid=PMC4590554&req=5
Mentions: The GABAB-receptor-mediated effects could be due to the depression of either glutamatergic synapses from vCA1 fibers onto BA INs and/or GABAergic synapses from BA INs onto PNs. We distinguished between these two possibilities by recording directly from GABAergic INs with the soma in the BA and ITCs (Figure S5). The EPSPs recorded in these cells displayed a gradual increase in amplitude through the TBS (Figure 5F, tenth versus first train p < 0.05, n = 23). Hence, vCA1-BA INs excitatory synapses could not be responsible for the transient depression of the IPSPs recorded from PNs. Furthermore, the amplitude of the EPSPs recorded from PNs was stable in presence of antagonists for GABA receptors (Figure 5A, F, tenth versus first train p > 0.05, n = 6), indicating that vCA1-BA PNs excitatory synapses do not undergo depression during TBS. Next, we tested whether presynaptic mechanisms contribute to the depression of the IPSP amplitude. Monosynaptic IPSPs were triggered in PNs through local electrical stimulation in the presence of NBQX (10 μM) and APV (100 μM). The application of the GABAB receptor agonist baclofen (10 μM) abolished the monosynaptic IPSPs (Figures 7A and 7B, n = 5, p < 0.01). The magnitude of this effect suggests that activation of presynaptic GABAB receptors and an increase in postsynaptic membrane conductance induced by baclofen accounted for this effect. To further corroborate the involvement of presynaptic GABAB receptors in the depression of the IPSP amplitude, additional experiments were carried out. First, electrical stimulation was delivered while recording postsynaptic neurons in voltage-clamp mode. The paired pulse ratio (PPR) of electrically evoked inhibitory postsynaptic currents (IPSCs), a parameter critically dependent on presynaptic GABAB receptors (Davies et al., 1990), became smaller with shorter inter-stimuli intervals (ISIs) (Figure 7C, n = 5). Second, we observed depression of IPSPs during optical TBS using a cesium-based intracellular solution to block postsynaptic cesium-sensitive K+ channels linked to GABAB receptors (Figures 7D and 7E, n = 7) (Gähwiler and Brown, 1985). Third, we delivered trains of ten single light pulses with varying ISI; the IPSP amplitude was inversely related to the ISIs (Figure 7F). In the presence of 5 μM CGP54626, such use-dependent depression of the IPSPs was significantly reduced (p < 0.001 versus control, Figures 7F and 7G). Likewise, TBS-induced depression of the IPSPs was attenuated in PNs in which GABAA-only IPSPs were evoked (p < 0.001 versus control, Figures 7F and 7G). This suggests that when spillover of GABA on extrasynaptic GABAB receptors at postsynaptic site is weak or absent, resulting in GABAA only IPSP, spillover of GABA on presynaptic GABAB receptor (López-Bendito et al., 2004) is also less likely to occur, ensuing more stable IPSPs. Fourth, we detected GABAB receptors at the axon terminals of INs using the SDS-digested freeze-fracture replica immunolabeling (FRIL) method (Figures 7H and 7I). Taken together, these data demonstrate that vCA1-driven FFI on BA PNs is dynamically modulated by GABAB receptors located on the axon terminals of GABAergic INs. What could be the consequences of FFI dynamics for synaptic integration and plasticity in PNs?